Fun and Frugal Summer Crafts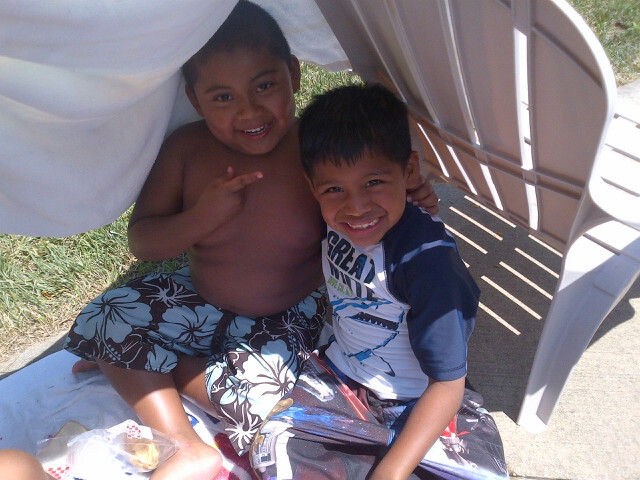 Fun and Frugal Summer Crafts are important to keep your little one's busy. I often talk about being prepared for winter when it comes to entertaining your children however it is a similar situation in the summer. Right now, it is so hot and humid outside that unless we are at the pool or at the FREE movies it seems like we needing to find entertainment. It is too hot to go to the Zoo and our other passes have expired so I have been looking for alternative entertainment this summer.
It is important to keep a nice stockpile of items so that you are not purchasing items at retail price. Right now, is the time to stockpile back to school supplies. I always keep a nice supply on hand for my own home art box.
Fun and Frugal Summer Crafts:
Art Box – crayons, markers, glue, construction paper, rulers, scissors, yarn, pipe cleaners, coloring books, stencils, paint. You name it we have it. This is hours of entertainment. A helpful tip is to purchase an inexpensive shower curtain as use this to cover your table when it comes to craft time!
Costumes – create a costume box filled with dresses, shoes, ties, hats, purses, gloves. If is amazing how creative children can be with a costume box. This too can be hours of entertainment. A helpful tip is to purchase Halloween costumes when they are at rock bottom.
Skits/Plays – incorporate the costume box and create a skit or play with your children. You may want to write down ideas for them that you "draw" from when you first introduce this idea to them. A helpful tip is to get them started and then allow them the creativity to go with the idea.
Dance Party – there is nothing better than a dance party. We crank the music and dance for hours of fun! If you have more than one child you could even turn it into a dance contest. Give them the opportunity to create new dance moves. A helpful tip is get them started with simple and fun dance moves like YMCA, the Twist or The Chicken Dance.
Cooking – your child is never to young to learn how to cook. I started teaching my son when he was 18 months old and before that he would watch me from his high chair. Start with simple projects and incorporate them in lunch preparation. A helpful tip is to start with items that don't involve heat like PB&J and then move onto cookies or rice krispie treats.
Camping – even if you don't enjoy camping your child will. This can be in your own back yard. Build a campfire, make 'smores and enjoy creating memories that will last you a lifetime. A helpful tip is to purchase camping gear after season for the next year or borrow from a friend.
Scavenger Hunt – invite several neighbors to participate and create a scavenger hunt for the children. This is a great way to keep the children active and learning at the same time. A helpful tip is to build in a snack during the hunt. Make one of the items something cold in your freezer and they will really enjoy finding it!
Sprinkler Party – one of favorite activities to go to sprinkler parties. Invite the neighbors to your yard for a fun sprinkler party! Set up a couple sprinklers, a slip-n-slide, add water guns and balloons and you have hours of entertainment. Ask each neighbor to bring a snack/drink to share and you provide the "water". A helpful tip is to purchase water guns, balloons, sprinklers and slip-n-slides at the end of the season when they are rock bottom.
Posts You May Enjoy:
Fun and Frugal Summer Fun and Projects & Ideas
Exploding Colors :: A Rainbow of Fun Science Experiment
Pepper Experiment :: A Fun Science Lab Experiment
Melissa is a football and soccer mom who has been married to her best friend for 24 years. She loves sharing recipes, travel reviews and tips that focus on helping busy families make memories.