How to freeze milk and eggs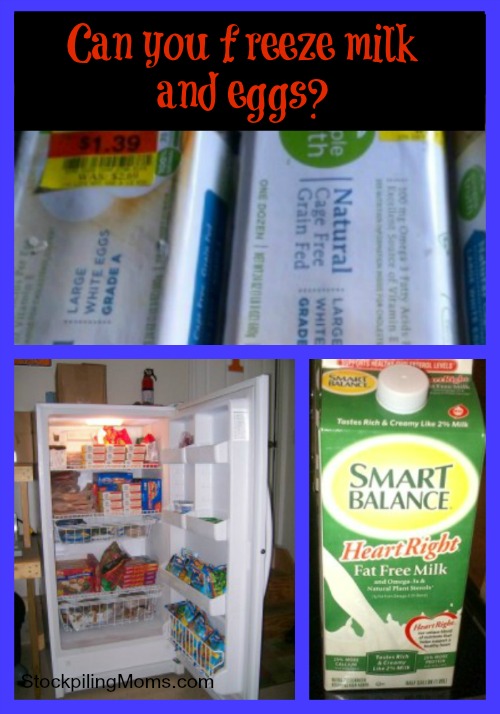 How to freeze milk and eggs. Can you freeze milk and eggs? Yes, you can! Check out this money saving tip! Can you freeze eggs? This is a great money saving tip!
Eggs can be frozen for up to one year. Don't freeze eggs in the shell, remove them from the shells and mix them well (scramble) before freezing. After mixing well pour them into an ice cube tray and cover with saran wrap. They can also be placed in a freezer safe container after frozen.
They should be thawed in the refrigerator the day before you plan to use them for best results. Another great way to freeze eggs is in a ziploc bag. Just lay flat to freeze. This is a very handy way to thaw too! Just place the bag in your fridge to thaw and use the next day for scrambled eggs or baking (I like to do a dozen in a bag).
You can view that method step by step here.
Can you freeze milk? Milk can be frozen however it may separate when thawed. Frozen milk is excellent for cooking and can be used for drinking but may need to be shaken first. Freeze milk by removing some of the milk (1 ½ cups) per gallon so when the jug expands it doesn't overflow. It can be frozen for 1 month. For best results thaw in the refrigerator and shake well before using. I also thaw milk in paper containers like picture above – there is no need to remove any milk before freezing.
I have tried to freeze Coconut Milk and Almond Milk with no luck. It was separated after thawing and non-drinkable. I tried shaking it FOREVER with no luck.
UPDATE: A reader shared but I have not tried – place frozen almond milk in the blender and give it a whirl, pour it back into the container using a funnel, and ta-da!
These are two methods to stretch your family budget.
You may be interested in our other posts on how to freeze:
Melissa is a football and soccer mom who has been married to her best friend for 24 years. She loves sharing recipes, travel reviews and tips that focus on helping busy families make memories.