Hints and Tips for Using Crockpots Part 2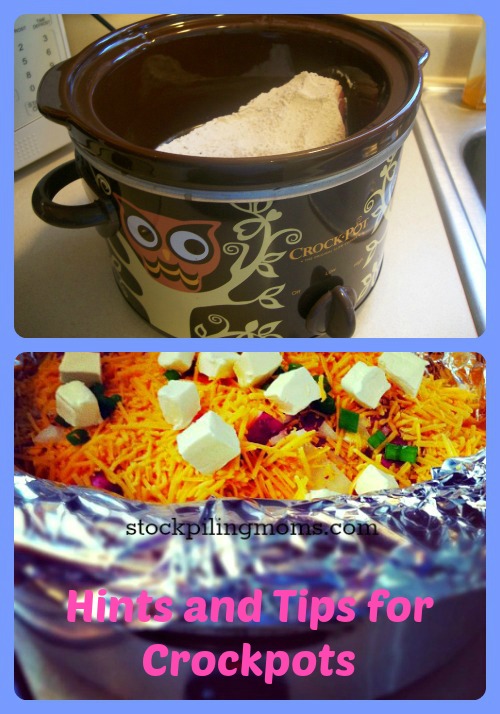 Hints and Tips for Using Crockpots Part 2. Here are some additional hints and tips for using your crockpots! Be sure to also check out Hints and Tips for Using Crockpots Part 1. We love using our crockpots year-round. It is a great way to save time in the kitchen. In the summer I love using my crockpot because it helps keep my house cool by avoiding the oven and frees up my time to spend with the boys.
Tips and Hints for Using Crockpots Part 2:
Soups:
Some soup recipes call for large amounts of water. Add other soup ingredients to the slow cooker first then add water only to cover. If thinner soup is desired, add more liquid at serving time.
Meats:
Trim fat, rinse well and pat meat dry with paper towels.
Browning meat in a separate skillet or broiler allows fat to be drained off before slow cooking and also adds greater depth of flavor.
Meat should be positioned so that it rests in the stoneware without touching the lid.
For smaller or larger cuts of meat, alter the number of vegetables or potatoes so that the stoneware is always 1/2 to 3/4 full.
The size of meat and the recommended cook times are just estimates and can vary depending upon the specific cut, type, and bone structure. Lean meats such as chicken or pork tenderloin tend to cook faster than meats with more connective tissue and fat such as beef chuck or pork shoulder. Cooking meat on the bone versus boneless will increase required time.
Cut meat into smaller pieces when cooking precooked such as beans or fruit, or light vegetables such as mushrooms, diced onion, eggplant or finely minced vegetables. This enables all food to cook at the same rate.
When cooking frozen meats, at least 1 cup of warm liquid must first be added. The liquid will act as a "cushion" to prevent sudden temperature changes. An additional 4 hours on low or 2 hours on high is typically required. For larger cuts of frozen meat, it may take much longer to defrost and tenderize.
Fish:
Fish cooks quickly and should be added at the end of the cooking cycle during the last fifteen minutes to hour of cooking.
Liquid:
For best results and to prevent food from drying or burning, always ensure an adequate amount of liquid is used in the recipe. Ensure the stoneware is always filled a minimum of 1/2 full and a maximum of 3/4 full and conform to recommended cook times.
Be sure to check out these amazing Crockpot recipes:
Crockpot Mom's Chicken and Noodles
Crockpot Bacon Cheese Potatoes
Shelley is a boy mom, marine wife, and is blessed with an amazing family. She loves sharing recipes, travel reviews and tips that focus on helping busy families make memories.