127 Yard Sale – Tips for a Successful Shopping Experience
A bucket list trip! The 127 Yard Sale with Tips for a Successful Shopping Experience. The first weekend of every August marks the official World's Longest Yard Sale along Route 127 beginning in Addison, Michigan and ending in Gadsden, Alabama.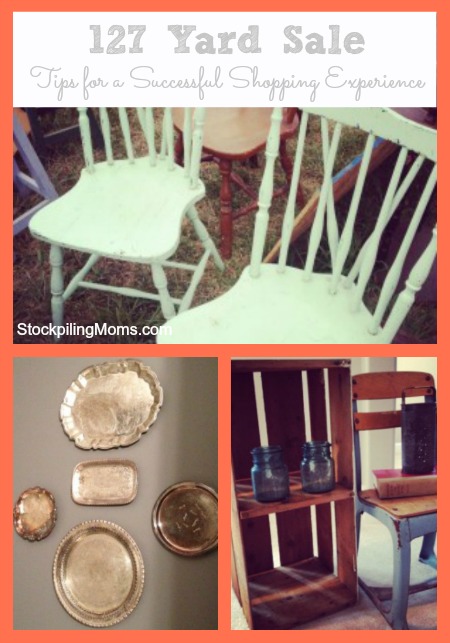 127 Yard Sale:
If you travel along Route 127 in any of these states from Michigan to Alabama this first weekend of every August, make sure you bring your patience for traffic and a little pocket change to find some treasures!
My husband and I have been avid 127 Sale shoppers for nearly 10 years. It is regarded in our household as our favorite "holiday." Vacation days from work are scheduled, babysitters lined up months in advance and maps are laid out well in advance of this big weekend. We are lucky enough to live in Northern Kentucky, where it is arguably the best destination and concentration of yard sales on the whole route.
While vintage is what I keep my eyes peeled for, you can find a bit of everything at the Route 127 sale! Here are pictures of my finds this year…I can't wait to do it all over again next August!
Tips for a Successful Route 127 Shopping Experience
1. Rest up the night before. It's a LOOOOONG day and usually very hot in August!
2. Wear comfortable shoes AND sunscreen!
3. Consider packing a cooler with sandwiches, snacks and lots of cool drinks. You'll need the energy!
4. Bring a lightweight tote bag with you. This is great if you park and walk to several sales, so you don't have hold everything you purchase or make several trips to the car.
5. In your tote, bring a bottle of water, your cash, hand sanitizer, and a small sewing tape measure if you are looking for furniture or have specific measurements.
6. Bring cash. Most people aren't equipped with credit card machines or will not accept checks.
7. Don't be afraid to haggle! My only exception to this rule is if you are shopping at a sale where all the proceeds of the flea market/yard sale go to a non-profit organization, then always give what they are asking (i.e., Children's Home sale in Ft. Mitchell). This is usually a fundraiser for the organization. However, some organizations will rent spaces to vendors and at that point, it's fair game to haggle!
8. If you like it, buy it!! Trust me on this one. I've turned my back on too many items because I hesitated and then they were gone. If you like it, you'll figure out a place to put it later!
Remember, someone else's junk in another person's treasure!
Be sure to check out Melissa's thrifting adventures on Instagram and Facebook (in case you want to follow along). Her booth is – Booth 26A located at Chestnut St Mini Mall in Berea, KY (404 Chestnut St. Berea, KY 40403).
You may want to check out our posts on Shopping at Yard Sales Tips and Tips for Hosting a Successful Yard Sale.
Melissa is a football and soccer mom who has been married to her best friend for 24 years. She loves sharing recipes, travel reviews and tips that focus on helping busy families make memories.