Sweet Dreams For The First Day of School – Magic Confetti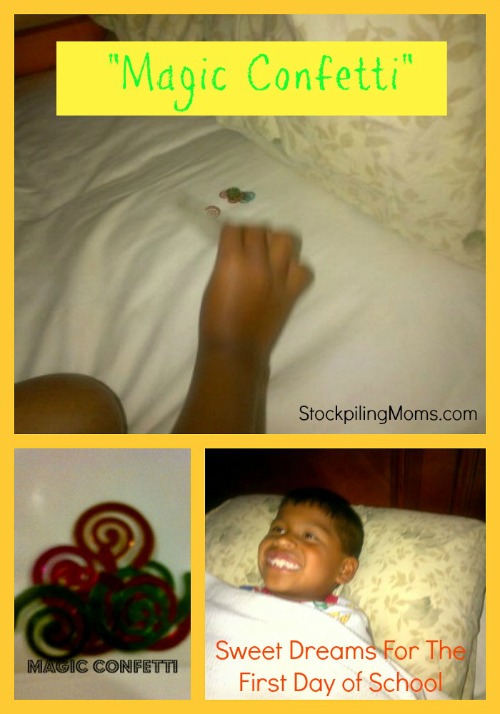 If you have a little one who is starting school then you may want to try "Magic Confetti". It is a really cute poem with a few pieces of confetti that your child will place under their pillow. It worked like a charm at our house. Special thanks to Peyton's teacher Mrs. Hughes for sending home this trick for us to use and for me to share with you. If you don't have confetti just punch some colorful hole punches and add glitter. It may be a little messy but a memory that will last a lifetime.
Sweet Dreams for the first Day of School
The night before school is exciting and fun.
There are always so many things to be done.
Your clothes are ready, your backpack is too.
Your classroom is full of fun things you will do.
Lots of questions go through your mind.
All types of thoughts of every kind.
But sometimes we all get the jitters down deep.
And that makes it hard to fall fast asleep.
So I've made this magic confetti for you,
Full of promises for the whole year through.
On the night before your first day of school,
When you lay down your head, just sprinkle some
Magic confetti under your pillow in bed.
The confetti will help you sleep through the night
And wake up in the morning fresh and bright!
Sweet Dreams!
You can print a copy of the Sweet Dreams poem as well.
You may also be interested in Jitter Juice – to help with the first day of school "jitters".
Here are some more great Back To School Posts
First Day of School Pancakes
Transitioning from Summer to School
After School Snack Ideas
Tips for Homework Success
Creating a Homework Station
DIY Lunch Icepacks
Melissa is a football and soccer mom who has been married to her best friend for 24 years. She loves sharing recipes, travel reviews and tips that focus on helping busy families make memories.