Easy Ways To Organize Summer Vacation Keepsakes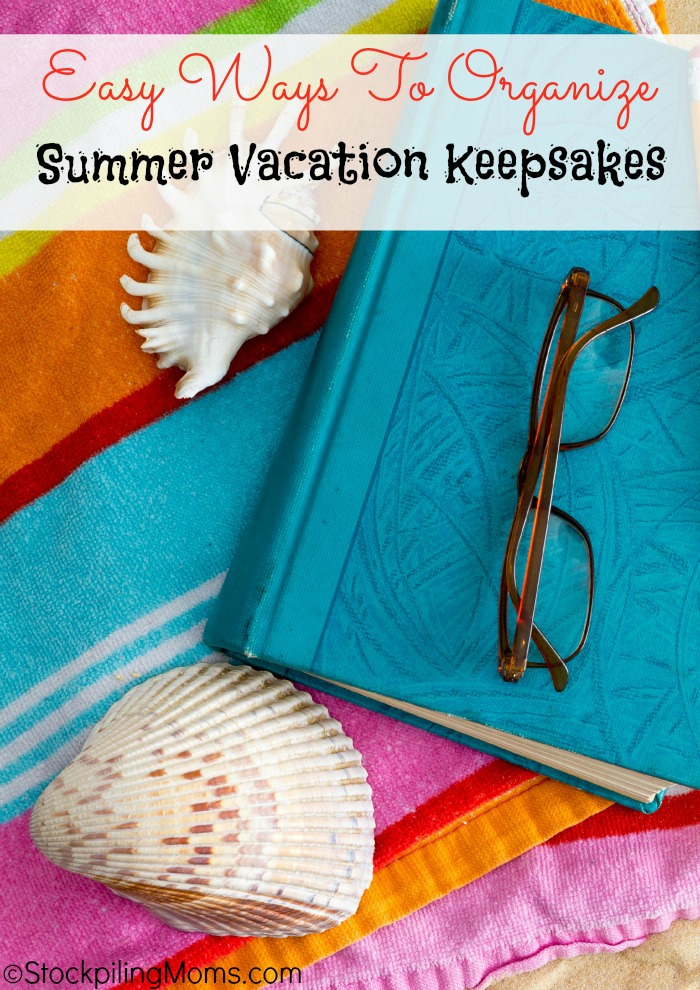 One thing summer vacations seems to bring in droves are keepsakes. Trying to keep track of what rock, pebble, necklace or ticket stub is important to your child can be tough, but these Easy Ways To Organize Summer Vacation Keepsakes are perfect for minimizing stress. Not only can you save the integrity of your children's prized possession from the beach trip, you can also add some fun elements to your home that are great talking points. Creating a method of keepsake preservation that suits your personality and family dynamic is much easier than you initially think.
EASY WAYS TO ORGANIZE SUMMER VACATION KEEPSAKES
Scrapbook paper & pictures
For all the amusement park ticket stubs, movie tickets, brochures, pictures taken and wristbands fun scrapbooks are the best way to go. Not only can you preserve your treasures in one easy to store location, you can create a story about your trip with fun papers, embellishments and word bubbles. Many scrapbook kits can be purchased for as little as $5-$10 in craft stores.
Make A Quilt from t-shirts
For all the t-shirts leftover from camps, theme parks, restaurants and beach destinations that no longer fit, you can create a gorgeous quilt full of fun destinations as a keepsake for your child. Simply cut the shirt to show the logo and piece together to make a fun mismatched quilt or throw.
Create Fun Vases & Home Decor With Shells, Rocks and Sticks
Do you have a bucket of seashells, brightly colored sea glass or oddly shaped rocks and pebbles found along the way? You can invest in a few simple glass vases, jars or mugs and create great pieces to decorate your home. Add in fresh flowers and a bit of water for a real life "river bed" experience or simply seal the jar and embellish with paint stating the year and destination they were found.
Create A Memory Board
Grab some cork board, a few fun ribbons and some push pins to create a memory board!
Create Annual Keepsake Boxes
Grab some fun colored storage boxes and decorate the outside with dates & destinations to create a fun annual keepsake box. Make one for each year, each destination or each child. Use them as part of your décor or simply store them away in the attic until time for reminiscing.
Create a Bottle of Memories
Using an empty and dry plastic water bottle add sand, shells, pebbles, feathers or anything that will fit inside. Attach the lid and create a tag with the date and destination. This is a great way to capture memories without coming home with buckets full of sand and shells!
No matter what you choose to do with your keepsakes, they don't simply have to be thrown in a box in the corner. You can use the fun items you pick up and these easy ways to organize summer vacation keepsakes to create a fun and beautiful addition to your home.
Travel Articles:
Melissa is a football and soccer mom who has been married to her best friend for 24 years. She loves sharing recipes, travel reviews and tips that focus on helping busy families make memories.