If you are looking for some creative Easter Basket Must Haves we have you covered with our Easter Gift Guide 2021. Think outside the box when it comes to filling your Easter Baskets and don't forget kids of all ages when it comes to the Bunny delivering goodies! We have included some of our personal favorites and hope you enjoy!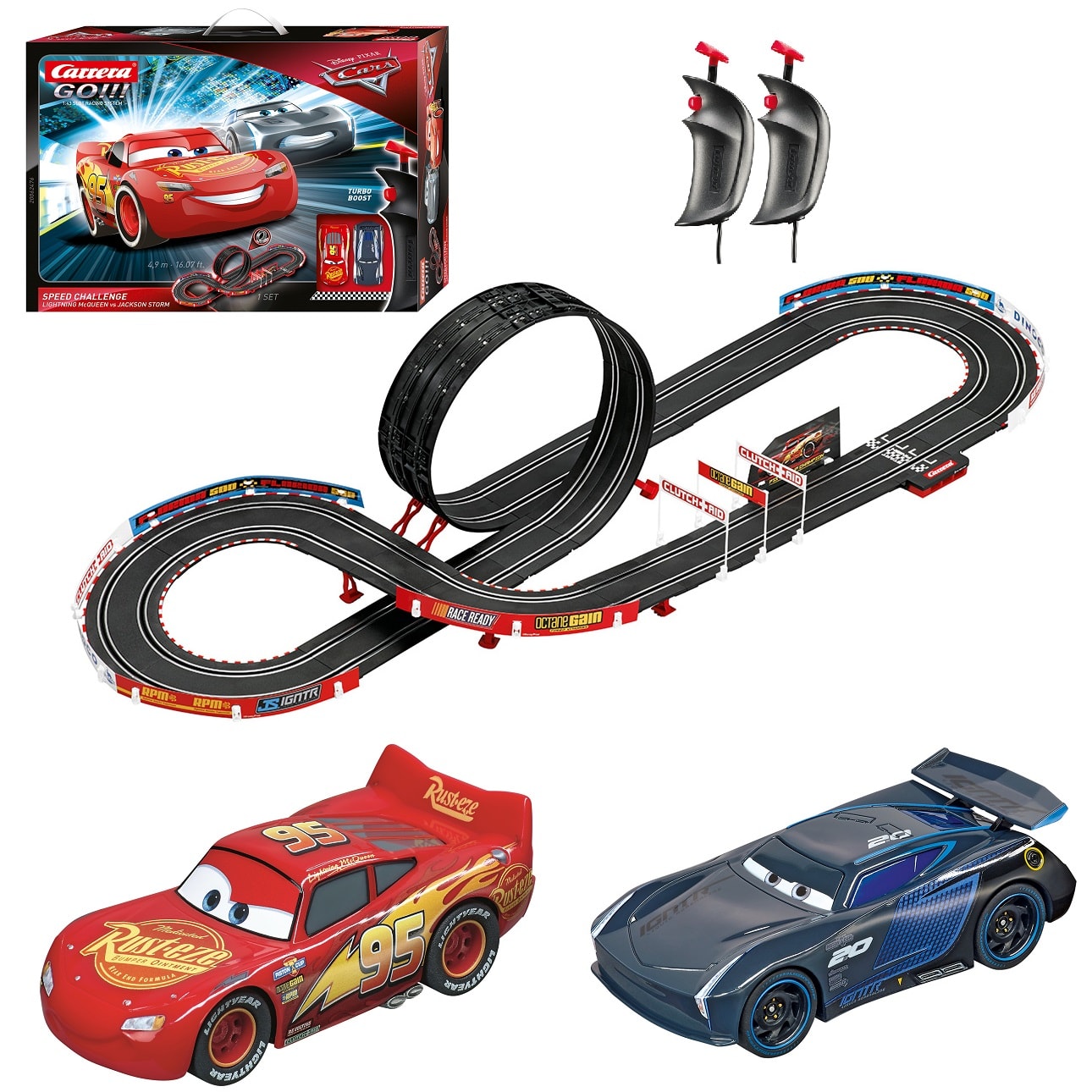 Carrera Slot Cars – With the Easter right around the corner, kids will surely be surprised when tearing through their baskets seeing Carrera Slot Cars with their favorite characters including Disney's Cars and Mario Cart. CarreraGo offers fast paced racing action, with a customizable racetrack. This is a great way to keep your kids engaged and entertained, while also staying unplugged after a full day of virtual classes. This is a great Easter basket gift idea! Available on Amazon.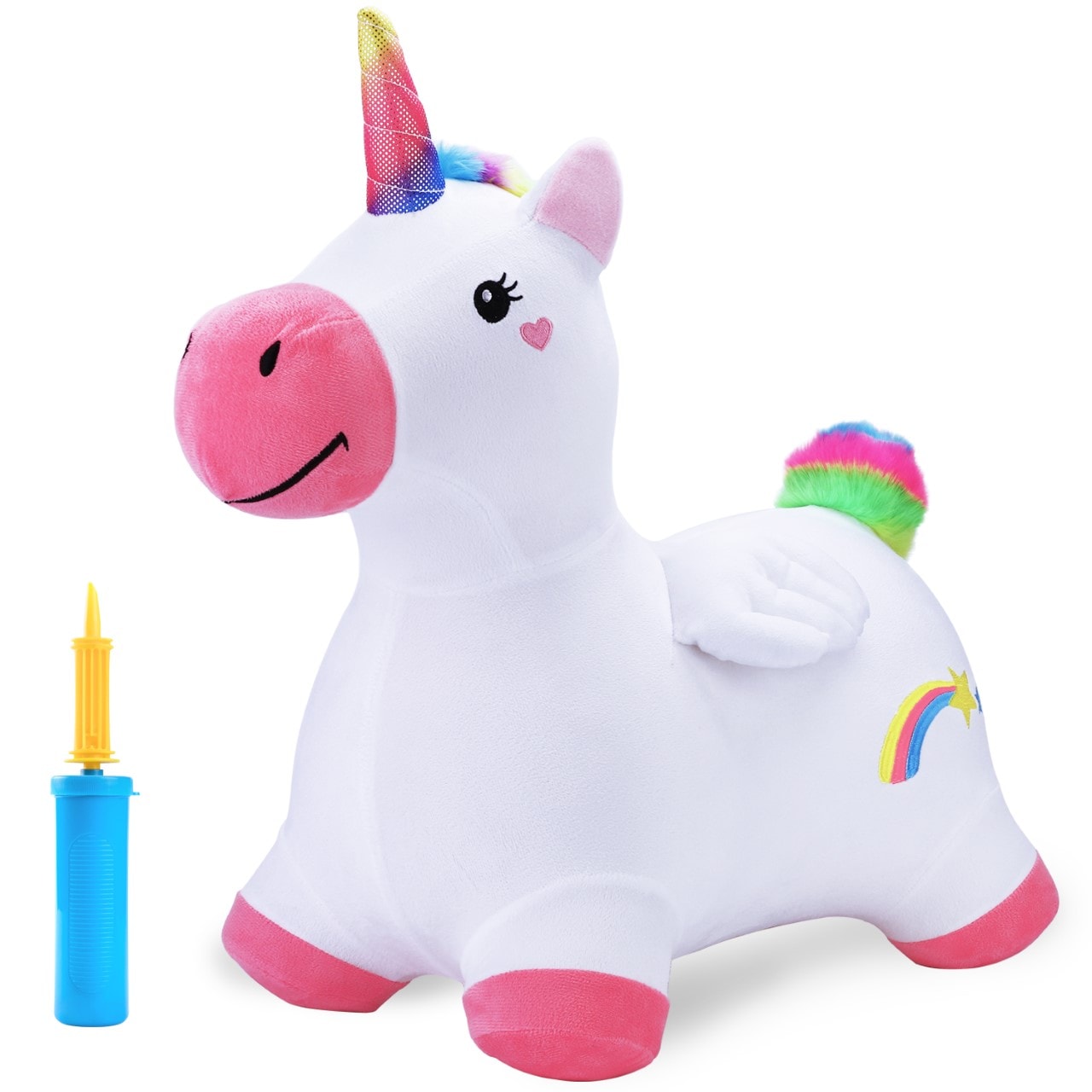 Hopping Unicorn – This Magical, Unicorn is covered with soft, removable/washable plush fabric. Easy to use- just inflate with the included hand pump and off you go! It is a high quality machine washable plush and supports up to 100 lbs. This is a great gift idea and it encourages active play and develops hand-eye coordination. The MSRP is $29.99 and the suggested age range is 18m +. It is available on Amazon.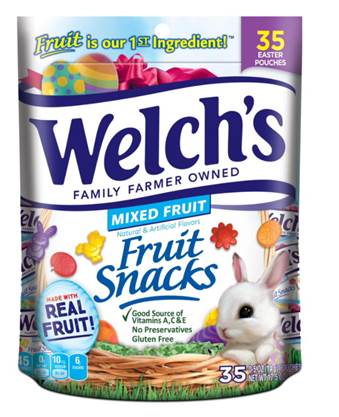 Welch's Easter Fruit Snacks – These classic, juicy fruit snacks would be perfect to throw in your Easter gift basket this year. They are made with real fruit and the perfect size for on the go. They are gluten free too and provide a good source for Vitamins A, C & E. The price is $5.48 for (35ct) .5oz pouches. Available on Walmart.com as well as in-store at select retailers nationwide.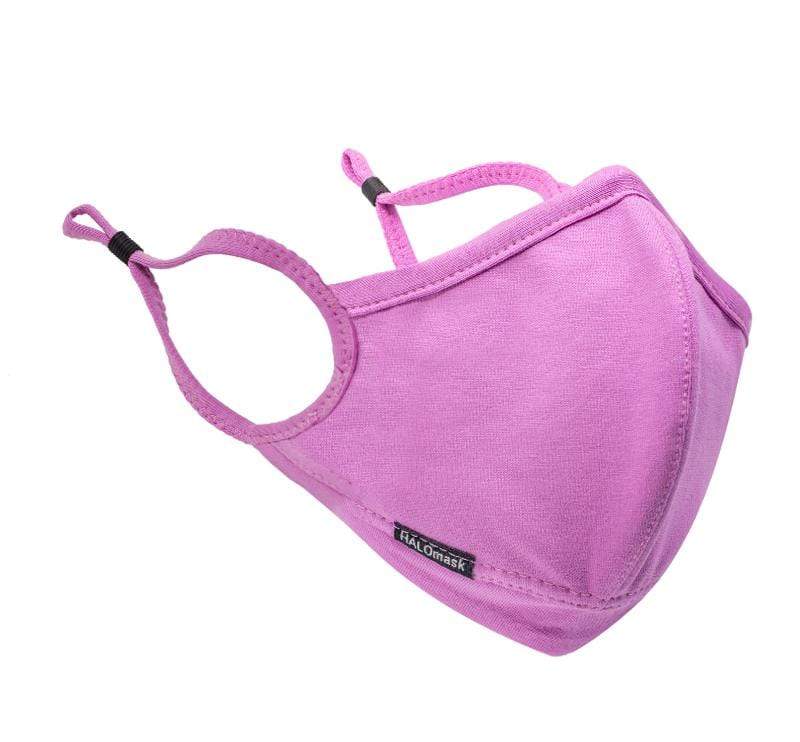 HALOmask – This is hands down my favorite face mask of all times. It is a protective yet comfortable and breathable mask, and are available in some new spring colors – green, pink and royal blue. It is a filtered mask with three layers, including a nanofilter that's scientifically proven to screen out 98.8% of airborne particulates, including COVID–19. In the new spring colors it would be the perfect addition to your Easter Basket!
Hide 'N Cheek was just released exclusively at Target! Have some acorn-hoarding fun and show off your chunky chipmunk cheeks in this hysterical new family game. This would make a great addition to your kids Easter baskets!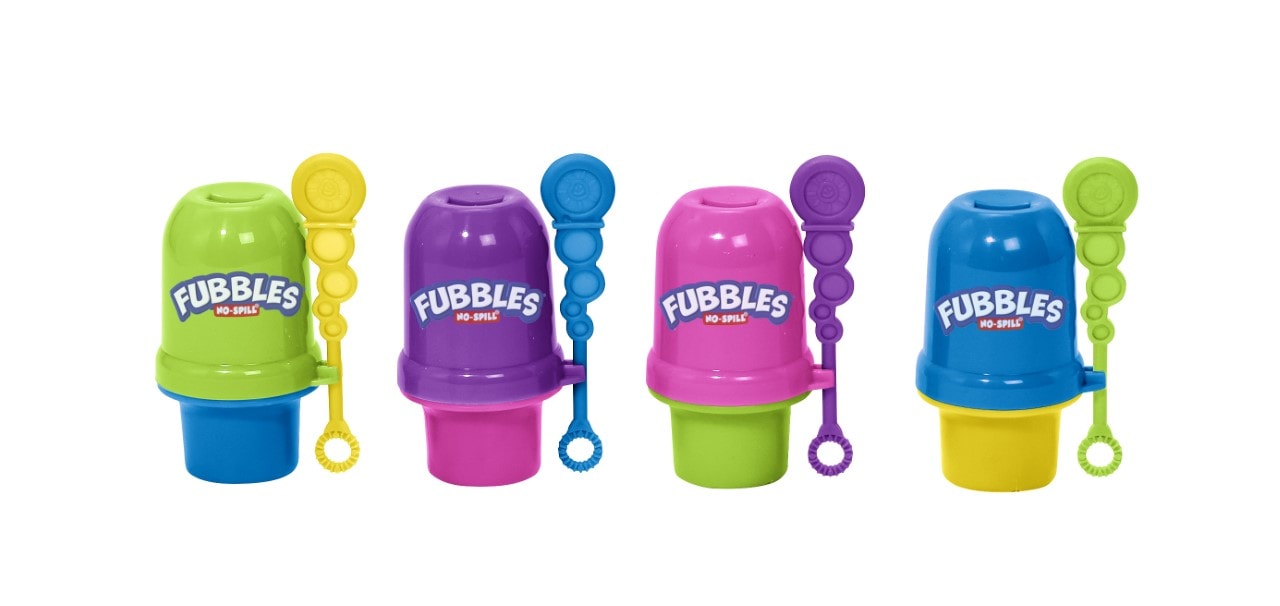 No-Spill® Mini Bubble Tumblers® are the perfect addition to any Easter Basket! Designed with kids in mind, these bubble tumblers prevent accidental spills that occur during normal bubble play. You can knock them over or tip them upside down – they're No-Spill! Each Mini Bubble Tumbler includes a wand and 1 fl oz. of premium bubble solution. Available in four Easter pastel color combinations. The price is right too! At only $0.99! Go ahead and get a couple. It is best suited for ages 18 months +. It is available at Walmart (in store only).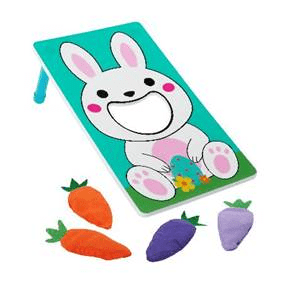 Bunny Bean Bag Toss – Classic play with a fun Easter Twist! The Bunny Bean Bag Toss game is a fun, simple bean bag toss game – just toss the carrot shaped bean bags towards the target and try to get them in the bunny's mouth! 3 points for carrots that go through the hole, 1 point for carrots that land on the board. Set includes 1 board with colorful bunny graphics and 4 carrot bean bags. The MSRP price is only $9.99. It is best suited for ages 3+ and is available at Walmart (in store only).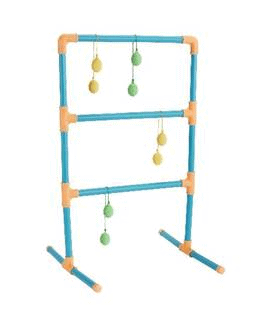 Easter Egg Toss – This classic ladder toss game play with fun Easter theming! Toss the egg shaped bolas towards the target and try to get them to wrap around the rungs to score! Set includes 1 ladder target and 4 bolas. The MSRP is $9.99. It is best suited for ages 3+. and is available at Walmart (in store only).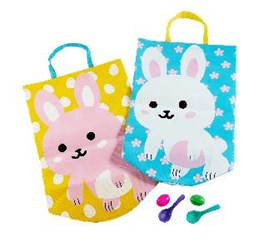 Easter 2 in 1 Sack & Spoon Race – It's a race to the finish line! This 2 in 1 game set lets you race two ways – potato sack races and egg spoon races! Hop towards the finish line in the fun Easter Bunny themed potato sacks – then race again to see who can cross the finish line with an egg balanced on their spoon. Set includes 2 potato sacks, 2 spoons and 2 eggs. The MSRP is only $9.99. and it is suited for ages 3+. It is available at Walmart (in store only).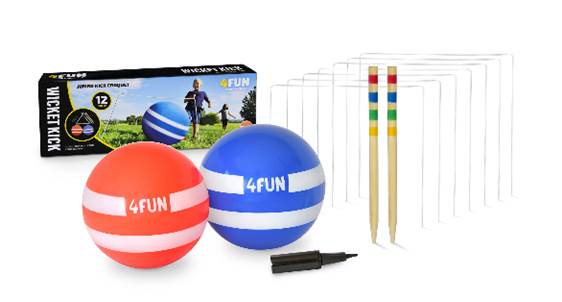 4Fun Wicket Kick: Giant Kick Croquet – Kids will have a ball with this fun, outdoor, GIANT kick croquet game! Kick Croquet combines the fun of running and kicking a ball with the extra added attraction of guiding it through a course of wickets. You can make the course as hard or easy as you wish just by the way you space the six wickets. This would be the perfect addition to an Easter Basket. The MSRP is $29.99. It is best suited for ages 3+.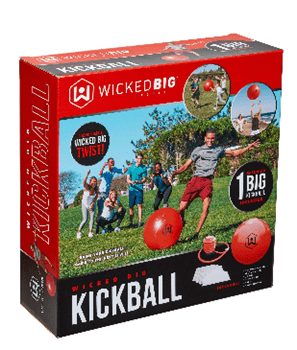 Wicked Big Sports Kickball – Classic Kickball but BIGGER and BETTER! Wicked Big Sports Kickball takes traditional kickball to the next level! Each kickball inflates to 20" in diameter – over 2X the size of a traditional kickball! Everything you need to play a game comes in the set: 1 oversized kickball, 3 bases, 1 home plate, 1 pump, 3 ball plugs, and 1 plug remover. The MSRP is $19.99 and it is best suited for ages 8+. It is available at Walmart.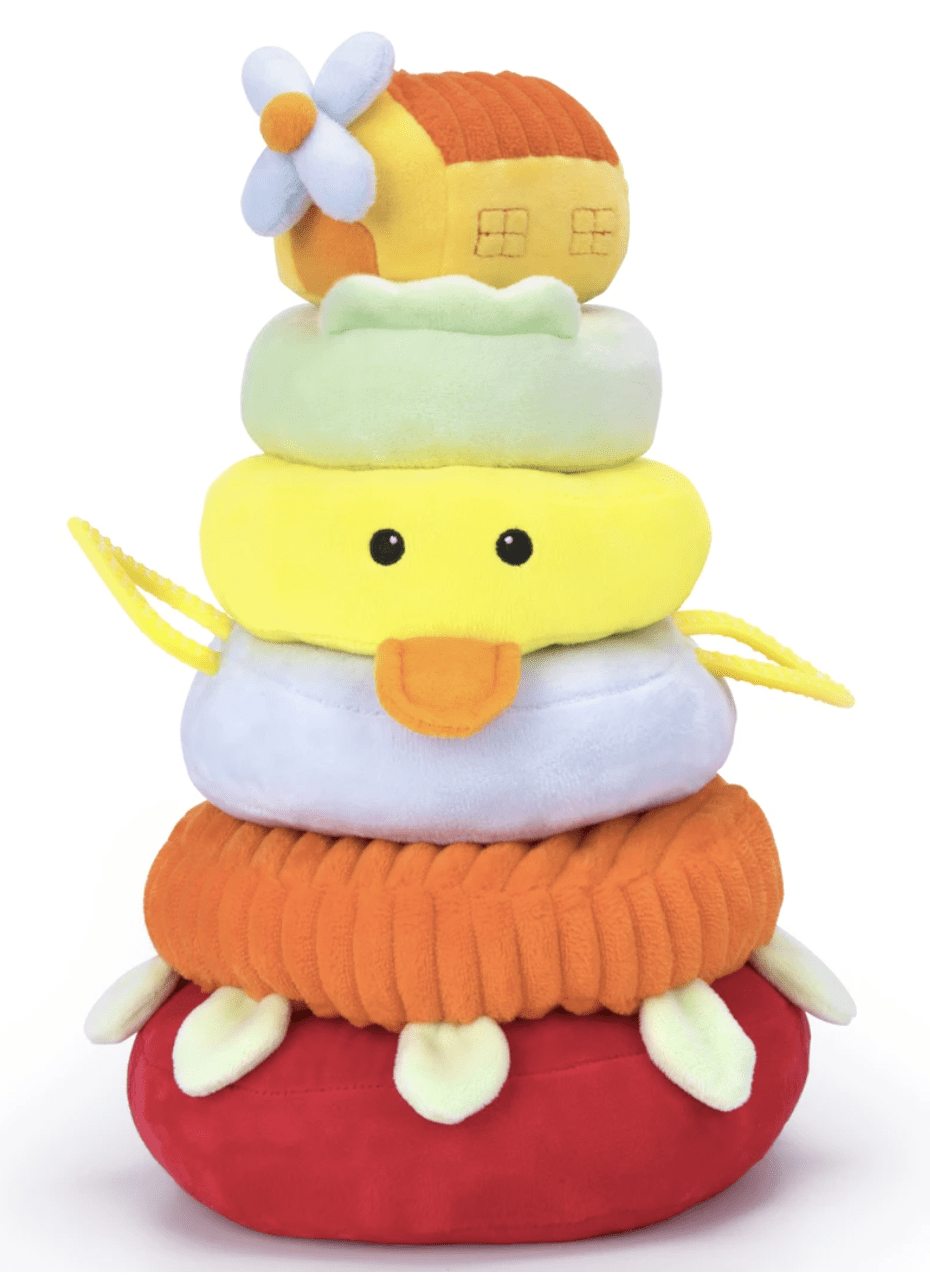 Plush Stacking Rings Toy – Stimulate your child's sensory experiences through play. The soft material is made of PP cotton, softer than plastic to avoid injury by babies and toddlers. One touch and you'll feel the exceptional quality for yourself Safe for your baby and soft to touch. It is cutely crafted with 6 rings including a beeping duck, a windmill rattle, a sunflower rattle, a teether ring, and a crinkle ring. The crinkle sound is used to calm fussy babies because of its similarity to the white noise heard in a mother's womb. It promotes brain development with the vibrant colors and multiple playing rings help develop color recognition, fine motor skills, counting skills, and spatial reasoning in your little loved one. The MSRP is $21.99 and the age range is for 3 months +. It is available on Amazon.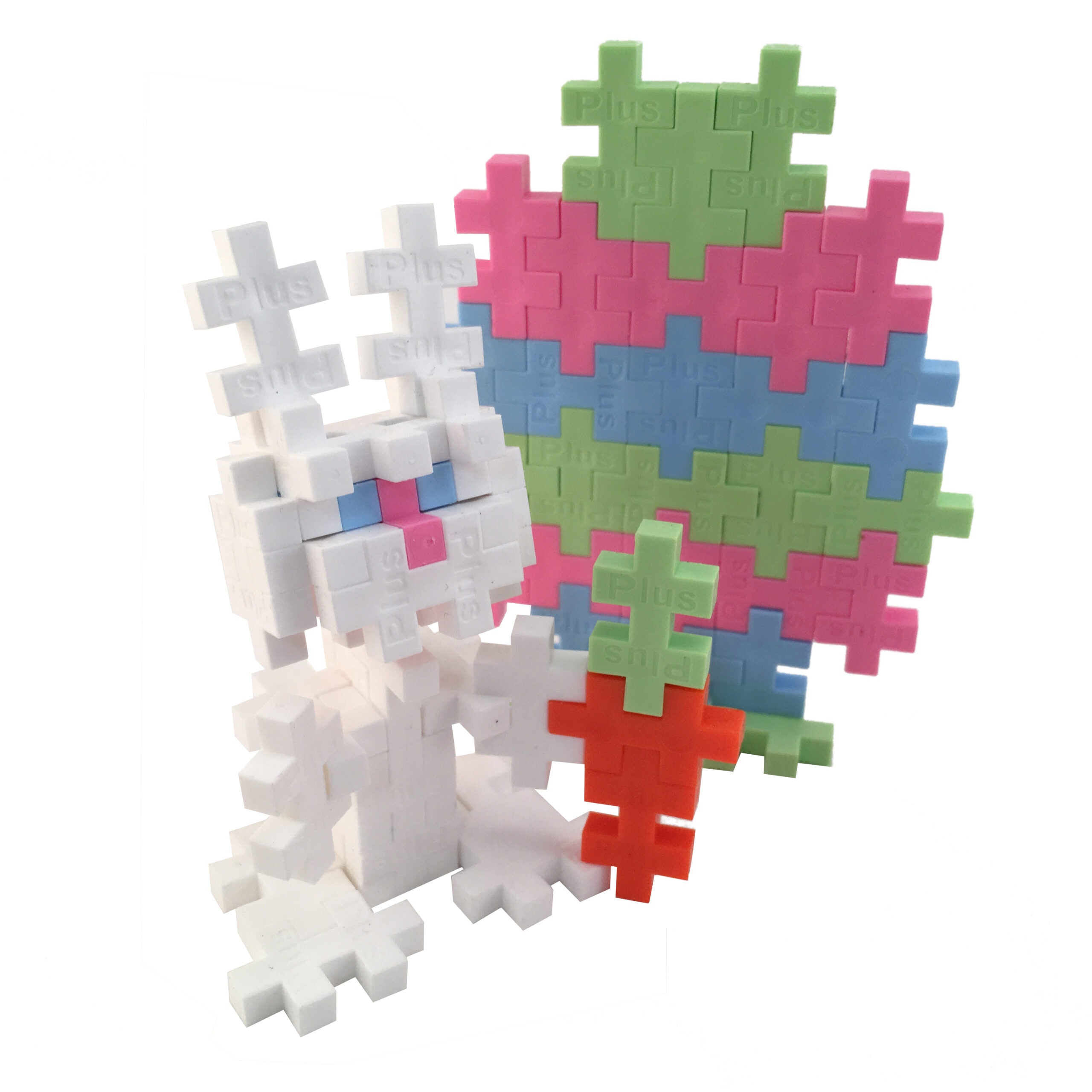 Bunny Tube by Plus-Plus. The Bunny Mini Maker Tube from Plus-Plus is a spring favorite and the perfect addition to any Easter basket! This product is made in Denmark. It is BPA-free & phthalate-free and safe for kids. The MSRP is $7.99 and the best age range is 5-12. It is available on Amazon.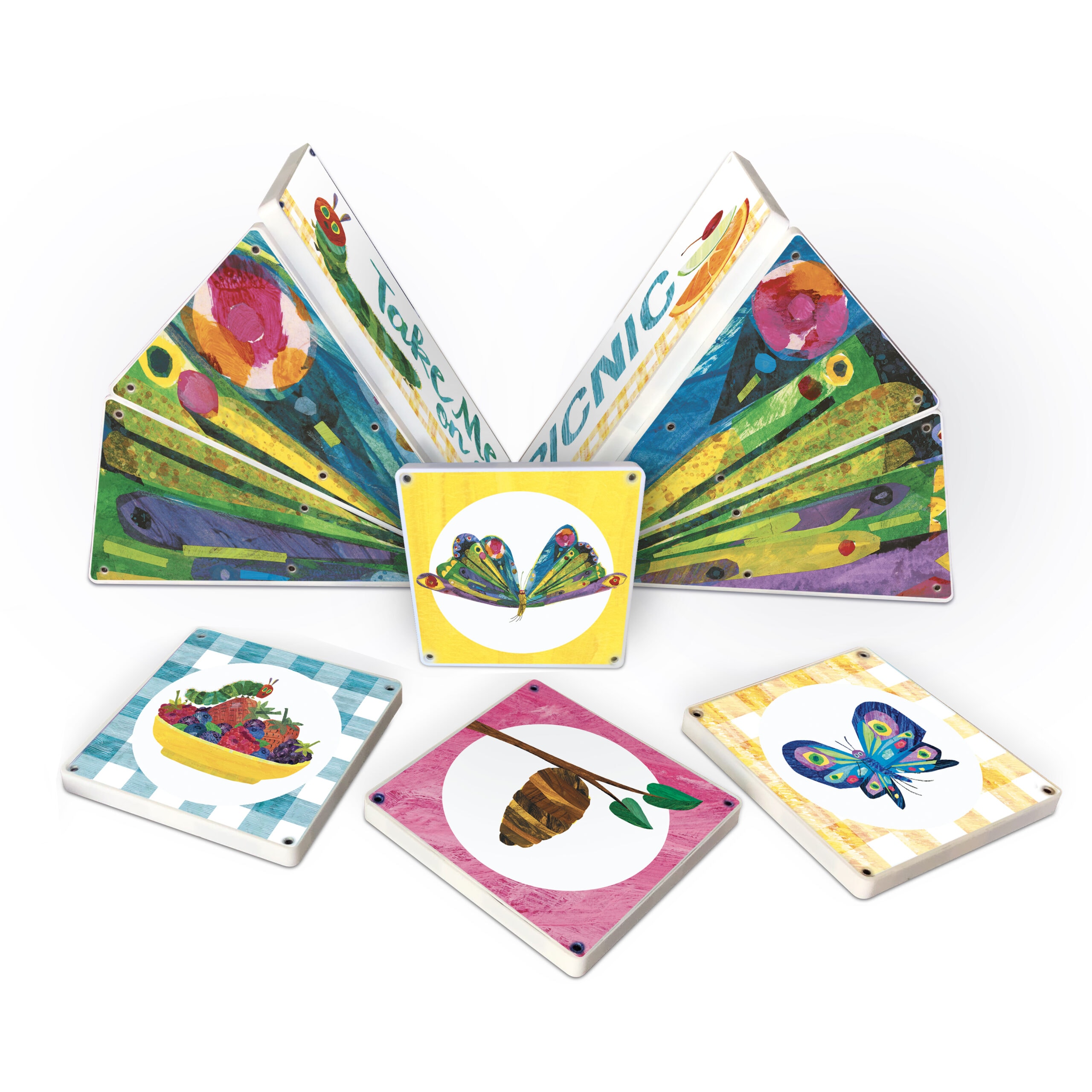 The Very Hungry Caterpillar's Garden Picnic – Magna-Tiles Structure by CreateOn. With Spring comes life…and Caterpillar's spin themselves a cocoon and soon emerge a Butterfly. Bring home the brand-new limited edition The Very Hungry Caterpillar Spring Butterfly Magna-Tiles Structures Interactive Story Time set. Learn the evolution of a caterpillar to a butterfly all while enjoying the amazing iconography of Eric Carle's timeless classic The Very Hungry Caterpillar brought to life on Magna-Tiles. The MSRP is $44.99 and the age range is 3+. It is available at CreateOn.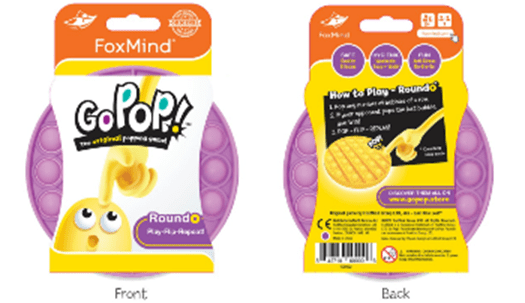 Pop It!
– The original never-ending bubble popping game, is currently the #1 search term on Target.com and selling out fast. Thanks to its popularity on TikTok, this addictive, sensory game is on track to be the hottest selling toy of the year! It is perfect for Easter Baskets! My 19 year old daughter loves it! Originally designed as a sensory toy for young children, TikToker's can't get enough with countless accounts with thousands of followers dedicated to Pop It! They love that it packs the same satisfaction as popping bubble wrap without the waste — and it's never ending! Dubbed 'the new fidget spinner', it's the fun, affordable (under $10) stress-reliever
we all need right now.
Copper Inside Face Mask, a Tel Aviv based technology company powered by Israeli patents in the field of medical wound dressings since 2010 is bringing its tech-focused masks to the U.S. The news comes on the heels of selling millions of masks around the world over the past 4 months. These Reusable masks are in a stylish fabric and contoured for a close fit around your face, mouth, and nose for both men and women. Copper has been shown to have protective properties. Copper is woven into the mask's fibers to help strengthen the mask for durability and reduce odor. The company's team of scientists and doctors are constantly developing new copper technology. The product is also environmentally friendly. Copper masks reduce the environmental impact and minimize waste. This is because the masks do not have to be treated as hazardous waste like normal masks but can be disposed of with normal household waste.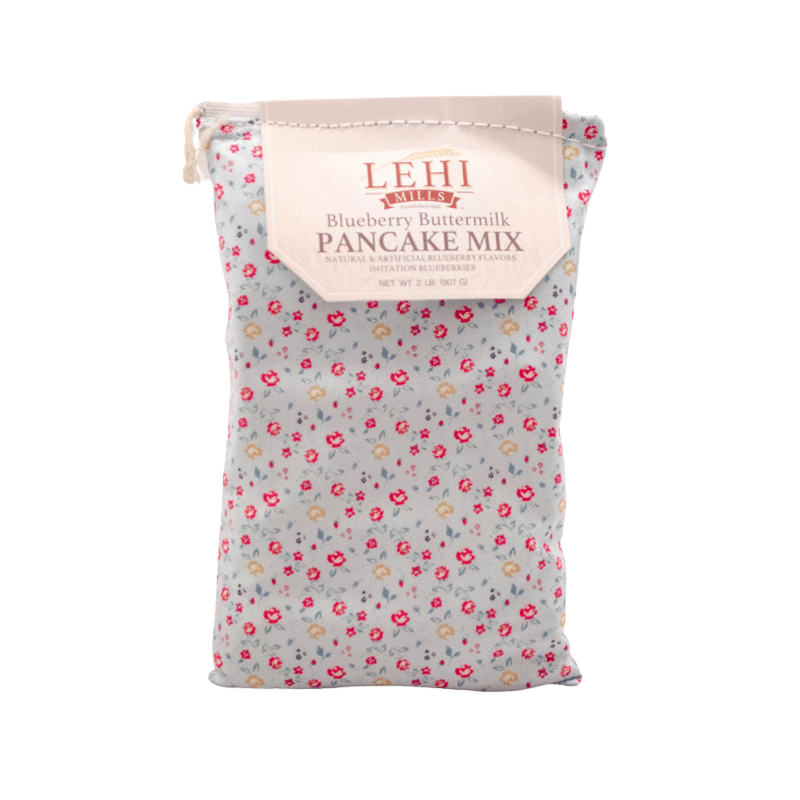 Lehi Mills Spring Gift Bags – The perfect family gift for Easter. It includes 2 pounds of mix, wrapped in a floral and pastel packaging and secured with directions for baking. Flavors like Blueberry Buttermilk Pancake, Belgium Waffle, Chocolate Chip Cookie, and more are available now exclusively for Spring at LehiMills.com. The MSRP is $7.99. Would be a delicious Easter morning treat for the whole family to enjoy!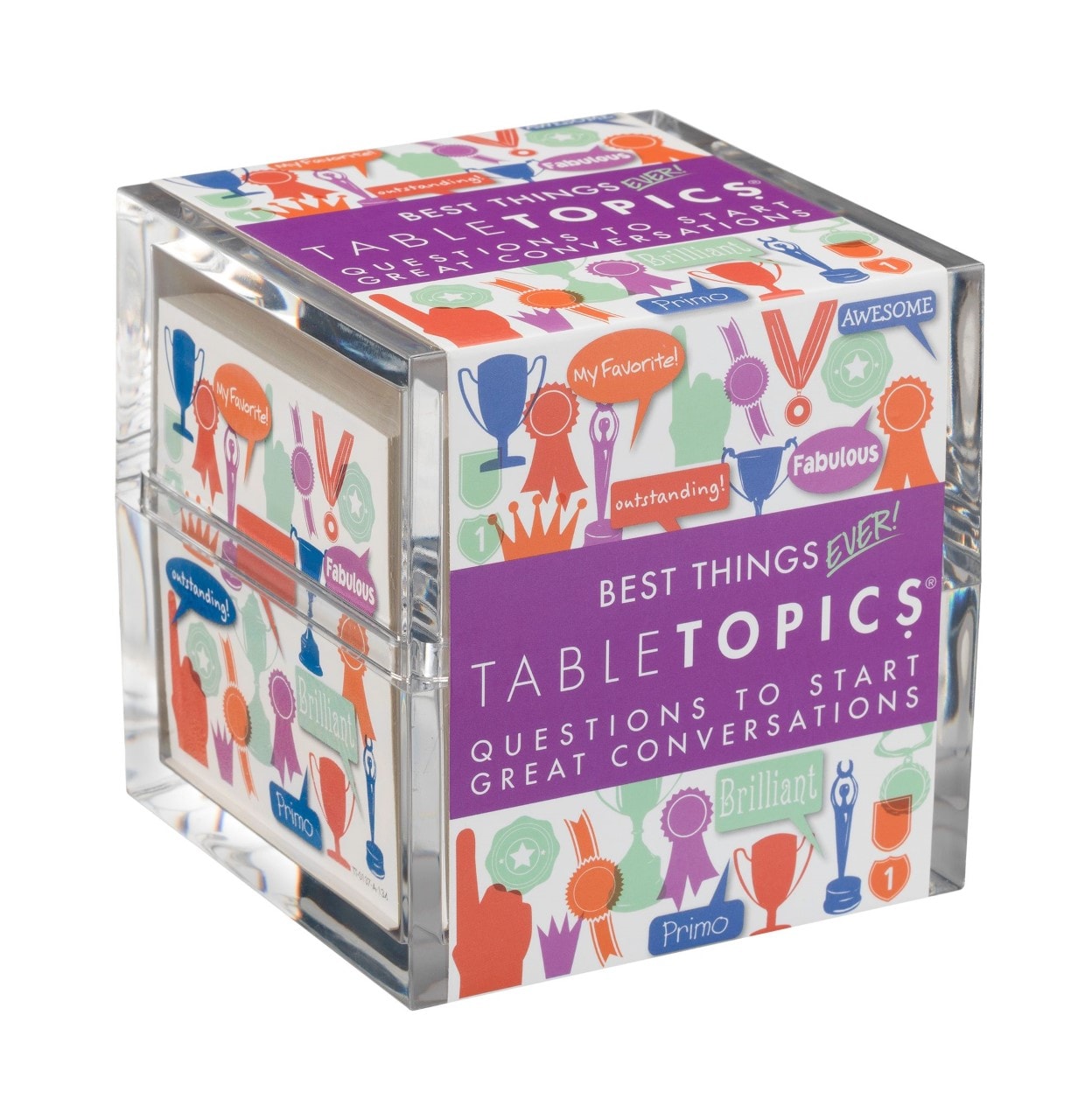 TABLETOPICS® Best Things Ever Edition – This fun mix of age-appropriate conversation starter questions will uncover everyone's favorite things; great for getting to know friends and family better! For ages 12 and up, this set is the perfect gift to stuff in Easter baskets – especially because the cards come in a small 4" modern acrylic cube case. The MSRP is $25.00 from Amazon and major retailers nationwide.
We hope these Easter Basket Must Haves help you in selecting items to fill your Easter Baskets!
Melissa is a football and soccer mom who has been married to her best friend for 24 years. She loves sharing recipes, travel reviews and tips that focus on helping busy families make memories.