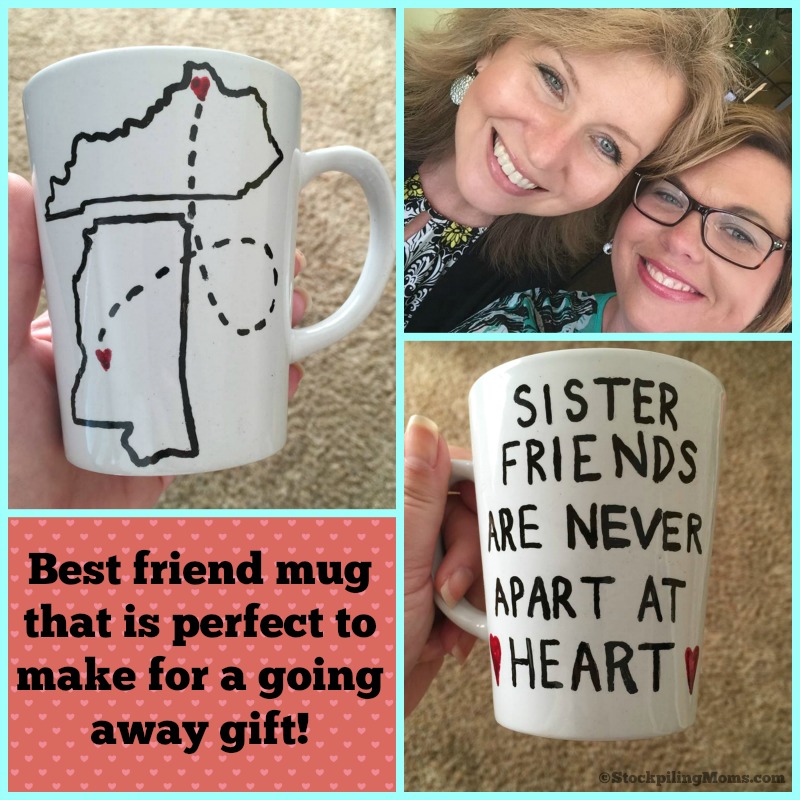 We have shared with you several DIY Sharpie Marker Mugs but I am in LOVE with this one! My sister friend Teresa just recently moved to Madison Mississippi. I co-hosted a going away luncheon for her and as I was racking my brain on what to get her it dawned on me – I would make her a special DIY Sharpie Marker Mug (well actually Tim would ;-).
DIY Sharpie Marker Mug:
Teresa and I have been friends since our sons were only 15 months old. I was a new stay at home mom and I decided to look for a Moms Club to attend. I found a MOPS club that met at a local church and decided to give it a try. I guess Teresa could tell I was more than a little anxious leaving Peyton for the first time and she patted me on the the back and told it was going to be ok. At that moment we became friends. Little did I know that our boys were literally the same age and that she lived 1 subdivision from mine. Our boys became best of friends and as soon as they could talk they started calling themselves "the bros". If you ever find yourself a friend like this you know you never want to let go. Ten years have passed and now it time for Teresa to move closer to her parents. I am thrilled she is able to start this next chapter of her life but yet I am heartbroken at the same time.
We have spent countless hours having coffee together over the past 10 years and I felt that this was a gift that really perfect for her as a moving away gift. Even though we are in separate states our hearts are always going to be connected together as sister friends. We have held each others hands through good times and bad and now we will continue too do that just from a longer distance. I am thankful for texts, face time and the visits that are in our future.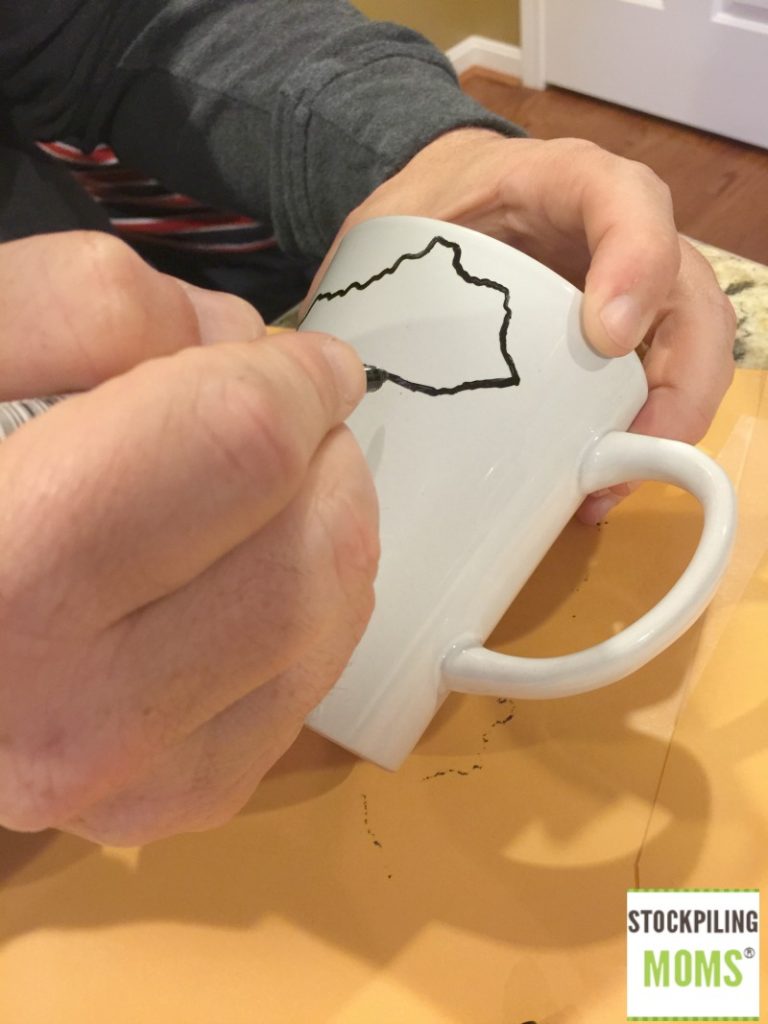 This is a simple and frugal gift that will last a lifetime. It is a unique going away gift that you can customize to suit.
DIY Sharpie Mug
We are sure you have seen these Sharpie Mugs are all over Pinterest, but you may have heard that they are a Pinterest Fail too. In fact my friend made them with regular sharpies and learned the hard way. This step-by-step instructions not only shows you how to make them AND tips on which markers won't wash off! This is such a fun easy project and DIY gift idea! We hope you love it as much as we did! Best of all you can make this project for around $1.00!
Supplies:
Plain Mug (white or any solid color will work) – you can pick these up at the Dollar Store
Oil Based Sharpie Markers (Not Regular Sharpie Markers) – you can order online OR pick up at craft store using a coupon
Pencil, optional
Directions:
1. Wash and dry your new mugs and remove any price stickers from the bottom.
2. Using a pencil sketch your design on the mug (this is optional as you can always free-hand your design with the markers).
3. Draw your design with (oil based) sharpie markers.
4. Allow to dry without smudging by placing your hand inside mug to stabilize while you complete your design.
5. Place mugs on a cookie sheet and bake in a 350 degree oven for 30 minutes to "cure" the design.
6. After the mugs cool completely you can hand wash and use.
The Sharpie Mugs are NOT dishwasher safe. I repeat the Sharpie Mugs are NOT dishwasher safe. However we have used and hand washed our mugs a dozen times since we created them and the design is still there with no fading! I would personally NOT advise you to write on the interior of the mug for safety concerns. Also you can use this mug as a flower pot, pencil holder or just for decoration if you desire instead of for traditional use. I think this would be the most amazing gift idea if you fill the mug with candy, coffee, tea, fuzzy socks or really the sky is the limit! Best of all I love handmade gifts. This is a really precious gift idea for parents, grandparents or any one on your gift giving list!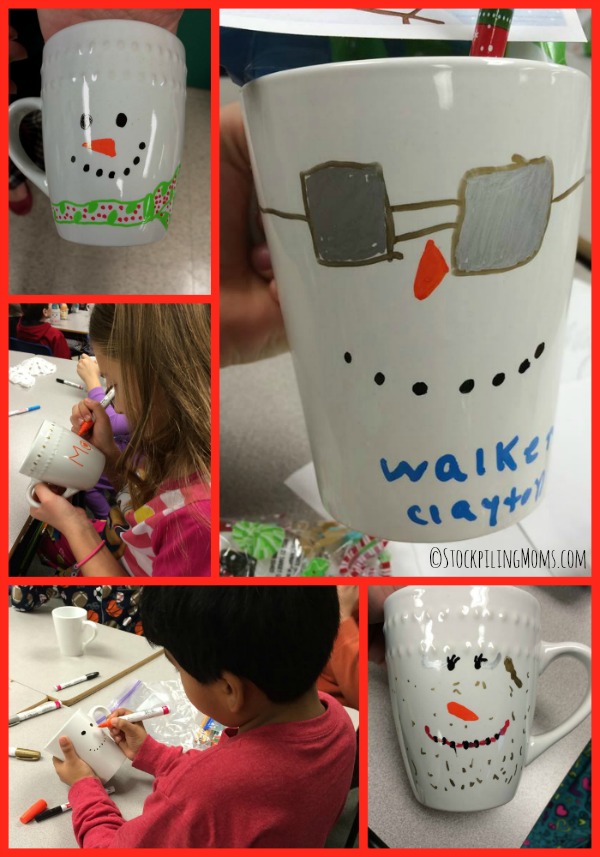 We also have our popular DIY Snowman Sharpie Mug Idea
Melissa is a football and soccer mom who has been married to her best friend for 24 years. She loves sharing recipes, travel reviews and tips that focus on helping busy families make memories.