Disney's Pop Century Resort Review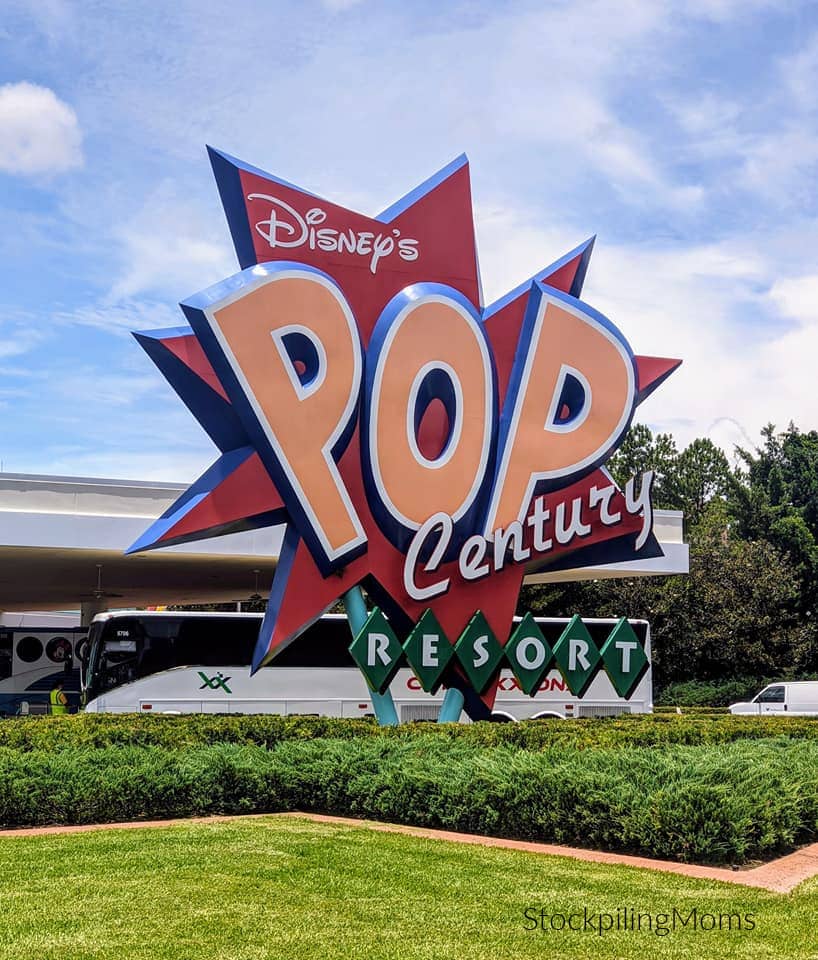 OH HOW WE LOVE DISNEY! We missed last year due to covid and we were determined to go this year! When I was booking, our favorite resort wasn't open. So, we decided to check out a new resort we had never stayed in. I honestly picked Pop Century because of the Skyliner. We really enjoyed our stay and so I decided to provide a Disney's Pop Century Resort Review for our readers!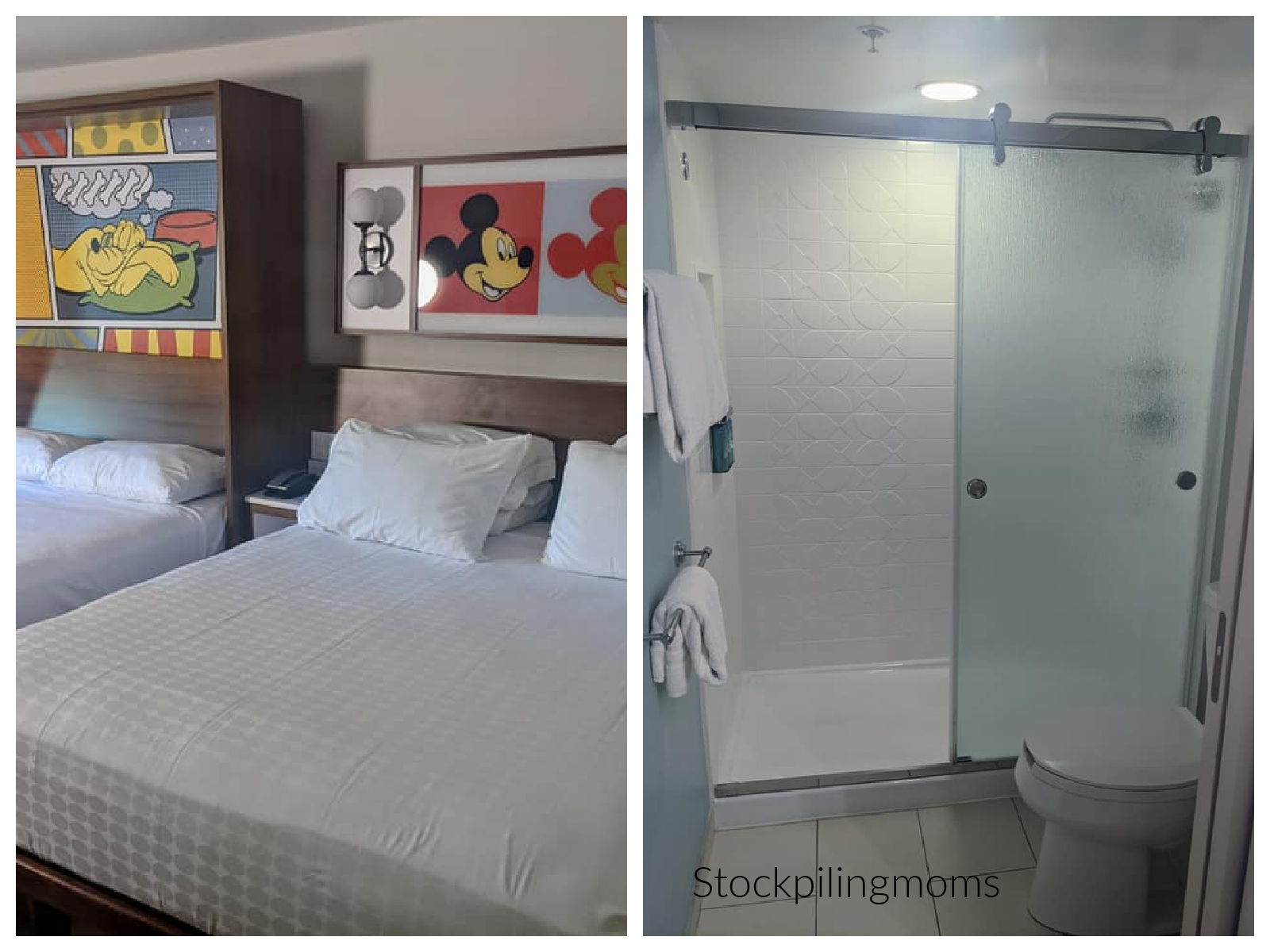 Disney's Pop Century Resort Review
We stayed in a Preferred Room in the 50's building, room 1416 to be exact. I chose this section because it is close to Classic Hall, Dining, Shopping and Transportation! The room was a bit small but was perfect for my family who is never in the room. We go go go! You can open up some space if you have a room with 1 Queen-Size Table Bed and 1 Queen Bed. We chose not to put the bed up because we were just there to sleep. You would have more room if you put the bed up each day! I also like the split bathroom with sliding doors. There is a sliding door that sections off the shower and toilet and an additional sliding door that separates the sleeping area from the sink, mirror, and closet. Makes it easier for a couple people to get ready at the same time.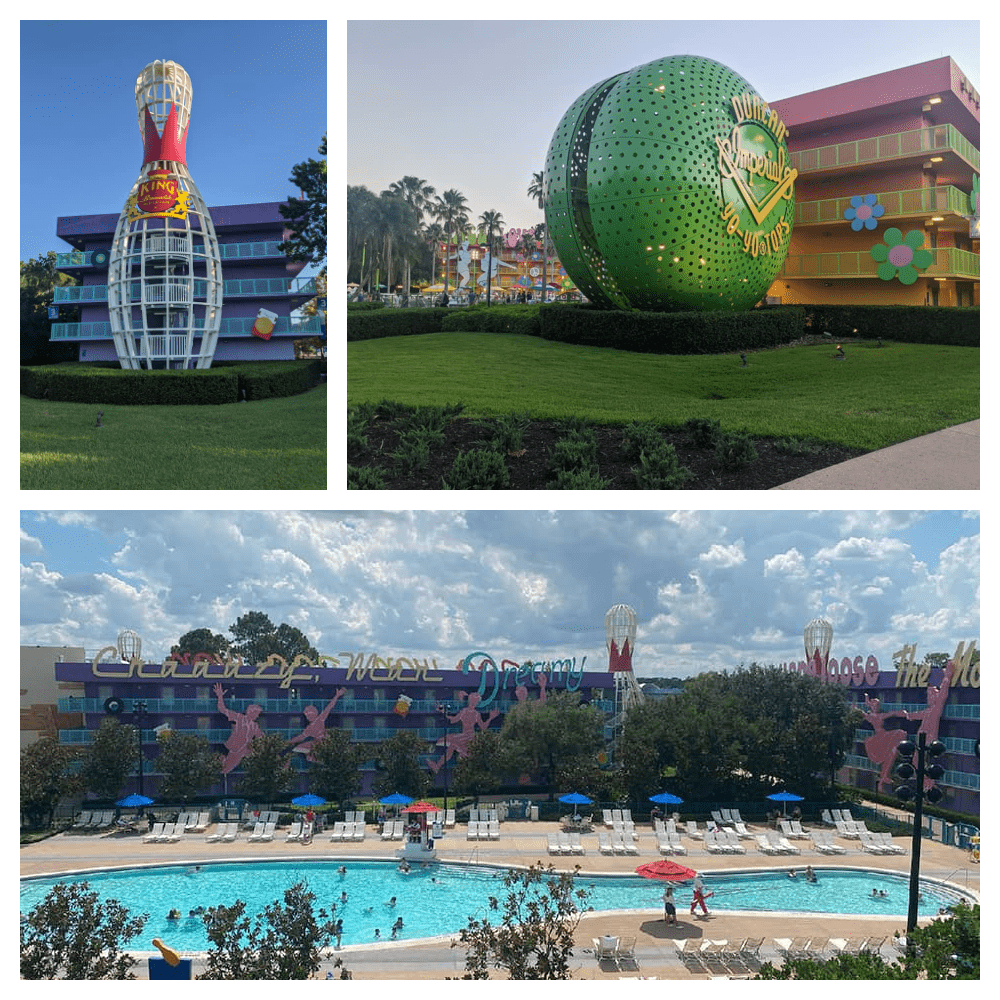 The grounds are so fun to walk around. Since I am a 70's kid I found it so interesting to see all the things from my childhood! They had everything from Mickey Phones, Yo-Yos, to statues of some of the old Disney characters you know and love. If you love the 50's through the 90's you will love walking around this resort! I don't want to ruin it for you and post a bunch of pictures. You have to walk around and look for yourself.
Check out the Pools!
**All Pools provide towels!
Hippy Dippy Pool – This pool has flower-shaped water jets and a lazy 1960's theme! They also have movies under the stars! Check out the listing of movies they provide at the resort! If you have little kids this is the pool for you! They even have a kiddie pool! HINT** People say since the pool closes late it is sometimes loud. If you are taking nap breaks or going to bed early you may not want to face the pool.
Bowling Pool – Our room was located in the area of this pool. We stayed on the other side not facing the pool because of the possible noise in the evening. I did find this was a very chill pool environment. We went to this pool several times to rest and relax!
Computer Pool- This pool is for all you 90's babies! It is a computer-shaped pool that includes a giant floppy disc and keypad.
Other Pop Century Perks!
Fast Forward Arcade – You can play video games new and old at this fab arcade! It is located in the Classic Hall building near the entrance of the gift shop and dining!
Playground – If you need a little simple play time the playground is located in the 70's area of the resort!
Jogging Trail – I personally do not like to add more exercise to my vacation than walking around the park all day but there is a really nice jogging trail. You can enjoy a nice run or walk around Disney's Pop Century Resorts' mile jogging trail.
Everything POP Shopping & Dining
We really enjoyed the shopping and dining at Pop Century! We ate a lot of our meals here! Got to love Mickey Waffles for breakfast! There were a lot of days we got so hot we didn't feel like eating big meals so we would pick up a quick kids meal. Right now everything is mobile order and I sure hope they keep it! I love it! You pick a time to have your food ready, when you get to the location you hit I'm here in the My Disney app, and they will send you a push message when you are done! It is so easy! We really enjoyed the burgers, chicken fingers, and pizza! They have a great deal on pizza $29.99. (subject to change without notice) This deal includes a pizza, caesar salad, and breadsticks for 4.
We shopped til we dropped in the Everything Pop Shopping! The kids and I purchased new Ears, t-shirts, stuffed animals, disney pins, and some gifts to take home. We found they had a lot the other stores did and we didn't have to carry it all day! (right now they will not deliver to your resort. I hope they bring that back!)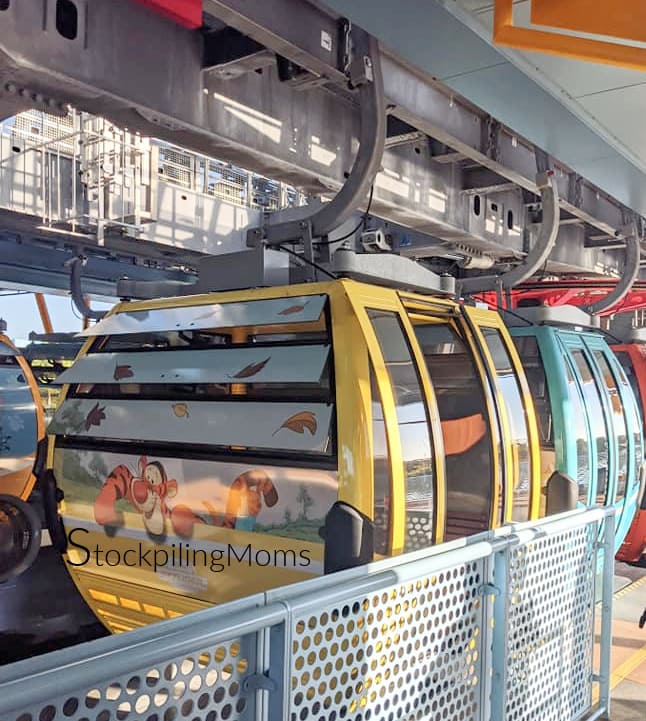 Disney Resort Transportation
Disney Skyliner – This is now my favorite mode of Disney Transportation. I was always for the boat and the monorail but I love the Skyliner! Travel is easy when you take these Disney themed gondolas. The skyliner will take you to Epcot and Hollywood Studios in no time. High traffic times, such as park opening and closing, there may be a wait. We never waited over 20 minutes to get on and most of the time did not wait at all! You can also visit other resorts on the skyliner. Disney Skyliner Resorts include The Riviera, Caribbean Beach, Art of Animation, and Pop Century.
Bus Transportation – You can take a bus to Animal Kingdom, Magic Kingdom, and Disney Springs. The bus will not run to Epcot or Hollywood Studios if the skyliner is open. We ran into some bad weather while we were there and they shut the skyliner down. They will open the busses at this time and you can take them to and from the park.
***Note – In 2022 they will not be providing the Magical Express to and from the airport. They say you will have an option to still take Mears busses but it will not be provided by Disney.
Other Great tips and tricks for your Disney trip at Pop Century!
Disney is not offering Magic Bands for free anymore. You can use an old one or purchase a new one. Personally, I highly suggest using magic bands. They are so easy to use. You can open your door, charge your meal, and use it for Memory Maker. There are so many reasons to have it. I have heard a lot of people say use your phone, well my phone died almost everyday before we got back to the room. Using a magic band, I did not have to carry cash or credit cards because my band was linked to my room.
If you are going to any meal in the Epcot/Hollywood Studios area take the skyliner and walk over. We ate breakfast at Cape May, at the Beach Club, and walked over. Pay attention to park openings because the skyliner doesn't go to a park that is not open or opening within an hour. For example, when we went to eat breakfast at Cape May, Epcot was not open yet. So, we took a little longer walk from Hollywood Studios. It was still very enjoyable!
You can request a fan or even a microwave for your room.
You can use grocery services to deliver to the resort and they will properly store until you pick it up. Amazon Fresh and Instacart are great places to start.
You can use Disney Gift Cards or Cash to pay off your charges at the front desk. I usually went down every couple days and paid the amount at the front desk.
Check out other great Disney Articles!
The Best Gluten Free Food at Walt Disney World
Visiting Disney with Special Needs
HOW TO SEE MORE CHARACTERS AT DISNEY WORLD
WHY YOU SHOULD CONSIDER A WALT DISNEY FISHING EXCURSION
WALT DISNEY WORLD PACKING LIST
****I really hope you enjoy this Disney's Pop Century Resort Review! All Opinions are my own and I was not compensated for this review in any way.
Shelley is a boy mom, marine wife, and is blessed with an amazing family. She loves sharing recipes, travel reviews and tips that focus on helping busy families make memories.