Diffusing Essential Oils in a Tart Warmer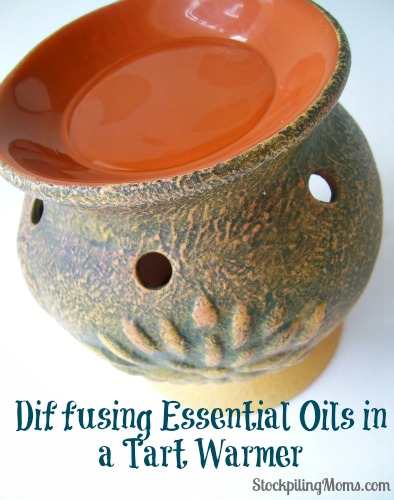 Diffusing Essential Oils in a Tart Warmer is perfect for the frugal person like me! It worked perfect and my house smelled wonderful. We heard that you could diffuse essential oils in a tart Warmer. So after Melissa tried her warmer and it worked so I thought I would try my tart warmer that I have from Yankee Candle.
Diffusing Essential Oils in a Tart Warmer:
You can use any essential oil that you want in your tart warmer. I personally used peppermint in my tart warmer and all my boys loved it! I put some water in it and added 7 drops. I kept checking my tart warmer often and added water as it got low. You have to be careful and watch it to make sure that it has water in it the whole time you are using it or the oil will burn. I have now been diffusing oils everyday in my home! This is an affordable solution to purchasing a diffuser if you already have a tart warmer which is nice. Be sure NOT to leave unattended for any reason.
Disclosure: We are NOT providing medical advice. Always consult your physician for medical treatment. The advice shared in this page has not been evaluated by the FDA. The products and methods recommended are not intended to diagnose, treat, cure or prevent any illness or disease, nor is it intended to replace proper medical help.
Essential Oils:
Uses and Benefits of Lemongrass Essential Oil
Uses and Benefits of Lavender Essential Oil
Use and Benefits of Lemon Essential Oil
Uses and Benefits of Slim and Sassy Essential Oil
How to remove sour smell from wet clothes
34 Uses for Lemon Essential Oil


Shelley is a boy mom, marine wife, and is blessed with an amazing family. She loves sharing recipes, travel reviews and tips that focus on helping busy families make memories.