How to make all-natural deodorant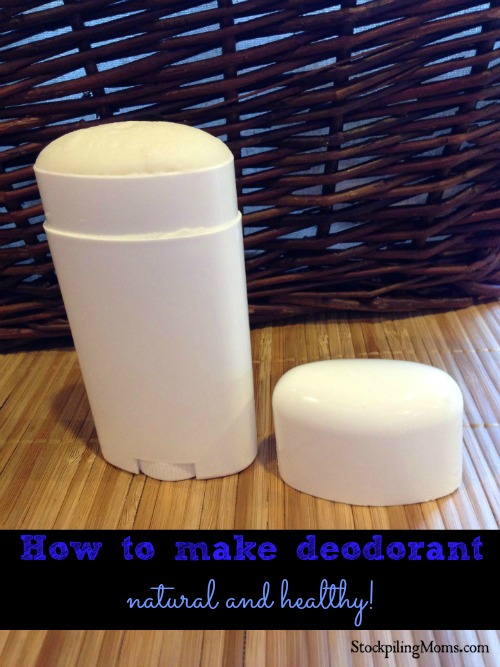 How to make all-natural deodorant. I am love with this how to make your own natural Deodorant post! I have been using this natural deodorant since January but decided NOT to post it until after a summer of using it! Why? Well, I decided if it was a success for me through the summer then I would share it with you. I am excited that it did indeed work well for me!
I have been using natural deodorant since 2007. I made the decision after my hysterectomy to switch from chemicals to natural and more healthy products and started using an over-the-counter natural option. I have tried a variety of brands since that time and some work, and some DON'T.
In January my friend Char introduced me to this homemade deodorant recipe using essential oils and I have been thrilled with it! I will never buy store bought again!
How to make all-natural deodorant:
Ingredients:
½ cup coconut oil
½ cup arrowroot powder or corn starch
½ cup baking soda
15-20 drops of essential oils
Directions:
Warm coconut oil once it is liquid add your oils and then the dry ingredients. Once it is mixed pour into an empty deodorant container or whatever container you want and let cool in the fridge or on counter.
You can use whichever essential oils that you enjoy. Patchouli is great for deodorant because it really neutralizes odor, so I always use that along with whatever else I feel like at the time. Vetiver and Melaleuca all work really well I have found.
In the summer if I am traveling I put my deodorant in a jar because coconut oil is liquid at anything above 76 degrees or I use another recipe with bees wax because its melting point is 130 degrees.
Deodorant with higher melting point
¼ cup of arrowroot powder or corn starch
¼ cup of baking soda
5 Tablespoon of coconut oil
2 Tablespoon of bees wax pellets
8 drops of essential oils
¼ tsp of vitamin E (natural preservative and makes deodorant glide better on underarms can be used in previous recipe to. I use vitamin E in ChapStick also as a preservative)
Mix the same as the previous recipe. It takes forever to melt the bees wax so be prepared that this recipe takes much longer and needs more patience 🙂
Disclosure: We are NOT providing medical advice. Always consult your physician for medical treatment. The advice shared in this page has not been evaluated by the FDA. The products and methods recommended are not intended to diagnose, treat, cure or prevent any illness or disease, nor is it intended to replace proper medical help.
NON TOXIC CLEANING RECIPES USING ESSENTIAL OILS:
How to Clean White Spots out of Wood
Melissa is a football and soccer mom who has been married to her best friend for 24 years. She loves sharing recipes, travel reviews and tips that focus on helping busy families make memories.