If you are looking for a unique place to stay in the heart of Memphis, then I have the perfect place for you. I just recently had the opportunity to stay at Big Cypress Lodge and it was AMAZING!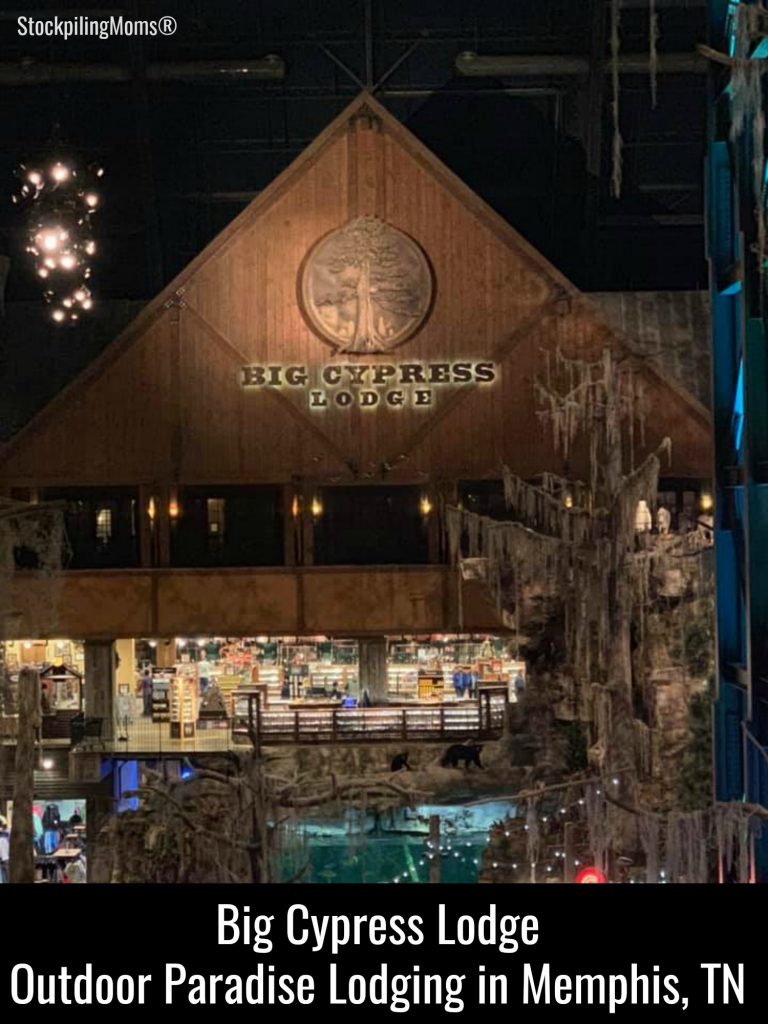 Located within the Bass Pro Shops Pyramid in downtown Memphis, TN, Big Cypress Lodge provided us with an experience like none other. If you have ever wanted to camp outdoors under the trees without roughing it then this is the place for you! You can experience "camping out" in the comfort inside of Bass Pro Shops. Trust me when I say it is bucket list travel experience for sure!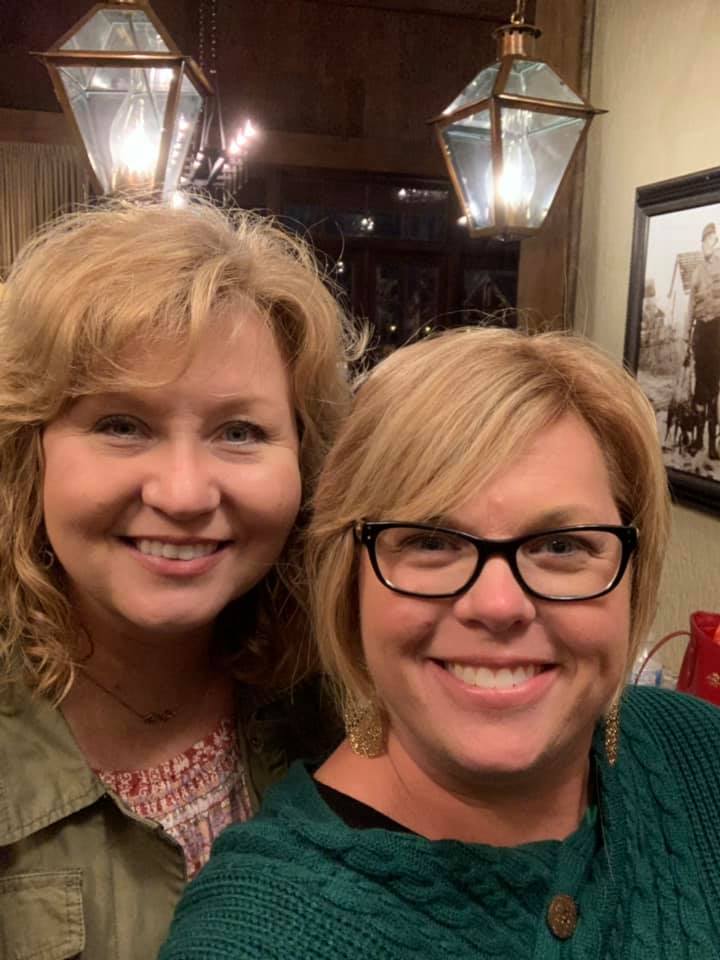 First of all let me be honest, I am not a camper. "Roughing" it to me is staying at a motel or maybe a cabin. However, Big Cypress Lodge is NOT roughing it. I would say it is more like "royal glamping". I spent two nights on a girl's trip and we enjoyed every single minute of our stay. Big Cypress Lodge is inside an impressive pyramid-shaped building.
It features a wilderness-themed retail space and entertainment venues This rustic-chic boutique hotel is conveniently located only 1.7 miles from Beale Street and the National Civil Rights Museum. Best of all they provide a free shuttle for you! You can literally park your car and unpack, relax and unwind. There is so much to see and do and the location is perfect for a Memphis getaway.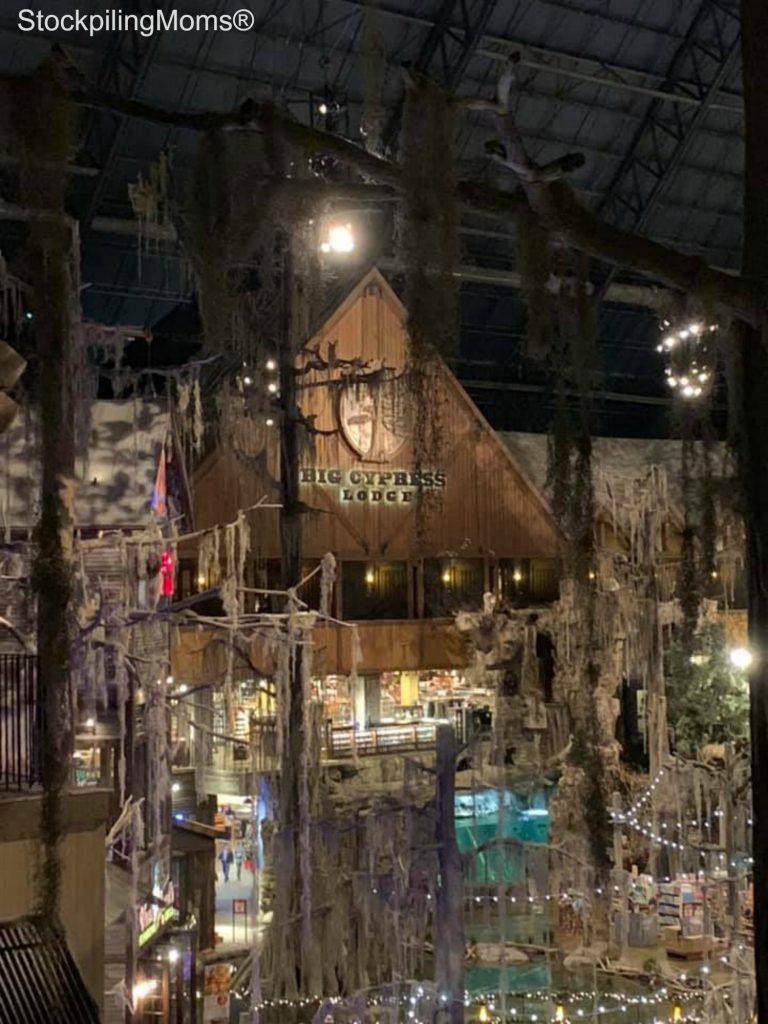 Suspended among hundred-foot cypress trees planted in the Pyramid, some rooms are designed to resemble tree houses. Others are decked out like vintage duck hunting camps and decorated with Ducks Unlimited artwork. All rooms feature fireplaces, handcrafted furniture, and many rooms feature porches or balconies. The centerpiece is the Governor's Suite that offers commanding views of the Pyramid, vaulted ceilings, a full kitchen and a private terrace overlooking the expanse of the entire Pyramid.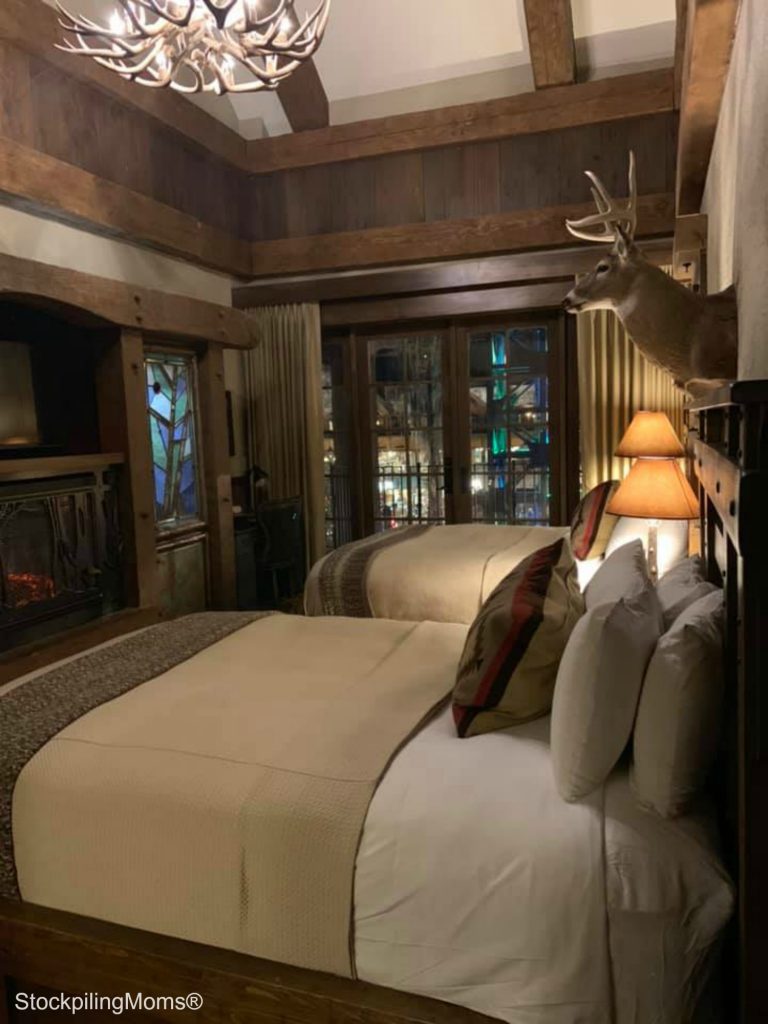 There is a rustic charm in every single detail of the Big Cypress Lodge design. However, don't let that fool you. They have extreme comfort too! Big Cypress Lodge features free Wi-Fi and flat-screen TVs in every room. The hunting lodge-inspired rooms and suites have handmade furnishings, mini-fridges, electric fireplaces and pillow-top mattresses.
We slept like babies while we were on this trip. In fact, my friend Teresa slept in on the first morning until 10:30. I eventually had to wake "sleeping beauty" so we could enjoy our day in Memphis. The bathrooms were over-sized and luxurious. I enjoyed relaxing in the air tub and there is so much room 4 people could easily get ready at the same time.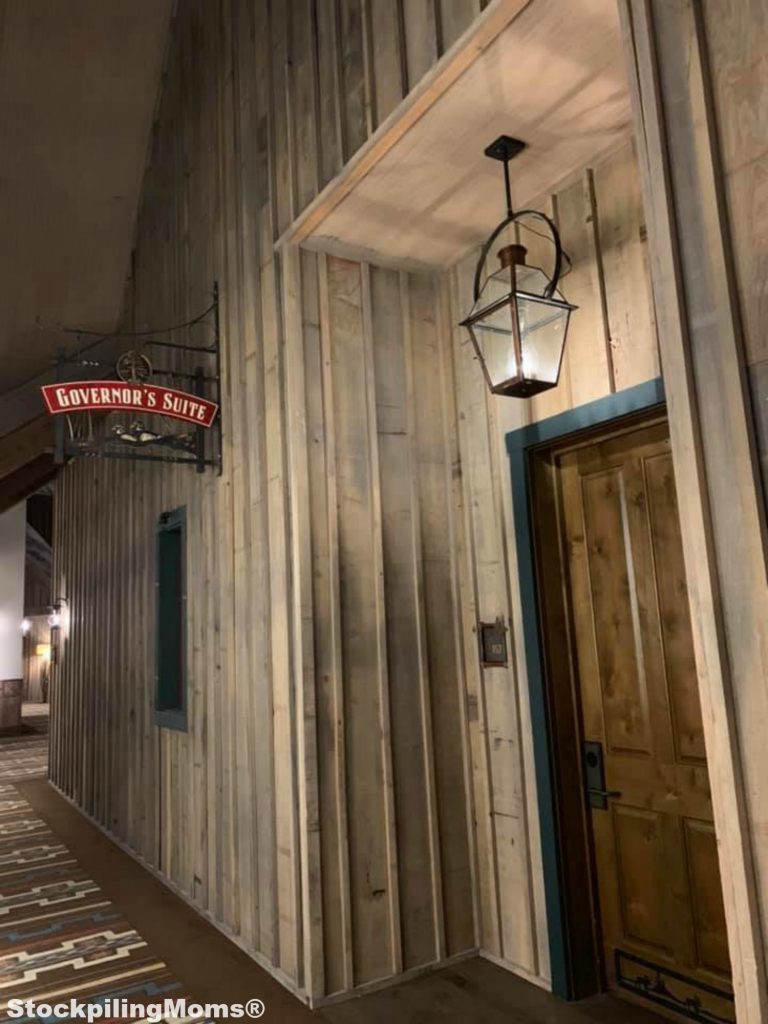 We were beyond excited upon check in to find out we had been upgraded. We spent two nights in the governor's suite!!! Yes, you are reading that right! We stayed in the centerpiece of the Big Cypress Lodge. Our suite had an amazing living area, full kitchen, dining area for 8-10 people, a huge wrap around porch and 2nd full size bathroom.
This suite would be the perfect for a family, meetings, small retreat or a girlfriend's getaway. What I enjoyed most was people watching from our rocking chairs on the porch that overlooked the Bass Pro Shops. It was seriously the best view in the Lodge. Once we checked into the Lodge we never wanted to check out.
When it comes to entertainment there is no shortage. There are 2 restaurants, an aquarium and an ocean-themed bowling alley, along with a fitness room, a day spa, conference spaces and the world's tallest free-standing elevator ride. Let's also not forget that you have the HUGE Bass Pro Shops with additional entertainment and activities (plus shopping). Even if you aren't staying at Big Cypress Lodge there is so much to see an do on the property. I definitely did some shopping while I was there.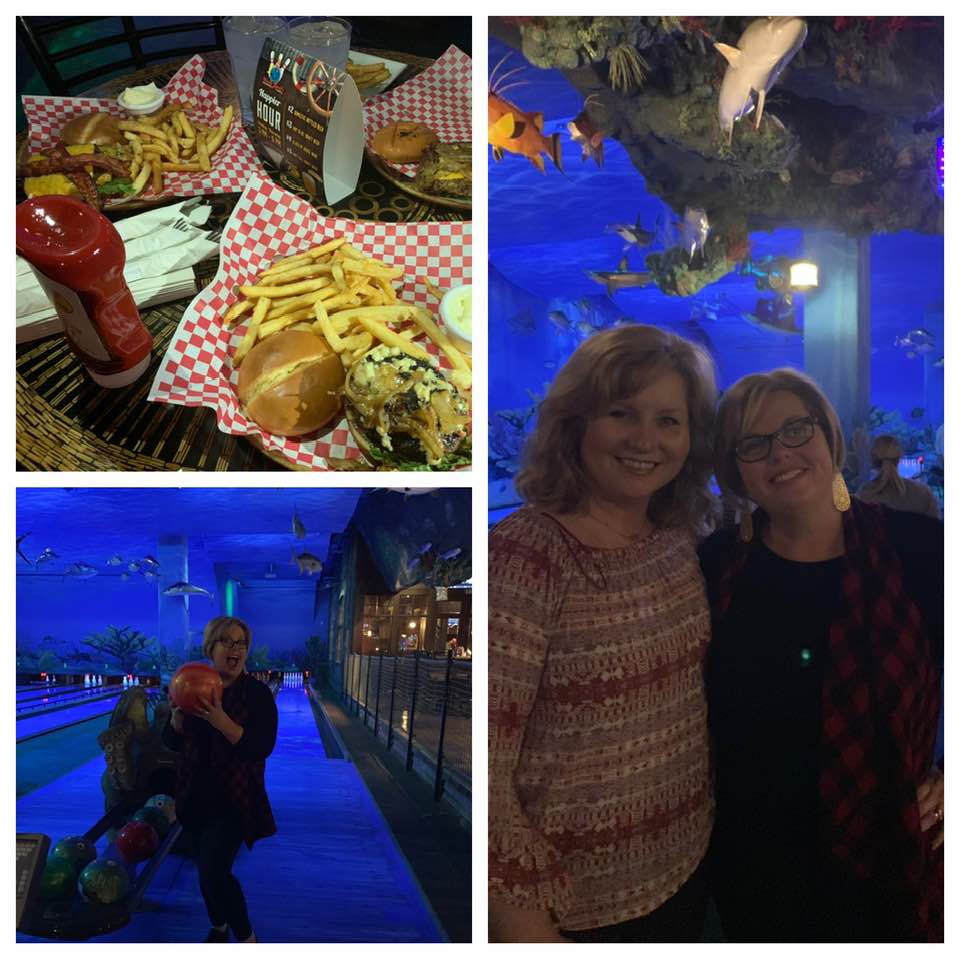 We enjoyed bowling and having dinner at Uncle Buck's Fishbowl and Grill. It features a truly unique atmosphere, designed for a fun dining and unforgettable time of fun with friends and family. Thirteen lanes of bowling offer you and your family a unique underwater ocean experience! Custom bowling balls that resemble sea critters and "dock" wooden lanes that feature underwater scenery all add to your unforgettable experience.
Hand painted murals and fish hanging from the ceiling bring everything together for a deep-sea dive like no other. We had a blast and would do it again for sure! The food was also amazing! I was able to enjoy a delicious gluten free burger. We laughed and had a great time bowling and then enjoyed time in our suite.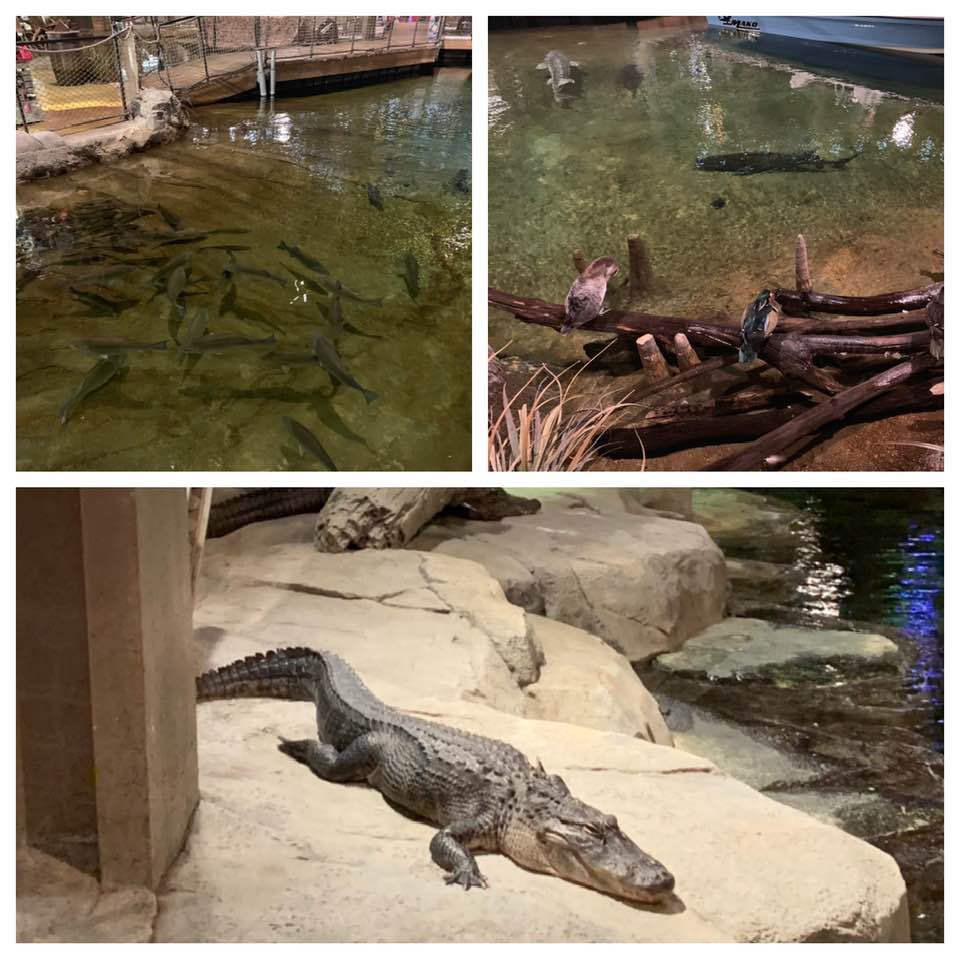 During our stay we had plenty of time to enjoy all that Bass Pro Shops has to offer. From shopping, enjoying the wild life, visiting the aquarium and watching a feeding there is literally so much to see and do. Of course, we took some time to visit Graceland and Beale Street too! Also, Santa arrived while we were visiting so that was fun to see from our balcony view. I was really impressed that Bass Pro Shops provides each child with a chance to sit on Santa's lap for FREE and includes a printed picture with Santa too!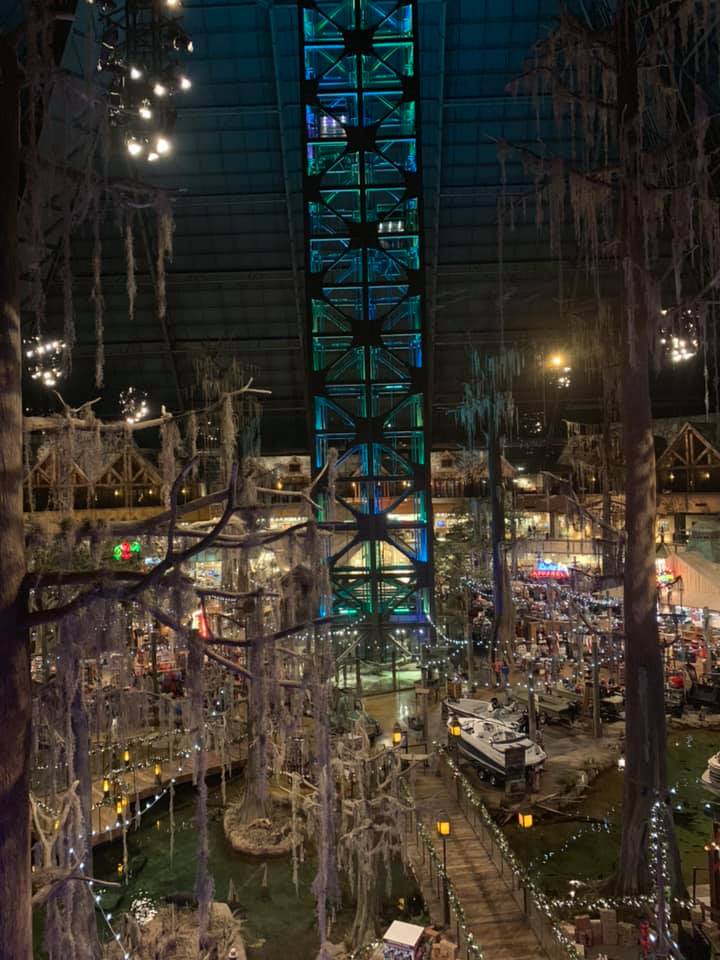 On our second evening we enjoyed a ride on the free-standing elevator and then enjoyed a delicious dinner and an amazing view at The Lookout. Dining at The Lookout is more than just a meal, it's an experience. To access this one-of-a-kind restaurant, you will take a ride up in the country's tallest free-standing elevator up 28 stories to the peak of the pyramid. Tickets for this Sky-High Ride are $10 per person (free if you are staying onsite). We really enjoyed our night and I would encourage you to visit when you are in Memphis.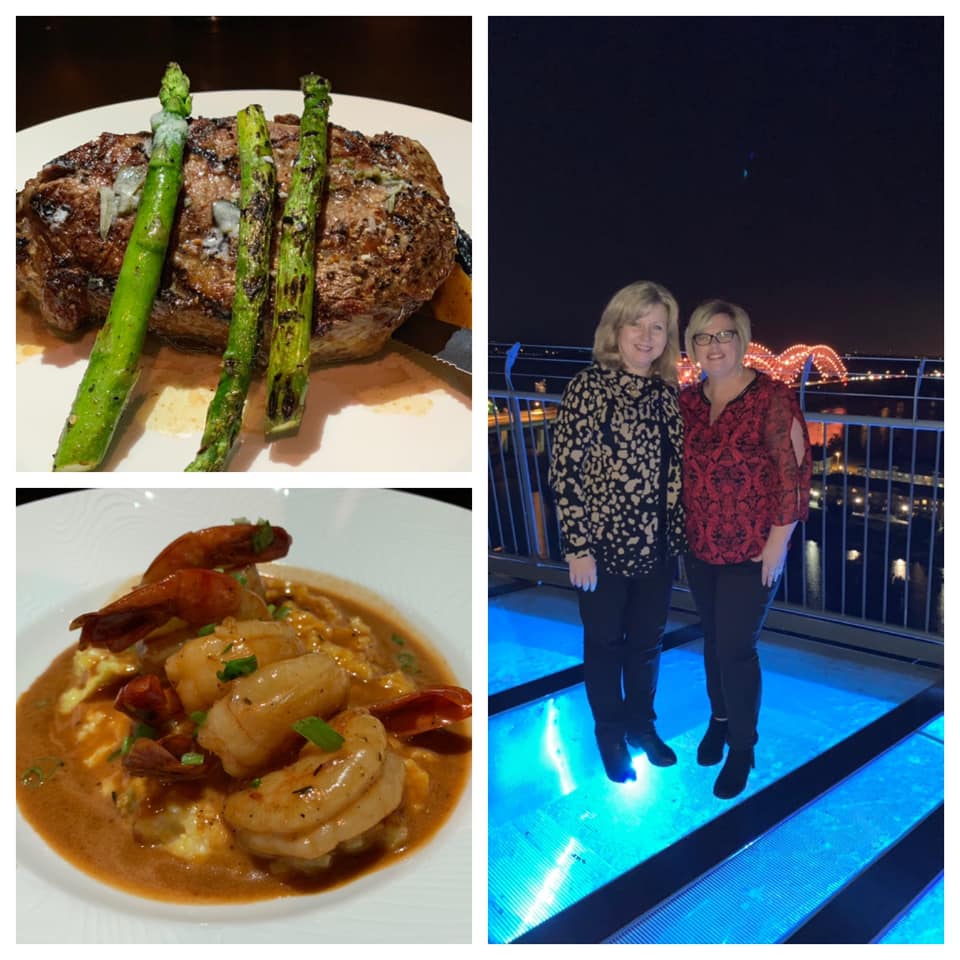 Starting at 5 PM, the value of your $10 ticket can be placed toward the value of your adult entrée (1 ticket value per adult entrée). You can enjoy a menu of delicious food and unique specialty drinks while taking in the spectacular 360-degree view of Memphis below. We thoroughly enjoyed our dinner. It was delicious, and the serving sizes were huge.
I enjoyed the rib-eye steak and Teresa enjoyed the elk. We also had a delicious shrimp appetizer too! The view was AMAZING! We got to take lots of pictures as the bridge is lit at night too. This was an experience and way to enjoy Memphis that you just can't get anywhere else.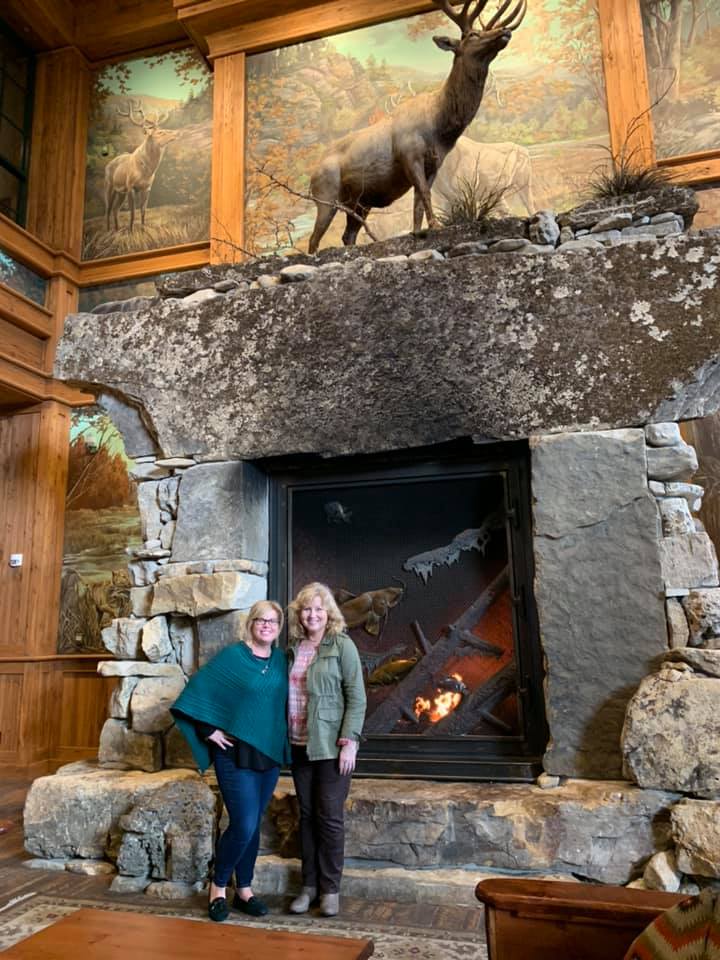 It was (extremely) hard to check out on our last morning. We kind of felt like Cinderella leaving the ball. But instead of saying goodbye to Big Cypress Lodge we decided to say, see you next time! If you are looking for an amazing outdoor inspired destination to stay when you visit Memphis – look no further because Big Cypress Lodge is it!
Disclosure: The Big Cypress Lodge provided complimentary stay, bowling and dinner at The Lookout. All of our opinions are 100% our own.
Melissa is a football and soccer mom who has been married to her best friend for 24 years. She loves sharing recipes, travel reviews and tips that focus on helping busy families make memories.