Best Disney Cruise Line Secret
I am sharing the Best Disney Cruise Line Secret. It is a game changer! We just recently got home from our 2nd cruise on the Disney Dream. If you did not know this secret, I am sharing it with you! I am a veteran cruiser and in fact this was my 15th cruise. I have sailed on many cruise lines.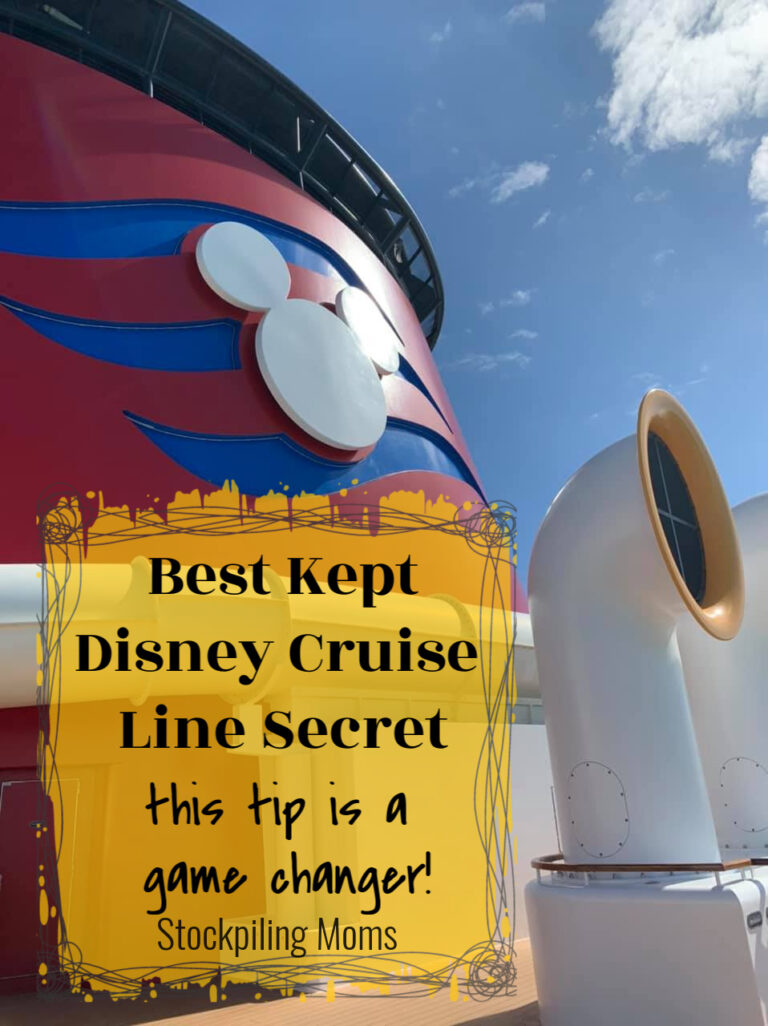 The secret is that most cruise lines sell day passes or a weekly pass to their spa. This gives you the ability to use the spa for relaxation while you cruise. You can also use the showers! This is a great tip because if you have every cruised before (or if you are a newbie) cruise ship bathrooms are small.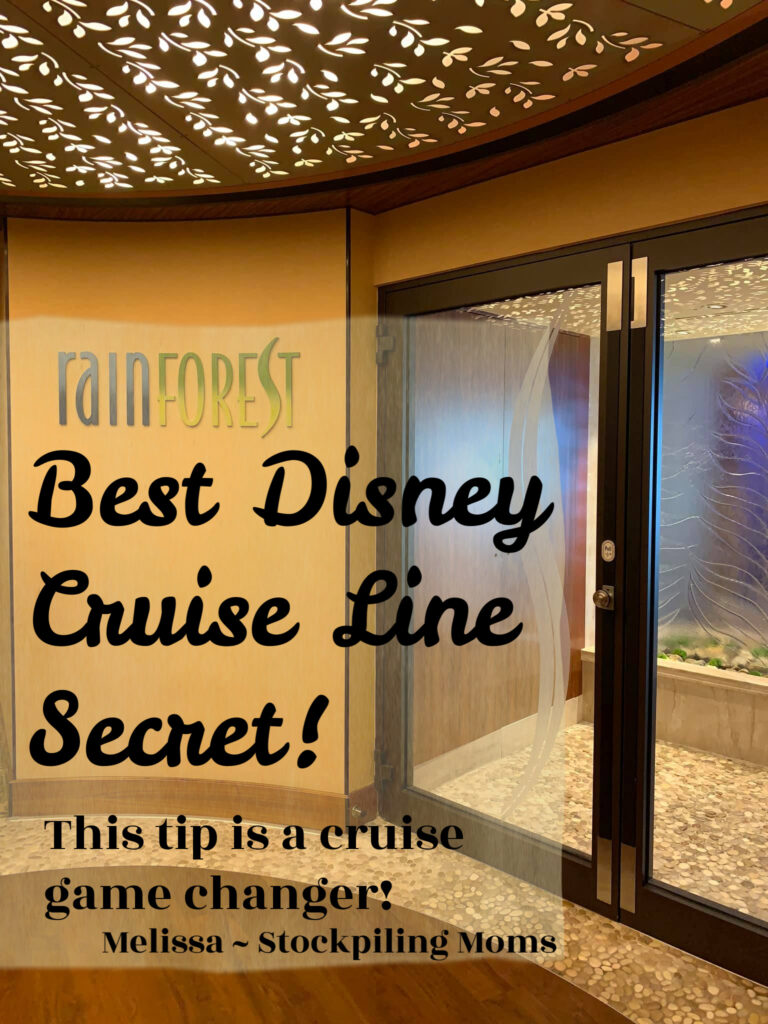 Best Disney Cruise Line Secret
On the Disney Cruise Line, you actually purchase a pass to the rainforest room. Why buy a rainforest spa pass? Because it is awesome! The Spa is the place that I like to go for rest and relaxation while I cruise but just purchasing a spa treatment does not give you access to the Rainforest Room.
I use the Spa pass daily to spend time enjoying the amenities that the spa offers AND I shower there! If you have ever showered in a tiny cabin, you know that it is cramped quarters. By purchasing the spa pass you can eliminate yourself from having to shower in the cabin and therefore give everyone else more shower time.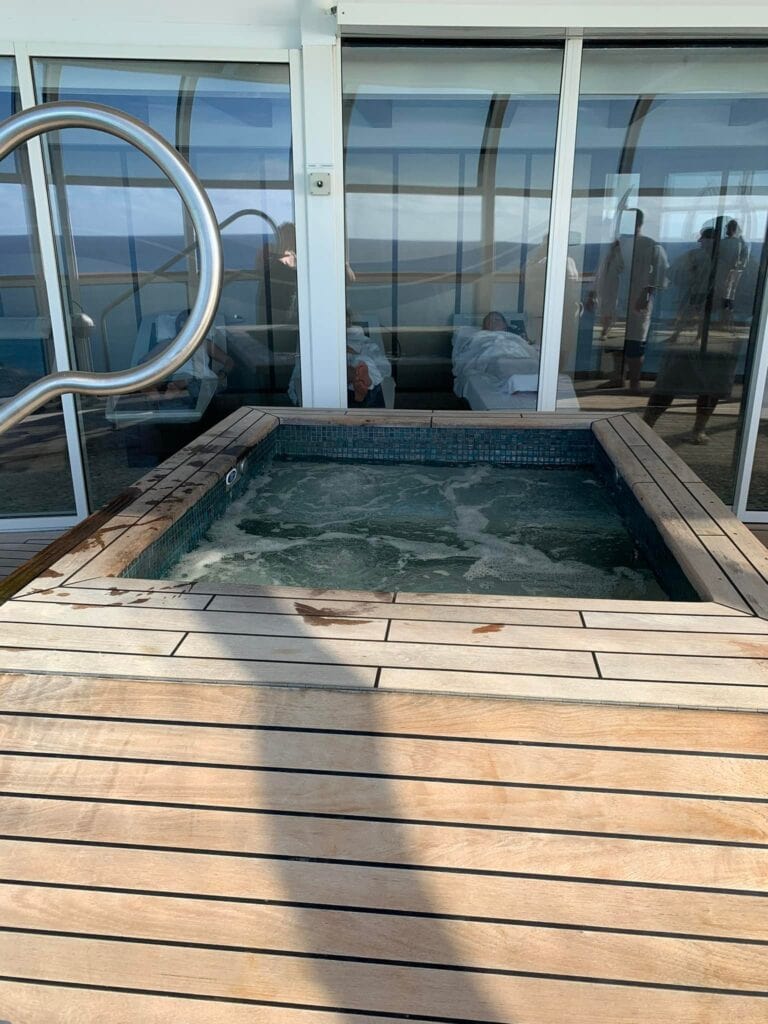 On our most recent cruise I purchased a couple's spa pass for my husband and myself and I purchased for one for my 18-year-old. This gave my 15-year-old son a private shower in the room. This worked out well for us because it gave us additional privacy and allowed for us each to have our own relaxation time. It is a great way to save money and stick with a traditional cabin and allow yourself to have additional bathroom space (even though Disney bathrooms are nice in comparison to other cruise lines).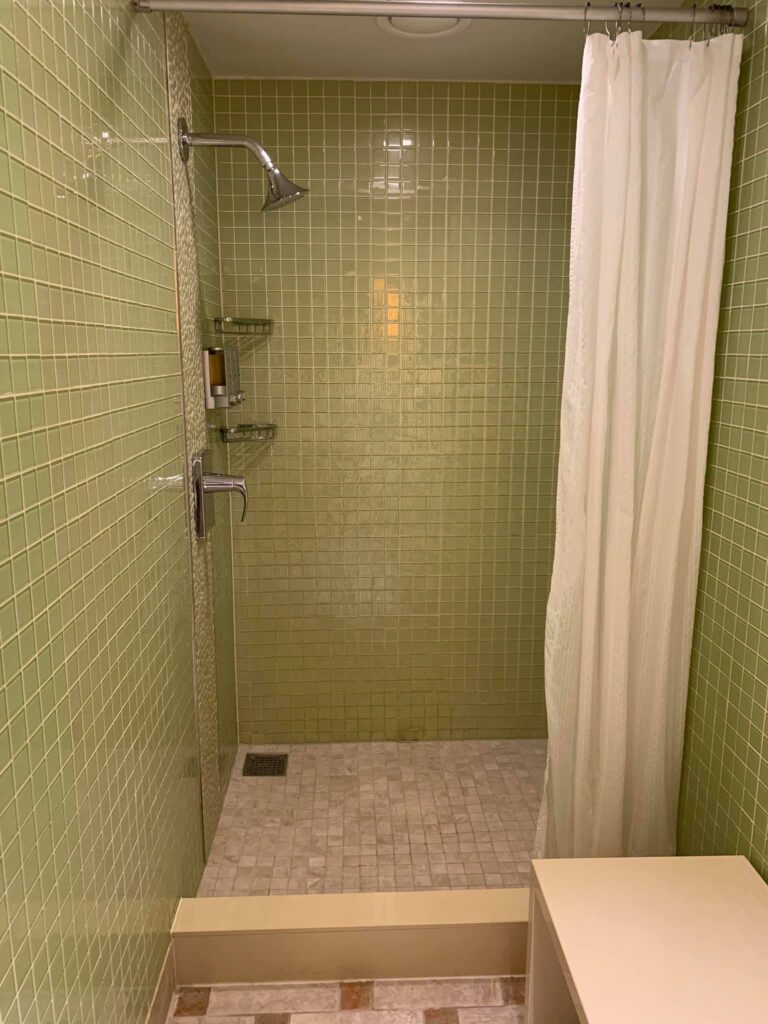 On the Disney Cruise Line Ships the spa features a Rainforest Room. When you purchase the pass, you get access to this room which includes:
Tropical Showers with multiple rain programs
Steam Sauna
Dry Sauna
Traditional Steam Room
2 spas overlooking the ocean (on the Disney Dream and Disney Fantasy)
Warm Ceramic Loungers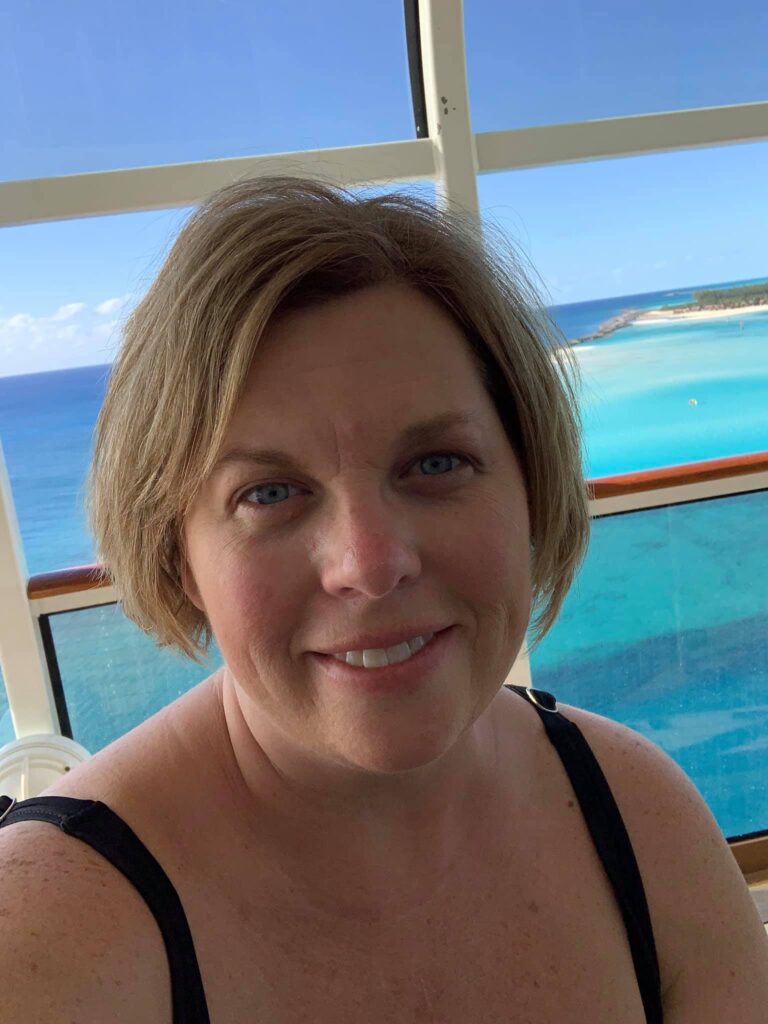 When you board the Disney, Cruise walk straight to the Senses Spa and Salon and sign up for a day pass. They only sell a limited amount (they were selling 40 on the Disney Dream) and we bought 3! It was $89 per couple (plus 18% gratuity) or $49 per single (plus 18% gratuity). Worth every penny in our opinion.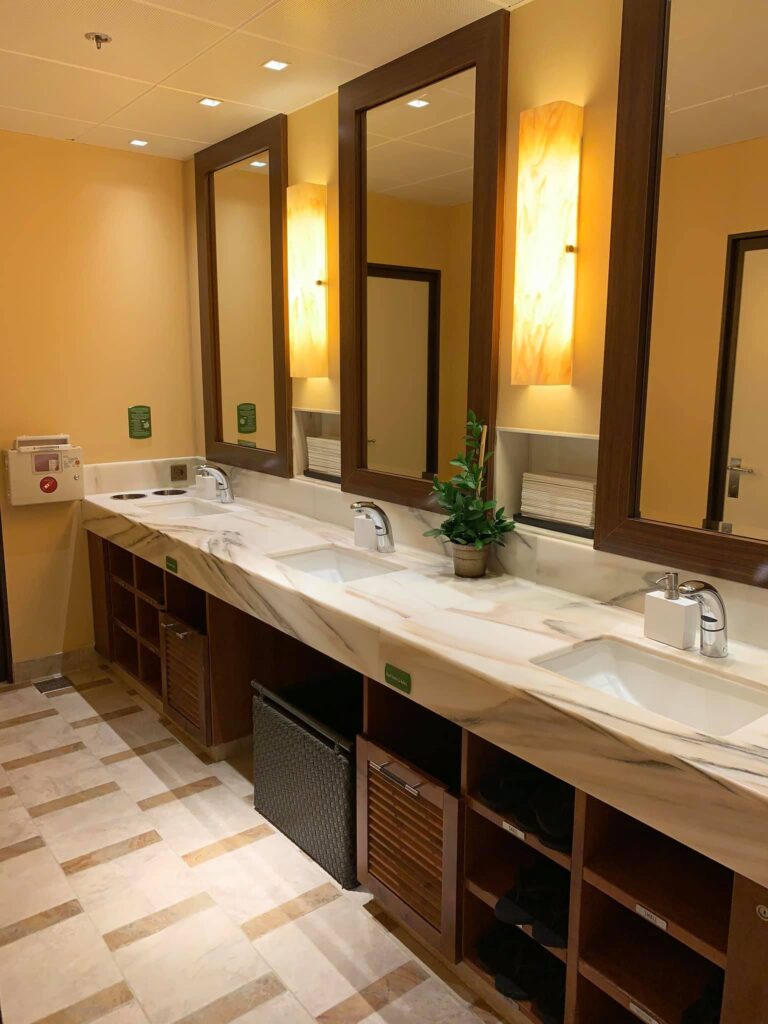 Also, a tip is that at 4:00 pm (check your navigator to be sure of the time) the Spa does an awesome giveaway event! Go a few minutes before and drop your name in for the drawing. We won a $100 Spa Gift Certificate! They also offered an awesome manager special for $149 that the first 10 people who booked after the drawing can take advantage of.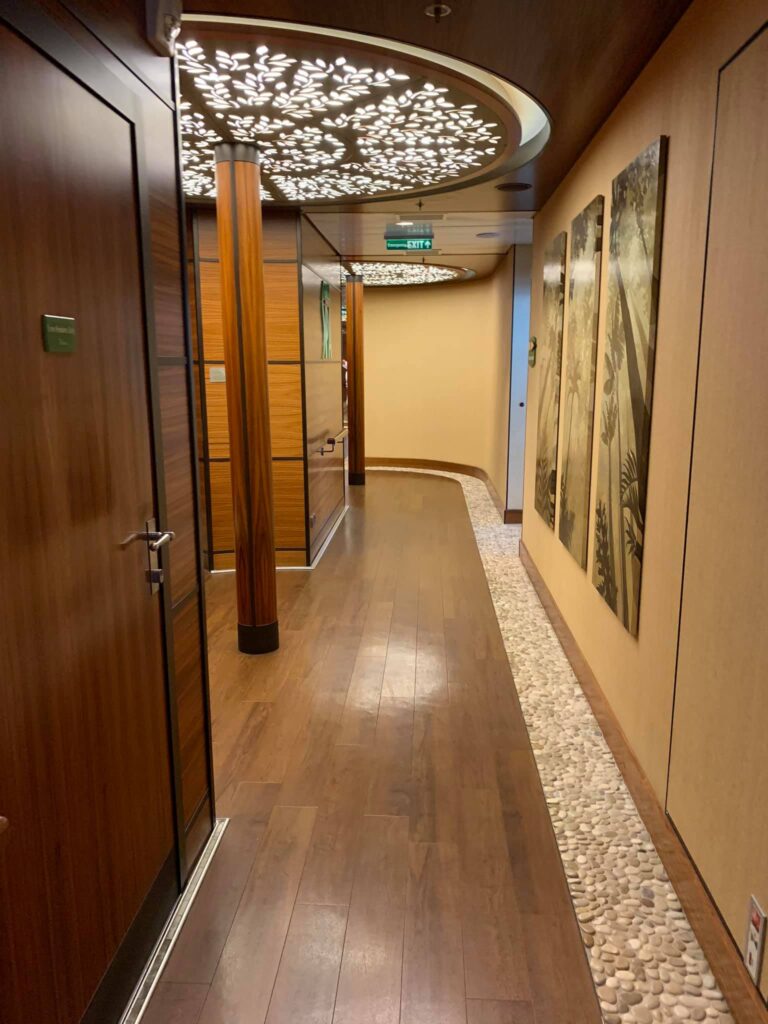 During our cruise we each enjoyed using the Rainforest room daily. In fact, if on some days we used it twice! The warm ceramic loungers are my favorite. There is no appointment necessary to use the Rainforest room. You just go in and hand them your room key and they hand you a fresh robe and wrist band to access they Rainforest room.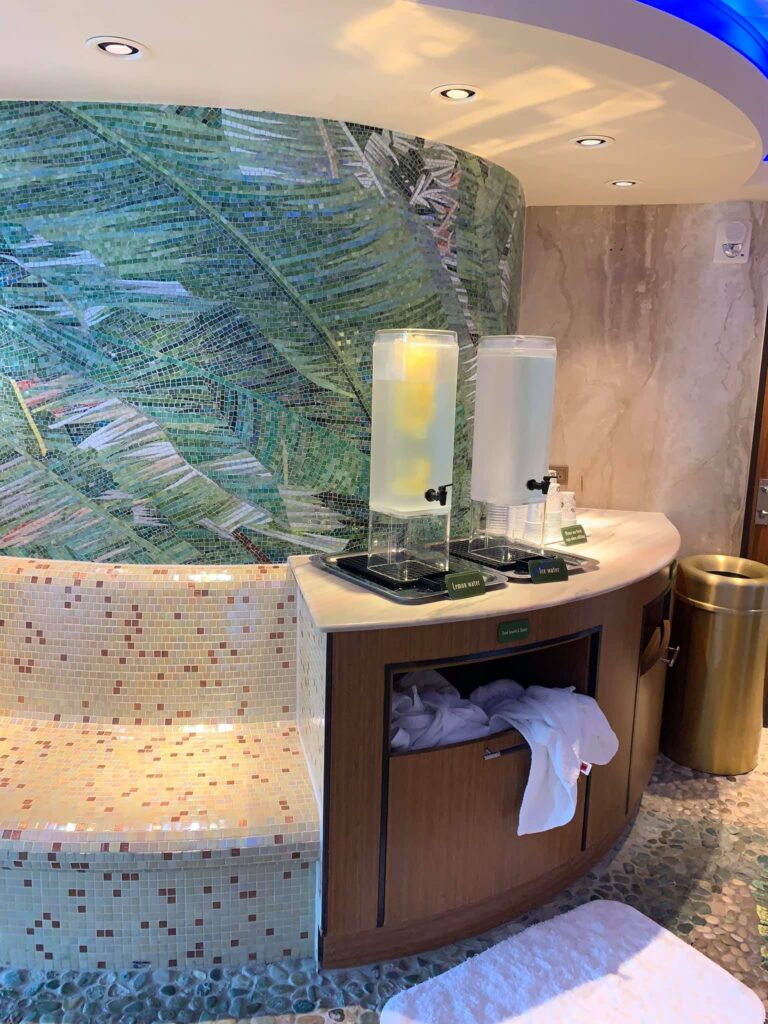 They provide lockers that you can use to store your belongings. In addition to the robes, you can wear your own shoes, or they have some available. You wear your bathing suit under the robe if you want to use the tropical showers (trust me they are awesome), my favorite was the warm rain. Then you can sit on the warm ceramic loungers, use the sauna's, steam room and Jacuzzi's. For an additional fee ($15) they have salt scrubs available for purchase. I did not use them due to the added expense.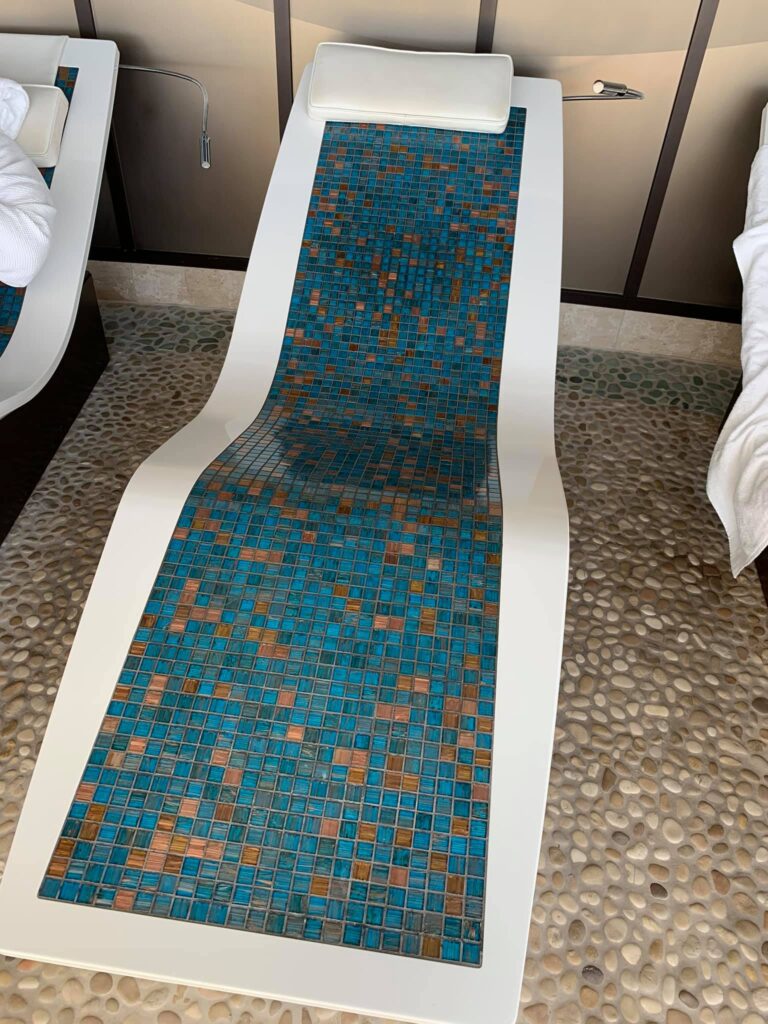 The Rainforest on the Fantasy and the Dream has an area which is at the very front of the ship and has panoramic windows which give an amazing view. This is the view of Castaway Cay. It is breathtaking! I found that using the Rainforest Room later in the evening or early morning was a great time. I used it twice a day and never had to wait for something to enjoy. They keep the numbers limited for a reason.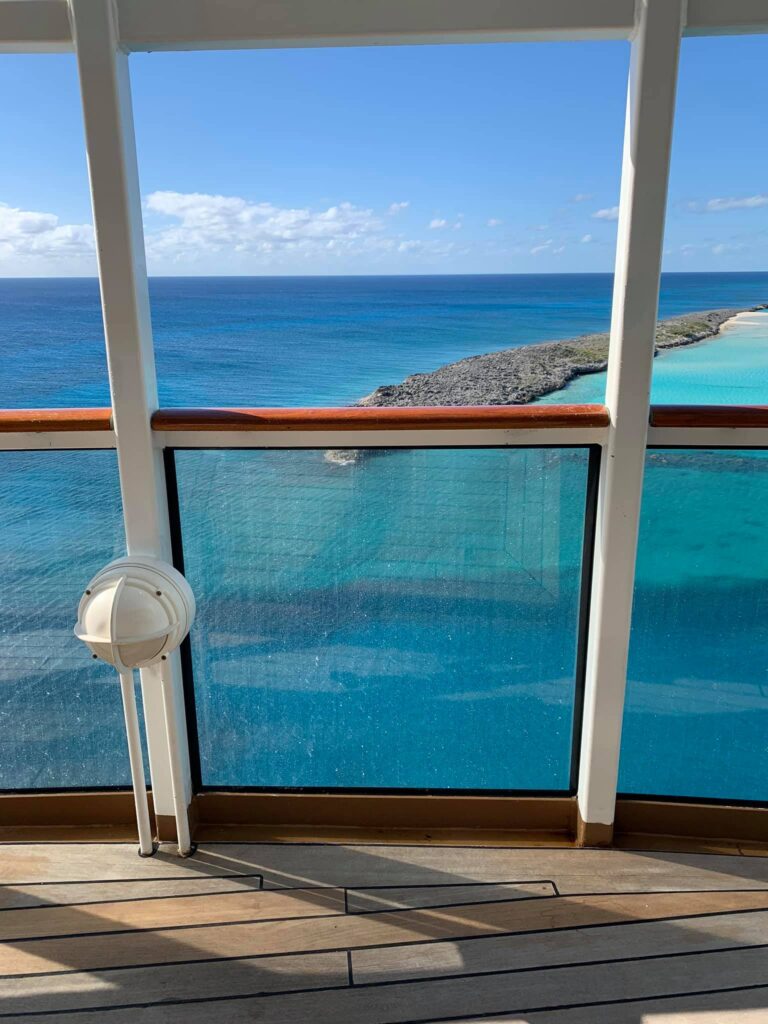 Once you are done using the Rainforest Room you can grab a shower (they are huge) and they have hair dryers and other amenities for you to use. They provide amazing shower wash, shampoo and conditioner too! This is the best kept secret on the Disney Cruise Line. Trust me take advantage of it!
Well now that I shared my Best Disney Cruise Line Secret with you, I hope that you can enjoy it as much as we did. This is seriously our favorite spots on the Disney Dream. Have you enjoyed the Rainforest Room? What was your favorite part?
Posts You May Enjoy:
10 Reasons To Love A Disney Vacation
Can you eat gluten free on a Disney Cruise?
10 Reasons Why You Should Take Your Teen on a Disney Cruise
What to Pack for a Cruise Vacation
Stockpiling Moms can be found in all your favorite places. Hop on over to Instagram and follow the fun. We love posting memes, family fun, travel, and whatever we are feeling that day. Pinterest is also an amazing place to visit Stockpiling Moms. This is where you can pin all your favorite articles from our Food, Travel & Lifestyle Blog.
Disclosure: We were invited to experience the Disney Cruise as part of the Disney Creator's Celebration 2020. It was an epic experience however all opinions are 100% our own. We purchased our own Spa Passes. All opinions are 100% our own.
Melissa is a football and soccer mom who has been married to her best friend for 24 years. She loves sharing recipes, travel reviews and tips that focus on helping busy families make memories.