Back-to-School Snack Sack
Back-to-School Snack Sack. It is back to school season and if you are like me that means you are busy, busy, busy! With the combination of homework and soccer practice after school we are always on the go. In partnership with Chobani, and as a Family Club member, we wanted to share with you one of our back-to-School routine secrets that make eating occasions easy and fun!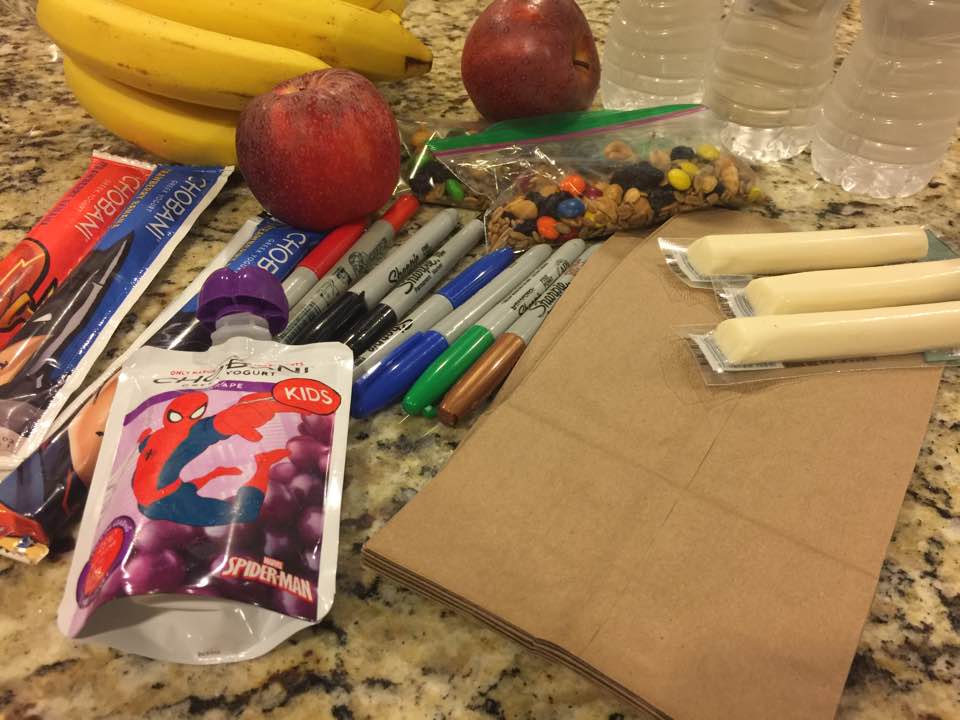 You know that time of day – kids are out of school, you're on your way to after school activities and appointments and they say, "I'm hungry." Every Sunday evening when I am prepping lunches, I also prep 5 Snack Sacks. I want to fill Peyton with goodness for soccer practice without ruining his dinner appetite.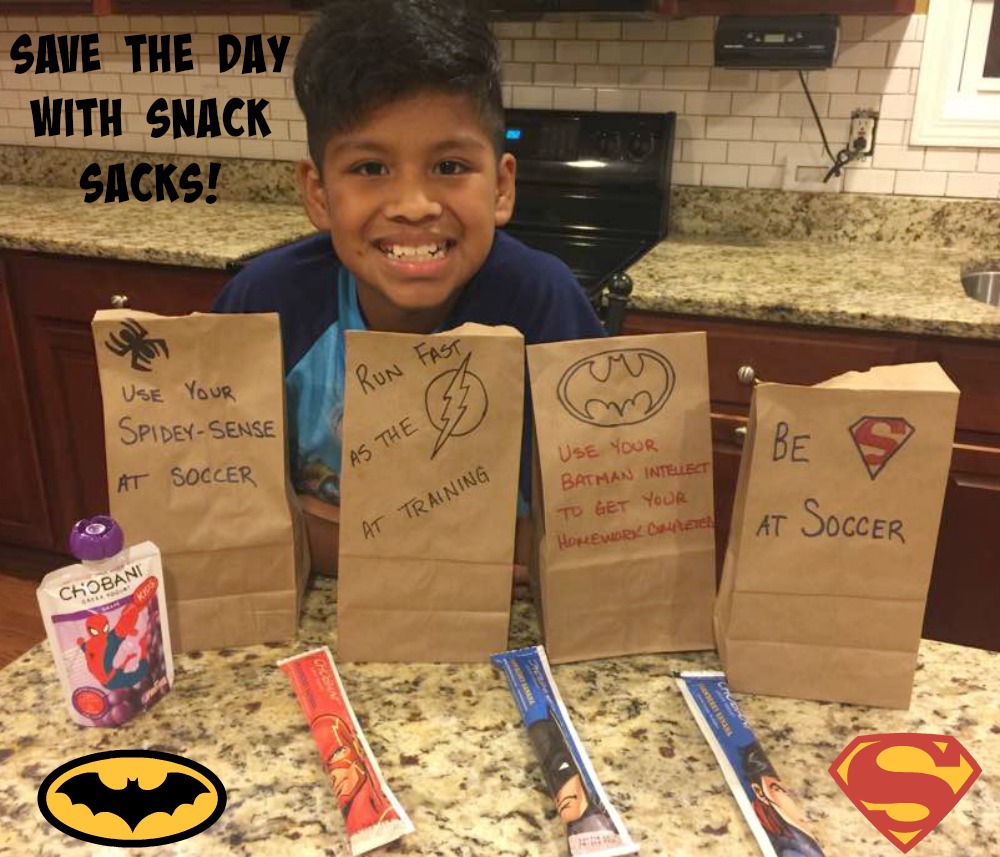 On my way to parent pick up I grab one of the snack sacks bags and he doesn't even have the chance to say "I'm hungry" because I am already prepared! I also always include a funny drawing or motivational phrase on the sack.
Ideas for filling Snack Sack:
Chobani Kids and Tots Pouches and Tubes (we love to freeze the Tubes)
Bottled Water
Handful of nuts
Granola
½ peanut butter and jelly sandwich
Cheese stick
Fresh Fruit
Fresh Veggies
Trail Mix
Frozen Yogurt Covered Blueberries
Frozen Yogurt Covered Strawberries
Snacking is inevitable. It is going to happen regardless of how many "square meals" your kids eat each day. In fact, it is actually good for your body to eat 5 smaller meals a day. When I need a snack, I try to turn to a vegetable, nuts, cheese, yogurt or fruit. For Peyton what tops our list is Chobani Kids and Tots Pouches and Tubes. They are packed full of protein and a great way to fuel him up before practice while also easy to eat on the go!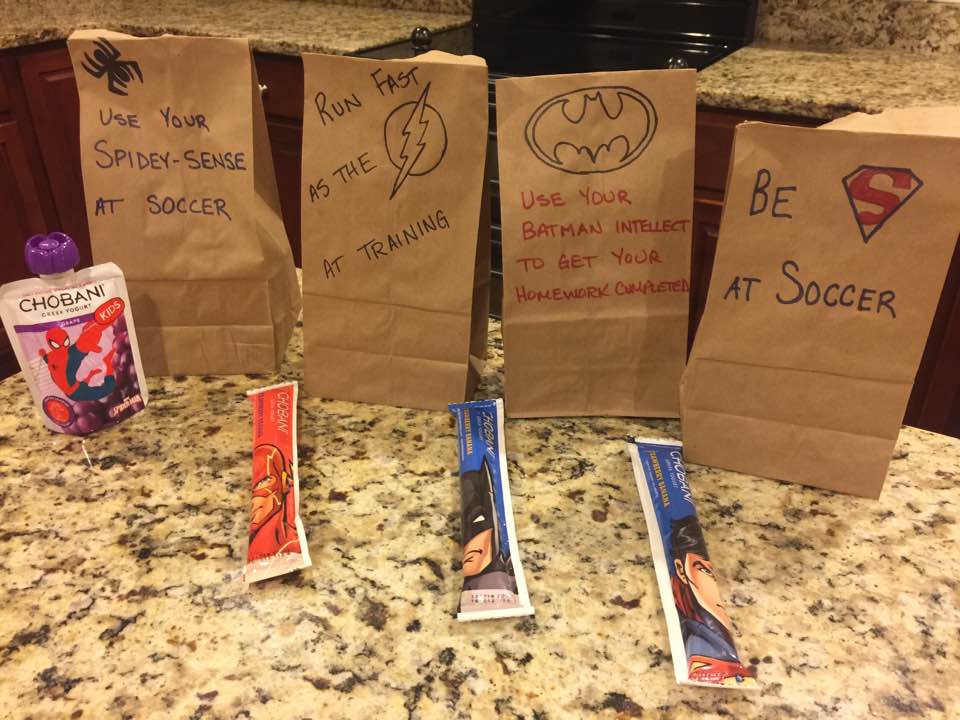 Chobani Kids® Pouches and Tubes:
Contain 25% less sugar* than the leading kid's yogurt*
Packed with protein
A good source of calcium
Made with only natural ingredients
Chobani Tots® Pouches: (great for toddlers!)
12mg of Omega‐3 DHA
Real fruit, real vegetables and whole milk Greek Yogurt
Contains live and active cultures
I love that Chobani Kids are made with non‐GMO ingredients and with no artificial flavors, sweeteners or preservatives. They make healthy eating fun & exciting with kids' favorite characters like Spider‐Man on Chobani Kids Pouches. The Chobani Kids Greek Yogurt Tubes are a natural choice for kids with great taste. Made with creamy low fat yogurt, real fruit, and with 5g of protein and 25% less sugar than the leading kids' yogurt.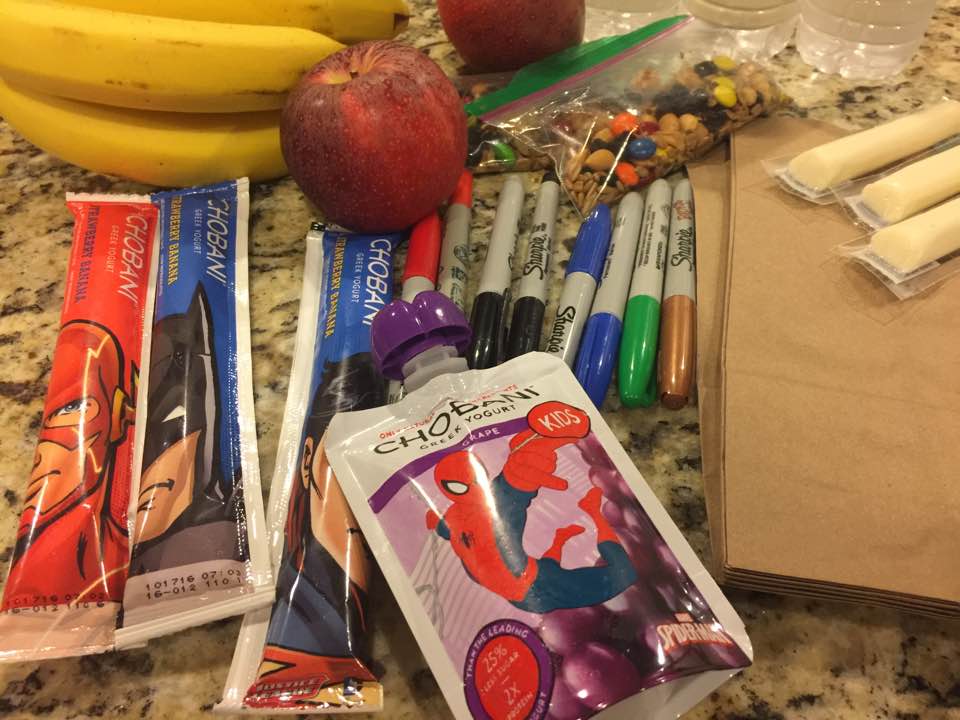 Chobani Kids Pouches and Tubes are a "no‐brainer" for Mom and Dad. They are a healthy choice for kids and kids love them! I hope you will find these Snack Snacks tips helpful for your school week routine and create fun and delicious options along with me! An ultimate Mom win!
Disclaimer: This is a sponsored post on behalf of Chobani. All opinions are 100% my own.
*Chobani Kids® Tubes, 6g of sugar per tube; 5g (10% DV) protein per tube; leading kids' yogurt, 9g sugar per tube; 2g (4% DV) protein per tube.
* Chobani Kids® Pouches, 10g Of sugar per 3.5oz (99g) serving; leading kids' yogurt, 14g Sugar per 3.5oz (99g) serving. Chobani Kids® Tubes, 6g of sugar per tube; leading kids' yogurt, 9g Sugar per tube.
*Chobani Kids™ pouch: 10g sugar; leading kids' yogurt: 14g sugar, per 3.5 oz serving
STOCKPILINGMOMS FAVORITE DESSERTS
Dirt Dessert is Perfect for Family Reunions
Hot Fudge Ice Cream Delight is one of my family favorites!
Death By Chocolate Trifle Dessert is for all our chocolate lovers out there.
Easy Pineapple Upside Down Cake only takes 15 minutes to prepare and then throw it in the oven!
Chocolate Chip Cookie Bites for all the chocolate chip cookie lovers! Who doesn't like a chocolate chip cookie?
Stockpiling Moms can be found in all your favorite places. Hop on over to Instagram and follow the fun. We love posting memes, family fun, travel, and whatever we are feeling that day. Pinterest is also an amazing place to visit Stockpiling Moms. This is where you can pin all your favorite articles from our Food, Travel & Lifestyle Blog.
Melissa is a football and soccer mom who has been married to her best friend for 24 years. She loves sharing recipes, travel reviews and tips that focus on helping busy families make memories.