Are you healthy on a cellular level?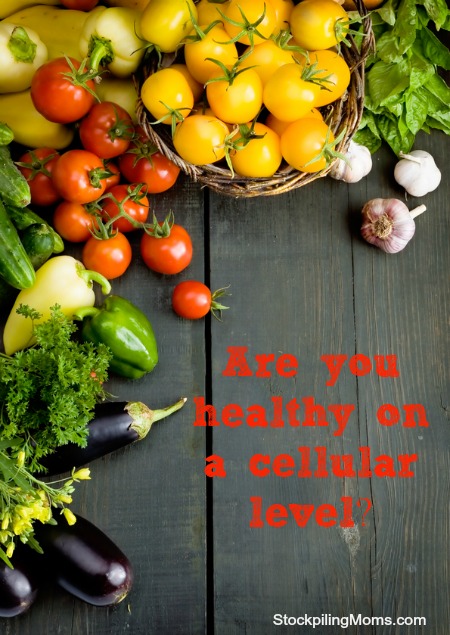 Are you healthy on a cellular level? A question that many of us don't really know the answer too. I recently attended an essential oils class. I decided to share some of the key ideas of the class with you.
It was interesting to me to see that there were three key reasons to use Essential Oils.
1. Prepare – The top reasons for Emergency Room visits: cuts, abdominal pain, headaches, nausea & vomiting, open wounds, sprains and strains. I was surprised to lean how many essential oils can be used to help with all of the above.
2. Restore – That you can use essential oils to help with ailments, illness, injury.
3. Prevent – By using essential oils that you can actually prevent illness before it starts.
What was interesting to me is that by using essential oils you can actually save your family budget. Even though the oils are an out of pocket expense when broken down by use they are often just pennies compared to the costs of going to the Dr. in many cases the co-pay is now $20 – $50! One example she gave was treating an ear infection or toothache with just one drop of oil.
I also learned that essential oils are effective. They are 50-70 times more powerful than herbs. Meaning that by using 1 drop of peppermint oil you can get the same benefit from drinking 22 cups of peppermint tea! Essential oils actually inhibit the growth of bacteria and viruses.
It is really important to get a safe and 100% PURE form of essential oils if you decide to use them. How the plants are harvested and when they are harvested matters. You want them to be genuine, potent and authentic and a certified pure therapeutic grade.
I also learned that you can use essential oils in a variety of ways.
Aromatic – breathe in or use a diffuser
Topical – apply to feet or troubled areas (avoid eyes and ears)
Internal – under the tongue, in a gel capsule or in water
You can also dilute or neutralize with fractionated coconut oil or place oils on a cotton ball to place in the ear (never place oils directly into the ear).
Disclosure: We are NOT providing medical advice. Always consult your physician for medical treatment. The advice shared in this page has not been evaluated by the FDA. The products and methods recommended are not intended to diagnose, treat, cure or prevent any illness or disease, nor is it intended to replace proper medical help. This post does contain an affiliate link, however all opinions are 100% my own.
Essential Oils:
Uses and Benefits of Lemongrass Essential Oil
Uses and Benefits of Lavender Essential Oil
Use and Benefits of Lemon Essential Oil
Uses and Benefits of Slim and Sassy Essential Oil
How to remove sour smell from wet clothes
34 Uses for Lemon Essential Oil
Melissa is a football and soccer mom who has been married to her best friend for 24 years. She loves sharing recipes, travel reviews and tips that focus on helping busy families make memories.