ALPO® Chop House Dog Food Review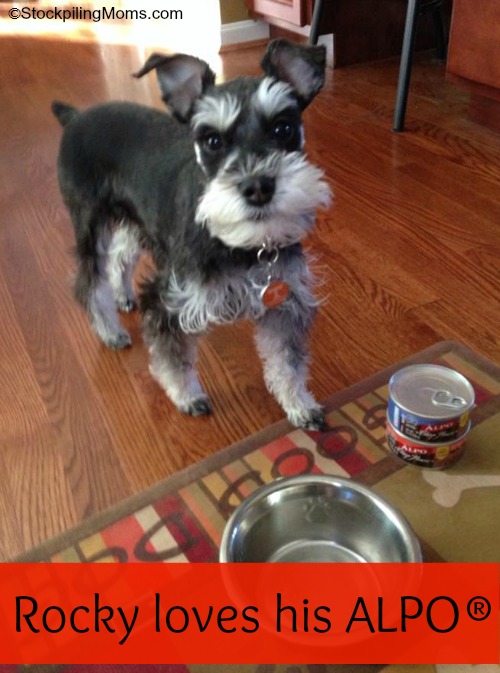 Check out our ALPO® Chop House Dog Food Review. As you know Rocky loves his ALPO®! 🙂 He recently had the opportunity to review ALPO® Chop House Dog Food. This was a new variety for him, and I was anxious to see how he liked it. He got really excited when I showed him the can which was a good sign.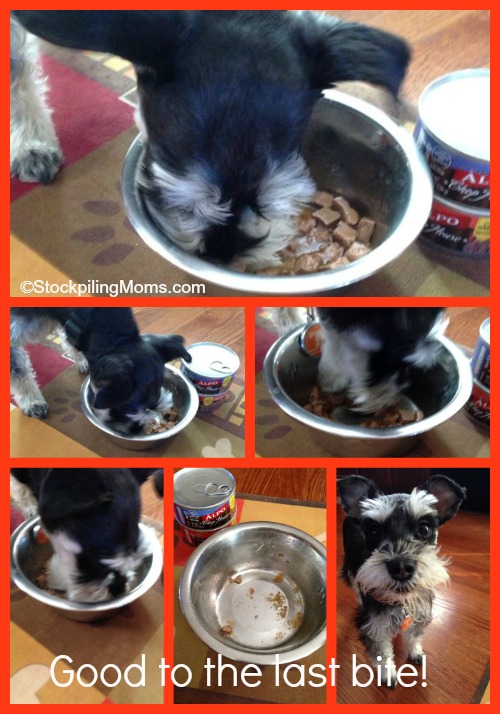 ALPO® Chop House Dog Food Review:
ALPO® wet dog food brings excitement during mealtime for dogs and that makes their owners happy (it always makes me happy when Rocky is happy). It provides dogs great taste, nutrition and variety. ALPO® wet dog food is 100% complete and balanced and has quality ingredients, like healthy protein sources, wholesome grains and accents of vegetables, contribute to form a complete and balanced diet for each life stage.
I like that ALPO® dog food helps support a happy, healthy life, a shiny coat, strong bones and teeth and for Rocky a happy dog! ALPO's variety dog food provides sources to essential vitamins and minerals and every ingredient comes from a supplier who meets Purina's standards for safety, sanitation and manufacturing. I love my Rocky so much that I always want to provide the best for him.
Rocky sampled the ALPO® Chop House. It comes in small cuts or finely ground that is great for mixing with dry food. I really love that! I can mix this with his kibble! Also, ALPO® Chop House 5.5 oz. is a compact can that is great for small dogs. This was the perfect serving size for Rocky. I didn't have to worry about waste, leftovers or refrigerating it after opening the can.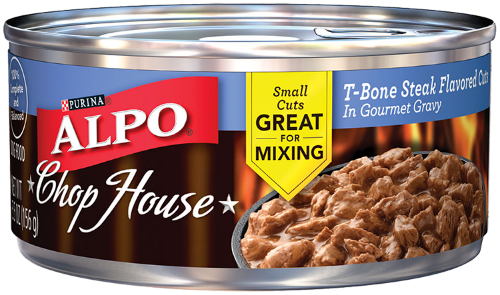 ALPO® Chop House 5.5 oz offers unique flavors for your dog, such as T-Bone Steak Flavored Cuts, Tender Cuts with Lamb, Filet Mignon Flavor, and Rotisserie Chicken Flavored Cuts As you can tell from Rocky's review he was enjoying every single bite! He seemed really happy after he enjoyed his can of ALPO® Chop House. I hope you enjoy this video I took of him too!
Hope you enjoyed our ALPO® Chop House Dog Food Review. It is Rocky approved!
This is a Sponsored post written by me on behalf of ALPO® Brand Dog Food for Social Spark. All opinions are 100% mine.
Melissa is a football and soccer mom who has been married to her best friend for 24 years. She loves sharing recipes, travel reviews and tips that focus on helping busy families make memories.