Gluten Free Menu at Cracker Barrel

I am so excited to share with you the Gluten Free Menu at Cracker Barrel. I LOVE Cracker Barrel and have been searching high and low for an official menu. I have continued to eat at Cracker Barrel since going gluten free but this menu makes me feel better about my food choices. I have been quite limited in my choices and of course when dining out your your best judgement. In fact it expands the horizon of what I might choose to eat. Of course there is no guarantee of cross contamination (just like a most any restaurant) because they share the kitchen but I wanted to share this with you.
I was told by the hostess to tell you server that you are gluten free and then they will bring the manager to speak to you. When you order the manager will flag your order for extra precaution.
Gluten Free Menu at Cracker Barrel: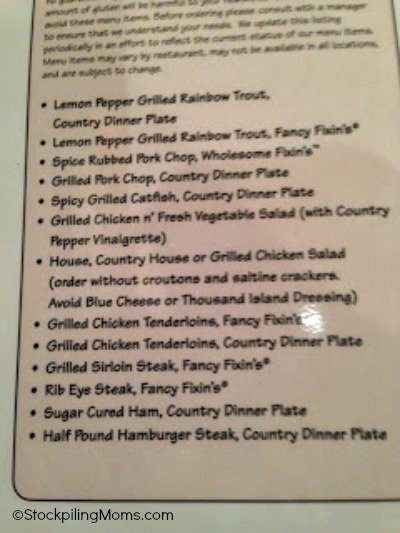 Lunch and Dinner Entrees:
Lemon Pepper Grilled Rainbow Trout Country Dinner Plate
Lemon Pepper Grilled Rainbow Trout Country Fancy Fixin's
Spice Rubbed Pork Chop Wholesome Fixin's
Grilled Pork Chop Country Dinner Plate
Spicy Grilled Catfish Country Dinner Plate
Grilled Chicken n Fresh Vegetable Salad (with Country Pepper Vinaigrette)
House, Country House or Grilled Chicken Salad (order without croutons or saltine crackers) – do not order Blue Cheese or Thousand Island Salad Dressing
Grilled Chicken Tenderloins Fancy Fixin's
Grilled Chicken Tenderloins Country Dinner Plate
Grilled Sirloin Steak Fancy Fixin's
Rib-eye Steak Fancy Fixin's
Sugar Cured Ham Country Dinner Plate
Half Pound Hamburger (no bun) Country Dinner Plate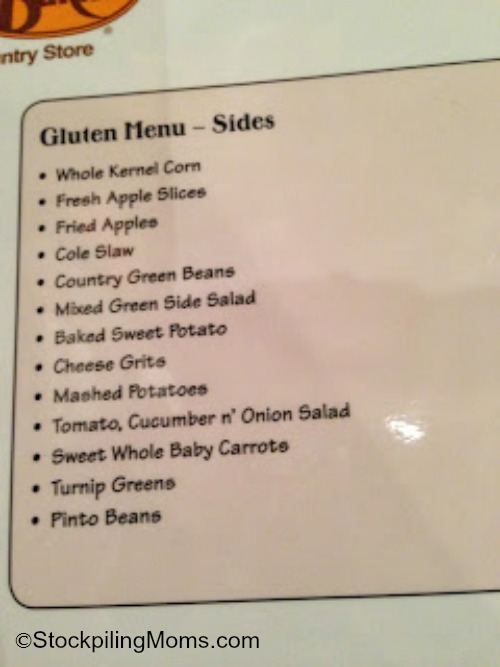 Gluten Free Menu Sides:
Whole Kernel Corn
Fresh Apple Slices
Fried Apples
Cole Slaw
Country Green Beans
Mixed Green Side Salad
Baked Sweet Potato
Cheese Grits
Mashed Potatoes
Tomato, Cucumber n' Onion Salad
Sweet Whole Baby Carrots
Turnip Greens
Pinto Beans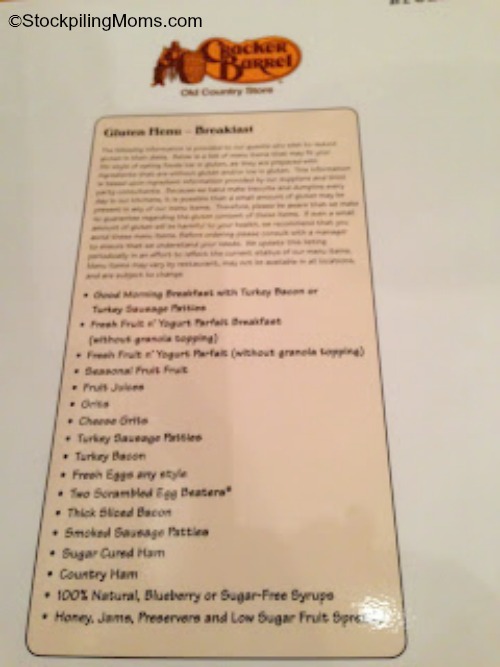 Gluten Free Menu Breakfast:
Good Morning Breakfast with Turkey Bacon or Turkey Sausage Patties
Fresh Fruit and Yogurt Parfait Breakfast (without granola topping)
Seasonal Fresh Fruit
Fruit Juices
Grits
Cheese Grits
Turkey Sausage Patties
Turkey Bacon
Fresh Eggs, any style
Scrambled Egg Beaters
Thick Sliced Bacon
Smoked Sausage Patties
Sugar Cured Ham
Country Ham
100% Natural Blueberry or Sugar Free Syrups
Honey, Jams, Preserves, and Low Sugar Fruit Spreads
UPDATE: This was originally posted on February 17, 2014. The menu has been updated however I have Celiac and I am EXTREMELY sensitive. I have no problem eating at Cracker Barrel. I personally eat the grilled pork chop, grilled cat fish, hamburger with no bun and the eggs/bacon/sausage and country ham with zero concern. In addition I eat the Chef Salad. This post was written years ago and YES the menu has changed. It is your decision if you choose to eat at Cracker Barrel or not but I have no issues eating there. I do request that they clean the grill when I eat at Cracker Barrel and I have never had an issue. Hope this helps. This is a link to the updated allergen menu at Cracker Barrel.
Melissa is a football and soccer mom who has been married to her best friend for 24 years. She loves sharing recipes, travel reviews and tips that focus on helping busy families make memories.