Immaculate Gluten Free Cookies Review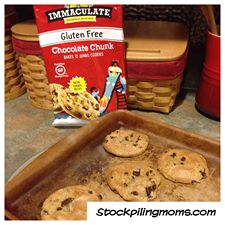 Check out my Immaculate Gluten Free Cookies Review. I was shopping at Kroger and found Immaculate Gluten Free Refrigerated Cookie Dough in the Natural section. I literally started jumping up and down. There are so many days that all I want is 1 fresh baked cookie. Being gluten free that normally means a store bought packaged cookie or making a full batch of cookies (which is too much temptation for this gluten free girl). Some store bought cookies are good but not the same as when I really want a cookie baked fresh in the oven.
Not only are Immaculate certified Gluten Free I was also able to purchase a non-dairy recipe! Yay! I chose to purchase Chocolate Chunk.
I brought them home and decided to cook (5). They cook at 325 degrees for 16-18 minutes from the refrigerator. I waited anxiously on them in the oven. The package said to let them cool for at least 5 minutes before removing them from the baking sheet, which I did and would agree that is necessary. Even though you may be tempted before they need time to "set" and cookies continue to bake for an additional 2 minutes after removing them from the oven.
Not only did I love them so did my family, which is always the test for my gluten eating husband and son. When they will eat a gluten free item, them I really know it is good!
This brand believes in giving back. They support the Folk Artists Foundation, which provides exposure, resources and encouragement to artists working in the folk art tradition. You can learn more about this brand at www.immaculatebaking.com
Disclaimer: This is not a sponsored post. I am just sharing my opinion with you as we journey to gluten free living together.
Here are several Gluten Free Product Reviews. Hopefully they will help you in your journey to gluten free living.
What is Stevia? It is Gluten Free!
Enjoy Life – Plentifuls Crunch Lentil Chips Review

Fruity and Cocoa Pebbles are Gluten Free
Dr. Lucy's Gluten Free Cookies Review
Gluten Free With General Mills
Clif Kidz Fruit Ropes – Gluten Free and Organic
Gluten Free Posts:
Best Gluten Free Food at Universal Studios Orlando
Can you eat gluten free on a Disney Cruise?
Gluten Free Peanut Butter Cookies
Melissa is a football and soccer mom who has been married to her best friend for 24 years. She loves sharing recipes, travel reviews and tips that focus on helping busy families make memories.