5 Uses For Leftover Coffee Grinds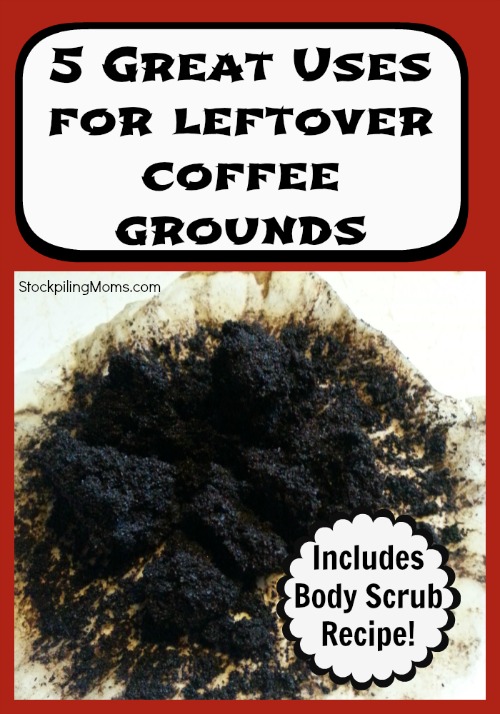 We have 5 Uses for Leftover Coffee Grinds. Every morning as I rinsed out my coffee pot and empty the old grounds. It felt so wasteful tossing those grounds into the trash. I found out there are tons of great things you can do with them and here are 5 Great Uses for Leftover Coffee Grounds that I have put to use in my house already.
Everything from nurturing budding plants to creating body scrubs I never realized how much money I truly was throwing away with this "waste" in my daily routine. If you don't use a traditional coffee pot, you might this post on How to clean your keurig useful.
5 Uses For Leftover Coffee Grinds:
USE AS COMPOST: Sprinkle leftover coffee grounds into your compost to add needed nitrogen for use in composting or sprinkle lightly in your garden or flower beds to help nourish the soil.
WASH DIRTY DISHES: We have all had that skillet or pan that needed to be soaked a bit to remove cooked on food. Use a tablespoon of leftover coffee grounds as an abrasive to help clean your dishes.
DEODORIZE FREEZER – REFRIGERATOR – TRASHCANS – DIAPER PAILS: Place coffee grounds in a small container without a lid and sit in the door of your refrigerator or freezer to help absorb bad odors and freshen after onions or other pungent smells have permeated the appliance. Pour coffee grounds into quart sized plastic storage bag. Poke small holes on one side of bag. Lay flat inside plastic grocery bag and wrap loosely so smell still
COFFEE BODY SCRUB: You will need 1 Cup Ground Coffee, ½ Cup Olive Oil or Coconut Oil and ¾ Cup Sugar. Mix ground coffee & sugar together in small bowl, gradually mix in olive oil or coconut oil until well blended. You may use a dash of essential oils or something as simple as a pinch of Vanilla, Mint or Almond extract for an added boost for your senses. Use 1-2 Tablespoons as a body scrub focusing on rough patches like elbows, knees and heels.
ANT REPELLENT: Sprinkle leftover coffee grounds near areas you don't want ants and on or around ant piles themselves. Ants will move or stay away from the grounds.
You may not be able to use all of your leftover coffee grounds but next time you think of it keep a cup in the back of the refrigerator to use for some of the above projects. And of course, take the time to treat yourself to a nice warm bath or shower to test out your newly made great smelling body scrub.
Here is a roundup of our coffee recipes and posts:
DIY Containers – How to reuse your Coffee Mate Containers
Homemade Pumpkin Pie Creamer Recipe
Miss Debbie's Coffee Bread Recipe
Creamy Peppermint Coffee Recipe
Crockpot Pumpkin Spiced Lattes Recipe
Easy Pumpkin Spiced Latte Recipe
Melissa is a football and soccer mom who has been married to her best friend for 24 years. She loves sharing recipes, travel reviews and tips that focus on helping busy families make memories.