5 Tips to Save On Gasoline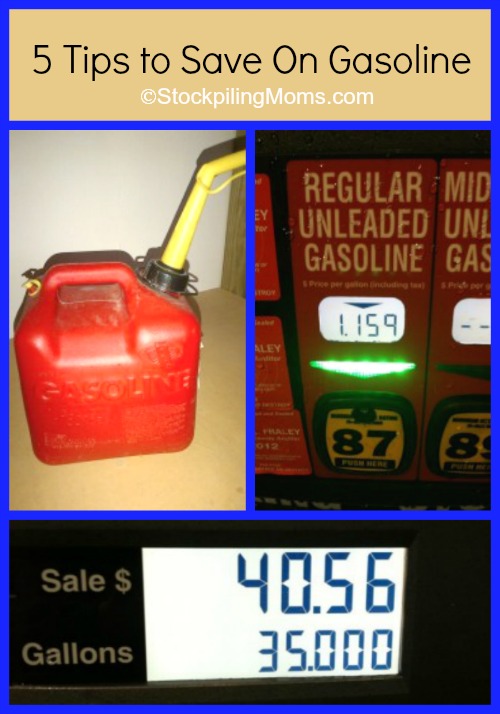 Here are 5 Tips to Save On Gasoline. This summer we are always on the go-go-go. We have taken several day trips, a couple overnight and it seems like we are always driving somewhere each day. With that being said it is impacting our budget. Instead of driving on our vacation we opted to fly because it cost us less too! I decided to do a little research on how we can conserve fuel and save on gasoline.
5 Tips to Save On Gasoline:
1. Reduce your speed – Set your cruise control. By reducing your speed, you can actually save yourself gasoline! Also, by driving at a steady speed you can too!
2. Skip the luggage rack – if you remove the luggage rack from your car you will actually save yourself on mileage!
3. Pack lightly – the more you take the more it will affect your fuel economy.
3. Tune-up – It is important that your car is working to its highest efficiency. Get a tune-up before having out of town and make sure that tire pressure is good. This effects gas usage!
4. Fill up in town – Drive a couple of miles in from the exit when you are traveling. Prices seem to be higher by the interstate. Taking the extra couple of minutes may save you in the long run!
5. Wax your car before you travel – My neighbor swears by this. He says he increases the fuel efficiency when he waxes his vehicle before he travels.
Do you have any money saving tips? I would love to hear them!
Travel Articles:
How to save money at Kings Island
How to Save Money at Disney & Tips for Planning
Tips for Saving Money on Air Travel
Melissa is a football and soccer mom who has been married to her best friend for 24 years. She loves sharing recipes, travel reviews and tips that focus on helping busy families make memories.