4 Ways Apple Cider Vinegar will Help your Skin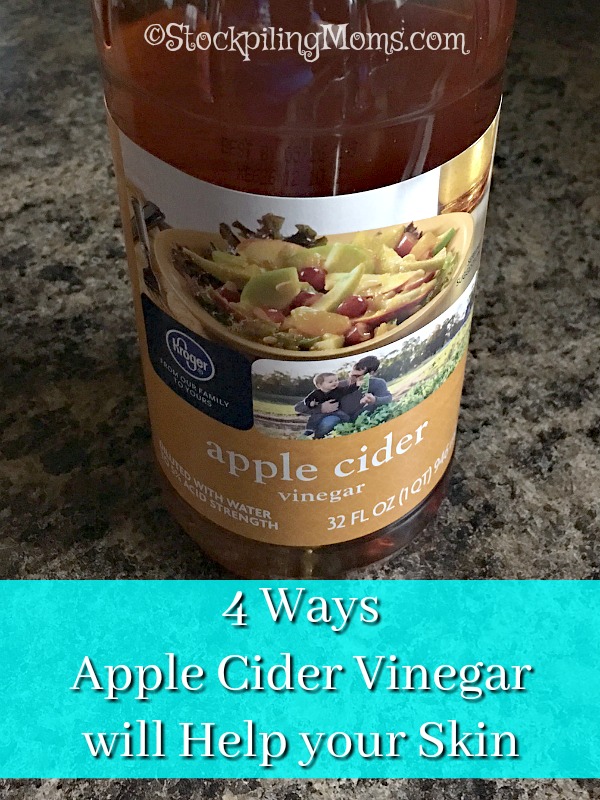 Check out these 4 Ways Apple Cider Vinegar will Help your Skin. Are you looking for natural ways to care for your body this year? If so then here are ways to treat your skin with Apple Cider Vinegar. This amazing vinegar is so useful for your body, home cleaning and cooking. Be sure to give it a try!
4 Ways to use Apple Cider Vinegar on your Skin
1) Age Spots
The alpha-hydroxy acids that naturally exist in apple cider vinegar can help gently remove dead skin cells. Over time, regular use could help reduce the sign of age spots on the skin. (I have personally been doing this to an age spot on my face and it is slowly working. This is not a quick fix, but I love that it is a natural way for me.)
Application: Apply straight apple cider vinegar directly to the age spots. Use a cotton ball or soft pad to blot the impacted area of skin. Let set for 30 minutes. Repeat twice per day for up to six weeks for best results.
2) Acne
The malic acid found in apple cider vinegar makes it a terrific facial cleanser. Not only does it naturally soothe skin, but it also works as an anti fungal and antibacterial cleaning agent.
Application: Use a small amount of apple cider vinegar as a rinse on the skin (avoid the eye area).
3) Skin Toner
The astringent properties in apple cider vinegar can help minimize pores and improve circulation of the skin, thus making it an excellent natural solution for skin toner.
Application: Mix ½ cup of water and ½ cup of apple cider vinegar with a few drops of lavender oil. Apply directly to the skin with a cotton ball, allowing the mixture to be on the skin for two minutes. Rinse thoroughly with fresh water. Repeat up to twice per day.
4) Soothe Sunburn
Sunburns can burn and itch, making for an uncomfortable and slow healing process. Apple cider vinegar is a natural astringent, meaning that it can help speed up recovery while reducing itching and burning.
Application: Mix equal parts of cool water and apple cider vinegar. Apply directly to the skin by gently rubbing on burned skin. Repeat several times per day as needed for soothing. (I make sure to pack this on beach vacations)
More Natural Tips:
How to Remove Blackheads Naturally
Natural Allergy Remedy for Kids
How To Clean Your Dishwasher Naturally
Shelley is a boy mom, marine wife, and is blessed with an amazing family. She loves sharing recipes, travel reviews and tips that focus on helping busy families make memories.