10 Simple Steps to Lower Your Cholesterol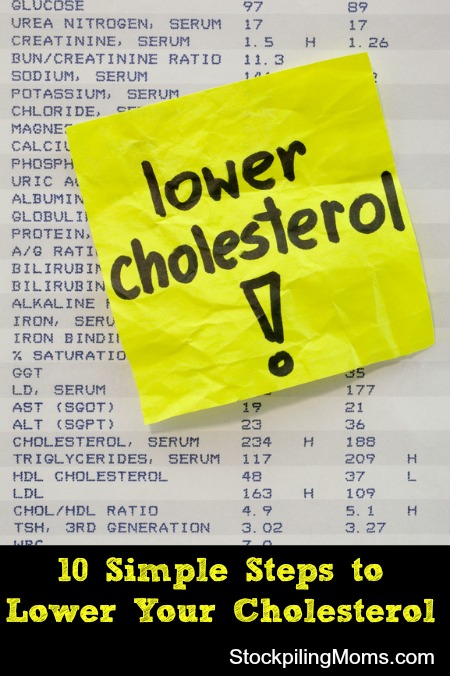 I have really been watching my Cholesterol and trying to reduce it with diet and exercise. Recently, I read Cholesterol Down by Janet Bond Brill and was really excited to incorporate these 10 Simple Steps to Lower Your Cholesterol into my daily routine. These tips really work and I was very excited! I was able to lower my overall Cholesterol by over 50 points!
10 Simple Steps to Lower Your Cholesterol
1. Eat Oatmeal
2. Eat Almonds
3. Eat Flaxseeds
4. Take Fiber
5. Eat Beans
6. Eat Apples
7. Eat Margarine with Phytosterols
8. Eat Soy Protein
9. Eat Garlic
10. Walk
Breaking it down!
Most of the items on the list make a lot of sense. In fact my Great Aunt Ida ate oatmeal every single day of her life and had no Cholesterol problems so I am going to include that into my routine for sure. What is nice is that I could add sliced almonds and flaxseed to it and cross off 3 items in one! A way that I plan to incorporate beans into my diet is at lunch with a salad and I will add garlic and olive oil to it as my dressing. So as you can see it is not too hard to cross these off of your list. Using dry beans are such an economical protein source.
Increasing fiber into your diet is really key for reducing Cholesterol and this is something that I know my body needs so I am using a powdered form into my water. Of course apples are a great snack and I try to eat one a day (to keep the Dr. away) and walking is my favorite form of exercise. I love Leslie Sansone! When I met with my heart Dr. I asked him if I should avoid eggs and he said, no. That is not a worry for me. I am thrilled because I eat so many of them. I hope this helps you if you are someone in your family is trying to lower your cholesterol. By simply making these 10 changes for 4 weeks it is said that you can lower your cholesterol.
Here are some delicious and healthy oatmeal choices:
Crockpot Warm 'n' Fruity Breakfast Cereal Recipe
For more information I suggest reading Cholesterol Down by Janet Bond Brill, Ph.D., R.D, LDN.
Interested in Freezer Cooking?
We have a Freezer Cooking 101 Series that you may enjoy!
Stockpiling Moms can be found in all your favorite places. Hop on over to Instagram and follow the fun. We love posting memes, family fun, travel, and whatever we are feeling that day. Pinterest is also an amazing place to visit Stockpiling Moms. This is where you can pin all your favorite articles from our Food, Travel & Lifestyle Blog.
Disclosure: I am not a Dr. and I am not providing medical advice. Always consult your Dr for medical advice.
Melissa is a football and soccer mom who has been married to her best friend for 24 years. She loves sharing recipes, travel reviews and tips that focus on helping busy families make memories.