10 Frugal Ways to Save on a Vacation
Here are 10 Frugal Ways to Save on a Vacation when it comes to planning or being on the actual trip. Being a family of five always makes our vacations more expensive because most hotels and resorts have base pricing based on a family of four.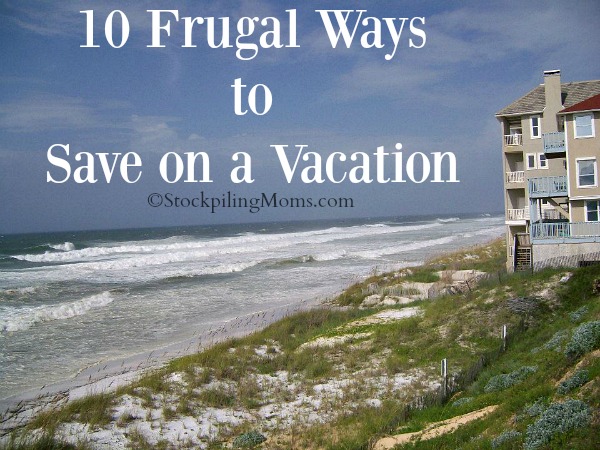 So I use the following vacation tips to help keep our trip in my vacation budget, but also fun for the whole family!
10 Frugal Ways to Save on a Vacation
1) Travel during slow/low periods. This is an obstacle for myself as the kids are older and missing school is not always an option. But it will help you save on hotels/resorts if you book during a slow period. You can sometimes see a drastic reduce in your costs by being in an off season.
2) Getting coupons/promo codes. You can find promo codes for your hotel/resort online if offered. You can even save by paying in full upfront on the stay. You can also find and print out coupons for activities at your destination. I always search for coupons for mini golf, parasailing and dolphin cruises, etc. If you are going to a restaurant be sure to look online for a coupon before going.
3) Follow Twitter accounts that are related to your vacation destination. A lot of companies and travel places will tweet flash sales and deals. You can be the first to know and contact them. Most sales/deals only have a limited number.
4) Ask for a better price! This may seem weird but you can call your hotel/resort right before your trip and see if they have a better deal or if they can upgrade you for the same price. Most of the time they can!
5) Bring your own toiletries. Every year I start at least 3 months before our trip with making a pile of these items. I get shampoo, conditioner and soap while it is on sale. This helps eliminate any last minute shopping right before the trip or while on the trip. I include – deodorant, contact solution, toothpaste, toothbrushes, lotion, sunscreen, band-aids, motrin, mouthwash, ponchos, combs, gum, sandwich baggies and individual items, etc.
6) Pack snacks. I have three boys so this is a must have for me and my bank account. Again I hit the sales at the grocery store months before we leave and I start a pile of non-perishable items such as chips, popcorn, fruit snacks and granola bars, etc. I also bring bottled water that we can keep in our room.
7) Pack lightly. If you are flying then this is a must because most airlines charge you to check bags. If driving you may also want to follow this to save room in your vehicle. One tip to help is – Traveling Packing Tips To Save Space.
8) Bring entertainment for little ones. Whether you are flying or driving you will want some things to occupy the kids. You can pack books, check out DVD's from your local library, coloring books, etc. I make a small bag for each one of my boys with some of their favorite things and I always include a new book for them as a treat.
9) Go Camping. This is such an inexpensive thing to do with a family. Most campsites are around $30 or less a night. Much cheaper than a hotel stay. Plus most camping areas offer a lot of things to do for free or little cost of money.
10) Plan a few indulgences. I always allow in our budget for a dinner out to a fancy expensive restaurant. I also plan one day of activities whether it's going on a dolphin cruise, taking the kids to some activities or splurging on some souvenirs. After all it is vacation, but I always stay in our budget and we never put anything on credit.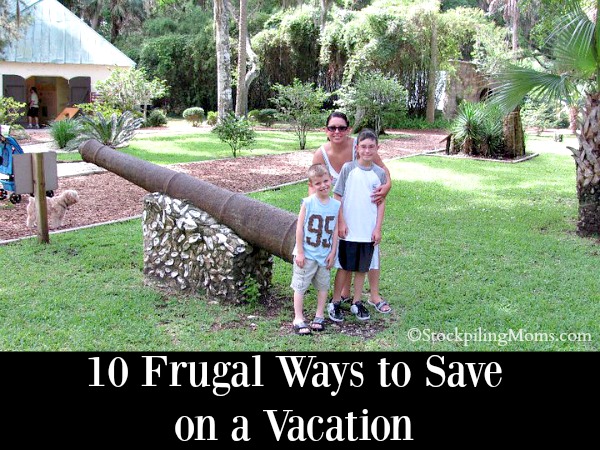 More Vacation Tips You May Enjoy:
Travel Tip – Do not bring in ANYTHING after traveling to prevent bed bugs and pests
5 Awesome Travel Tips You Can't Live Without
How to plan a gluten free road trip
Shelley is a boy mom, marine wife, and is blessed with an amazing family. She loves sharing recipes, travel reviews and tips that focus on helping busy families make memories.