Whimsical Vintage Baby Boy Nursery Ideas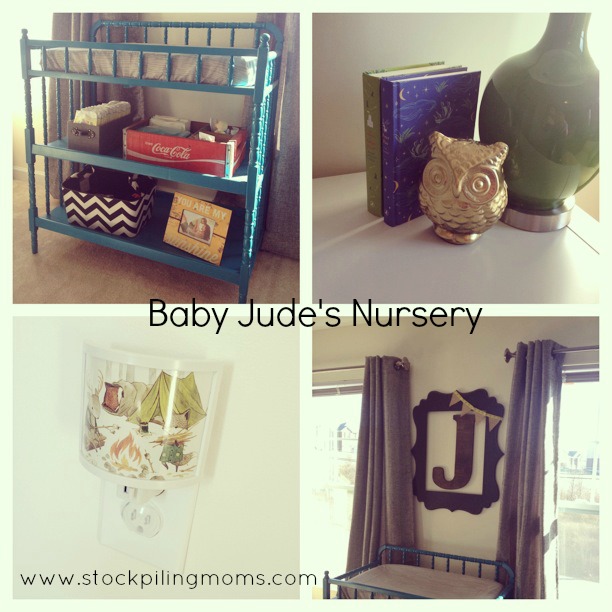 I am so excited to share with you my Whimsical Vintage Baby Boy Nursery Ideas. A new little cute button is being added to our family this coming May! We are so excited to be welcoming a boy this time around. I was admittedly in shock I think for a few days because I had only known and dealt with all things pink and girly with our daughter. I almost felt like it was my mission to create a perfect balance for our little man of whimsy, masculine, vintage and of course with some DIY touches in his nursery. Now that the nursery is ready for his arrival, I have to say, I had an absolute blast creating this space that hopefully he will enjoy as much as I do!
Listed below you will find information regarding the retail resources that I used to create the room. As a crafter, I found plenty of inspiration and details on etsy.com! I was thrilled with the selection of things I could find to compliment the theme of the room and loved that each piece was handmade by someone. His nursery has been filled with items from all over the United States, including Hawaii!
Whimsical Vintage Baby Boy Nursery Ideas:
Wall colors: Glass of Milk by Martha Stewart at Home Depot
Black chalkboard paint by Rustoleum
Curtains: Target.com
Bookshelf: Ikea
Burlap numbered bins: Land of Nod.com
Lamp: TJ Maxx
Owl: DIY spraypainted with gold Rustoleum spraypaint. Owl from TJ Maxx.
Lampshade: Meijer
Momma and baby foxes: Ikea
Small blue chair, globe, Coca-Cola crate, changing table: Antique store/yard sale/Goodwill finds
Prints above bookshelf: etsy.com/shop/LittleLightPrints
Barnwood Frames: Hobby Lobby
Rocking chair: Wal-Mart.com
Accent pillow: etsy.com/shop/LilMrSmartyPants
Black frame: Hobby Lobby
Wooden J: Hobby Lobby (I stained using a dark walnut stain)
Bunting banner: DIY using scrapbooking trim and burlap from Hobby Lobby – See this how to post on how to make a banner
Changing pad cover: etsy.com/shop/ButtercupForrest
Chevron basket: Target
You Are My Sunshine Frame: Kohl's
Crib: Land of Nod (Previously used for our daughter)
Crib sheet: Landfofnod.com
Stuffed owl: Babies R Us (Note: owl will be taken out once he arrives and is sleeping in his crib!)
Bed Skirt: etsy.com/shop/LilMrSmartyPants
I Adore You Print: etsy.com/shop/pearllui
Onesie: DIY with iron on transfers
Nightlight: etsy.com/shop/CommonRebels
Chalkboard wall: I am SO lucky to have a dear friend who should quit her day job to be a chalkboard artist! She so generously drew the scene on the chalkboard wall. I accented with tacking some pom pom trim to the bunting banner which I found at TJ Maxx.
So there you have it. Baby Jude's room! Only 11 more weeks to go, but who's counting?!
If you enjoyed this post you may like these DIY Projects: