What do you really need to register for when you are expecting your first baby?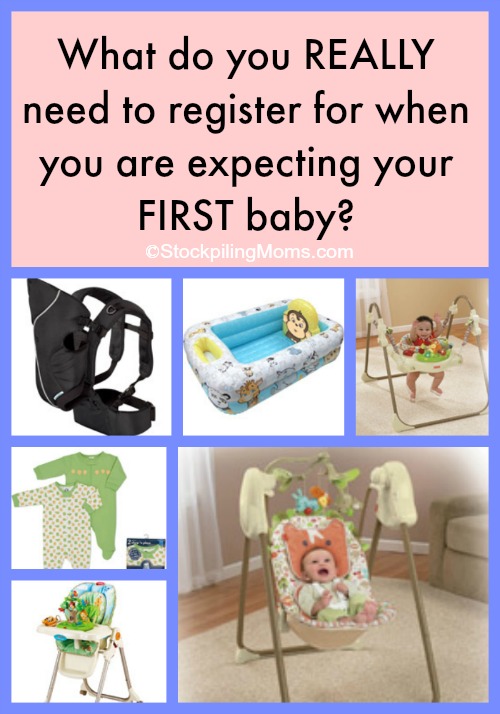 What do you really need to register for when you are expecting your first baby? When you find out you are expecting, you can easily become overwhelmed and even "flip out" a little when it comes to getting ready for baby. You may have friends and family asking you what they can get for you and even offer to host baby showers for you. My advice is to create a baby registry so they can shower you with love! Register for everything you think you will need, no matter how big or small. It gives those who want to get you something an idea and lots of options for what they want to spend.
By creating a baby registry, your loved ones can shop within their budget (and even use coupons or rebates, if possible). Don't be afraid to put "big" items on your registry too! This allows for friends or family who want to go together on a gift to do so while getting you what you want. You can research your more expensive items, and you won't be stuck with a cheap and less safe alternative just because someone wanted to get you something and didn't know where to start.
Registering helps those friends and family know what you need instead of purchasing what they think you may want. When you create a baby registry at Walmart.com, it makes it easy for those who live out of town too!
What do you REALLY need to register for when you are expecting your FIRST baby?
1. Carrier or a Sling – a MUST! There is no better way to bond with your baby than by using a sling or a carrier. Not only that, but it is also easier for you to multi-task. You can get one that is gender neutral, too, so that both Mom and Dad are comfortable using it. This was something that we used daily with Peyton.
2. Diapers, Diapers and more Diapers – Seriously, diapers are the most used and important item on a baby registry in my opinion. Don't forget to register for a VARIETY of sizes too! You can never have enough diapers. We used Pampers for daytime and Huggies Overnights for bedtime.
3. Boppy Pillow – A boppy is a must. It works great using it as a personal pillow for extra support during pregnancy and added support while in labor. Once your baby is born, a boppy pillow is great for feeding, nursing and general support. You may also include the My Breast Friend Nursing Pillow, too, if you are breastfeeding.
4. Wipes – You can't have enough! They are vital for diaper changes and for cleaning up messes. They are something we still use, and my son is nine! I suggest unscented just to be safe.
5. Sleepers – Register for a variety of sizes and you can never have enough! They are so comfortable for your baby and handy, too!
6. Glider Rocker and Ottoman – I seriously must say that our glider rocker and ottoman was one of the most useful items that we got as a baby gift. We used it multiple times daily. We fell asleep in it daily. I know that a wooden rocker that was used by your parents and passed onto you may have memories but let me tell you from experience it is not comfortable and creaks. Consider a comfortable glider. You will thank me later.
7. Baby Swing – We could not have made it without our swing. Peyton fell asleep in it often! In fact, it allowed me to cook dinner on most nights. It is soothing and something that we could have never survived without. My advice it to get one with difference speeds, music and a reclining option.
8. Jumperoo – Seriously Peyton's favorite piece of equipment. Though you won't start using it until after 6 months of age, and they won't really enjoy the full motion of play until they are closer to a year old, this was a serious form of entertainment for Peyton.
9. Stroller – This will be something that you will use daily! Don't skimp out on it and really look at the features. Choose one with a 2-level reclining seat and convertible 3- or 5-point harness. I would also choose one with an adjustable canopy, a 1-hand fold with storage latch and an extra-large, drop-down storage basket.
10. High Chair – This will be your most-used piece of baby equipment. Again, don't skimp on your high chair. You need to be sure to choose one that reclines. I can't tell you how many times Peyton fell asleep in his high chair after eating. Make sure it is comfortable, has a convertible 3- or 5-point harness and it reclines! I also like high chairs with built-in toys, dishwasher-safe trays and easy-to-clean (no fabric) seats.
Some additional items that you will need: nail trimmer, baby lotion, baby wash, diaper cream, gripe water, nasal aspirator, thermometer, receiving blankets, onesies, sleep sack, car seat, crib, bibs, baby washcloths, burp cloths, baby bath tub, baby towels and age appropriate toys.
I hope this list helps you while planning for your baby and your baby registry. Of course another great gift is gift cards! You can never go wrong with those!
Disclosure: I am blogging on behalf of Walmart.com and received compensation for my time, but the views expressed here are solely mine, not Walmart's. Shop online and save money to live better at www.walmart.com.
Melissa is a football and soccer mom who has been married to her best friend for 24 years. She loves sharing recipes, travel reviews and tips that focus on helping busy families make memories.