Check out these helpful Ways To Boost Your Mood. In times of stress, anxiety can creep up on all of us. Whether or not you have a history of circumstantial depression or mental illness, it happens to almost everyone at some point in their life. Finding the motivation to dig yourself out of depression is hard, and isn't always possible. However, there are some ways that you can help boost your mood and motivate yourself to seek help when things just get to be a bit too much. Always consult a Dr. if you are having suicidal thoughts.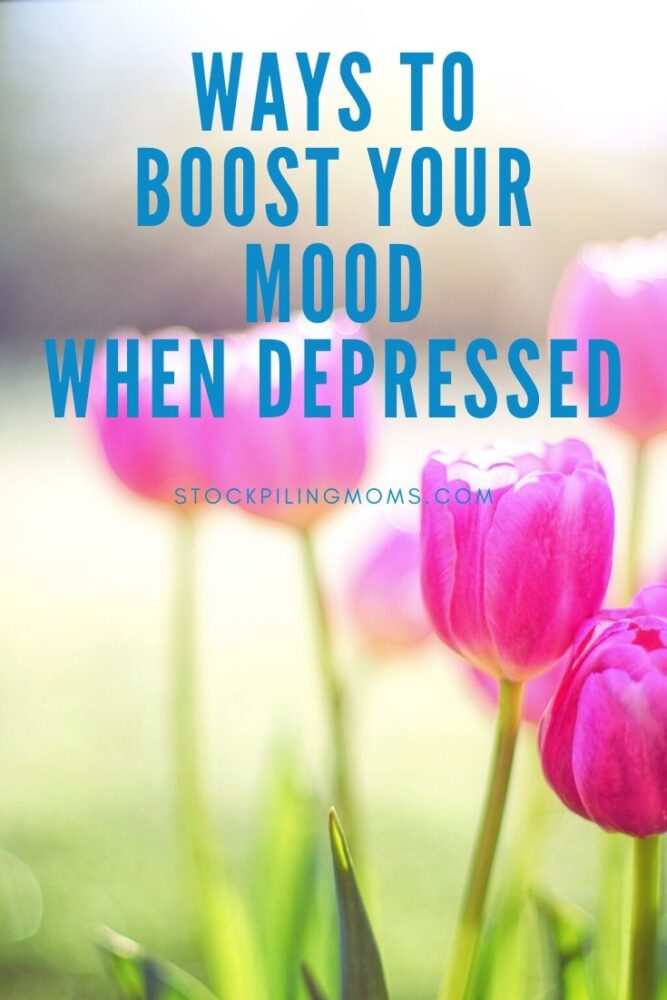 Ways to Boost Your Mood
Before you look to these as cures, know that they are most definitely not. Please, always consult your physician first and foremost. If you are depressed or having an end of life thoughts, seek help immediately. There is no shame in asking for help, taking medication, going to counseling, or seeking treatment.
The tips and ideas below are meant to be used alongside professional help and are in no way meant to cure or treat depression. They are simple ways to boost your mood and help make it through tough times.
Do Something for Someone Else
Getting out and in your community to help someone else is one of the easiest and best ways to boost your own mood. Sometimes, it isn't safe to literally go door to door in your neighborhood or community, but that doesn't mean you can't brighten their day.
Something as simple as a phone call, offer to research something to suit their needs, or dropping off a meal is helpful. In the past, friends across the country had tough times and I knew I couldn't physically be there for them. Instead, I ordered a meal delivered to them. It helped more than I realized at the time, and has since become something I do for others any time I have a chance.
Take the time and have food delivered to someone. Takeout, groceries, or even staple supplies ordered on Amazon can all be handy.
Send flowers.
Write a letter, note, or fill out a card and drop in the mail.
Call and just listen to their needs, worries, and vents.
Take them for a manicure or spa day when able.
Have a Netflix watch party with them so you both tune in and watch a movie together at your own homes.
Make them something unique and personalized like a mug, door sign, t-shirt, etc.
Spend Your Energy on Fun Things First
Honestly, one of the best things for when I begin drifting into any depression is to find something I already love doing and focus on that first. Yes, priorities and adulting are a must, but I try to make time for what I love as well.
For me, a daily time of Bible study is a priority and is something I enjoy. Even if it is just 15 minutes in the morning, it makes a huge difference in my mood throughout the day. I can sit down to the work and goals with more focus once I have done that and taken care of myself first.
Another thing that is a priority for me is the little bits of self-pampering. Whether it is getting my nails done, having lunch with friends, or shopping with my mom, I need a bit of downtime. When I get back to work on the "musts", I have more focus, being more productive, and the results are just better overall.
Get More Sunshine
Hands down, something that helps me more than anything else is getting out and in the sun. Even when I am just not feeling myself, the sun on my back helps more than anything. It's just refreshing and is designed to boost your mood. It's so worth it to focus and refresh yourself!
More Ways to Lift Your Spirits
Melissa is a football and soccer mom who has been married to her best friend for 24 years. She loves sharing recipes, travel reviews and tips that focus on helping busy families make memories.