Washi Tape Pill Bottle Upcycle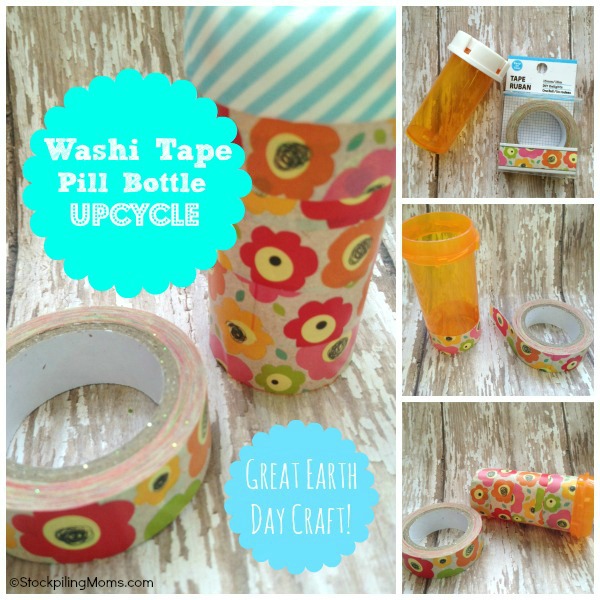 Are you looking for a fun Earth Day craft? This Washi Tape Pill Bottle Upcycle is a great way to give your old plastic pill bottles a new life. With just a roll or two of washi tape from your local dollar store, you can makeover your pill bottles into something fun and fresh. Take a peek below at how easy it really is!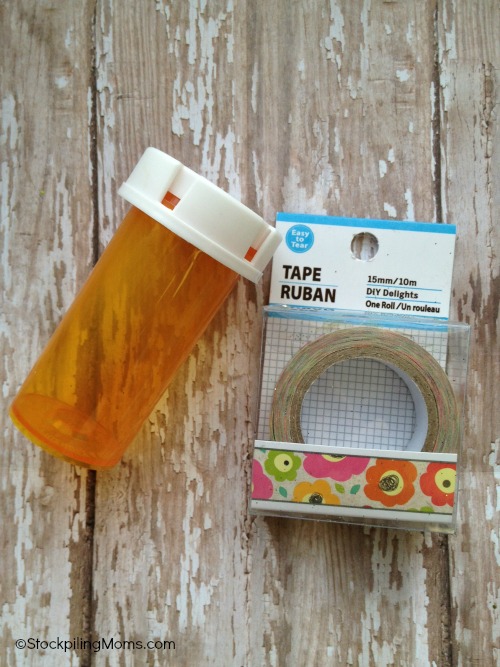 Washi Tape Pill Bottle Upcycle
Supplies needed:
Plastic pill bottle
Washi tape
Scissors
The washi tape from the local dollar store tears quite nicely, so you may not need scissors to cut it. But just in case, keep a pair on hand. You will also notice that your local dollar store has a nice selection of colors and patterns. Check there to find your washy tape so you can get this great look for less.
Directions:
1. Begin by wrapping the washi tape around the bottle starting at the base.
2. Wrap the top around once and then cut.
3. Starting at that same spot you began wrapping last time, start a new strip of washi tape directly above it.
4. Continue this process until the bottle is covered. You want to make sure there is only one seam, so the bottle looks neat and clean.
5. Cover the lid in washi tape as well, wrapping it over the lid and once around the lid. It might be fun to do this piece in a contrasting color!
Once your wash tape pill bottle is done, it can be used to hold medications, hair pins, safety pins, Q-tips or even pocket change. This is such a fun way to reuse an item you may have otherwise tossed away. So, give this easy Earth Day themed craft a try. It is a fun way to give those plastic bottles a new look you will love.
Upcycled Ideas:
Bleach Bottle Santa Decoration
DIY Containers – Recycle Coffee Creamer Containers
Melissa is a football and soccer mom who has been married to her best friend for 24 years. She loves sharing recipes, travel reviews and tips that focus on helping busy families make memories.