I love this healthy Vegetable Turkey Tray! This is a great way to add some vegetables into your Thanksgiving menu plan and create a cute Turkey theme!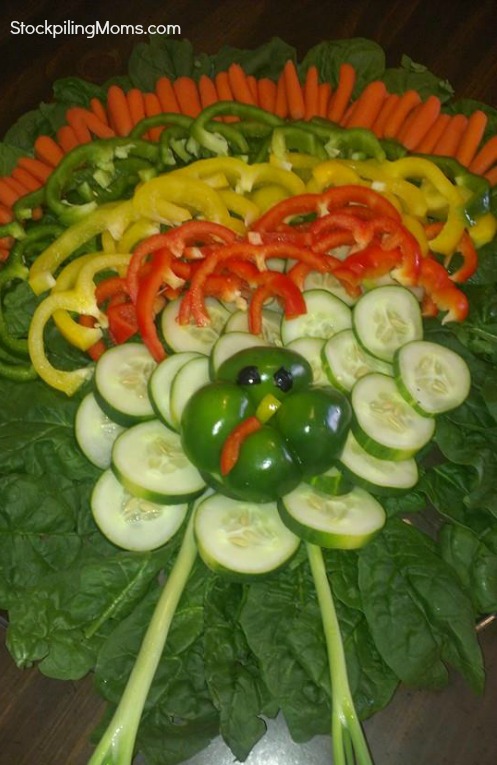 My friend Deanna made this and I asked her if I could share it with you. You of course can use any vegetables of your choice but the ones that she used really create a nice looking "veggie" turkey. Best of all this is a great way to have fun with the kids while encouraging them to snack on veggies and not ruin their appetite before the Thanksgiving Feast.
Vegetable Turkey Tray:
Ingredients:
Spinach
Cucumbers
Peppers – red, green and yellow
Celery
Carrots
optional: mini tomatoes, cauliflower, asparagus and broccoli
Directions:
Use fresh spinach leaves as the base of your turkey on a large tray or platter and then added sliced cucumbers, pepper rings in a variety of colors to create "feathers" and finally carrots. She used a green pepper for the face and a variety of peppers to make the eyes, nose and gobbler. Finally she added two stalks of celery for the legs. She used a marker to color the eyes as no one planned to use the turkey "face". You could use black olives if you want to keep it 100% edible.
As a helpful tip she did suggest that if you are traveling for Thanksgiving that you prep your veggies in advance but assemble it at the meal location. You could serve this with a bowl of Cool & Creamy Vegetable Dip. You could also add other veggies like mini tomatoes, cauliflower, asparagus and broccoli too! The sky is the limit. It is a great appetizer to serve when you don't want to ruin your appetite and it is healthy too!
Be sure to give this Turkey Vegetable Tray a try at your next Thanksgiving. It is a healthy crowd pleaser for sure. It is a healthy appetizer that the whole family will enjoy eating. It is soon to become a family favorite.
Other Healthy Thanksgiving Ideas:
THANKSGIVING CRAFT IDEAS:
THANKSGIVING CROCKPOT RECIPES
Turkey Breast of Wonder (Crockpot)
Crockpot Sweet Potato Casserole
Melissa is a football and soccer mom who has been married to her best friend for 24 years. She loves sharing recipes, travel reviews and tips that focus on helping busy families make memories.