Valentine's Day Party Ideas For Kids
Enjoy these Valentine's Day Party Ideas For Kids. Ahh, Valentine's Day! Media might make you think it's a Hallmark holiday about romance with expensive hearts and flowers and candy, but if you explore the origins of the day you'll find it is actually based on a real person who practiced love in a sacrificial way.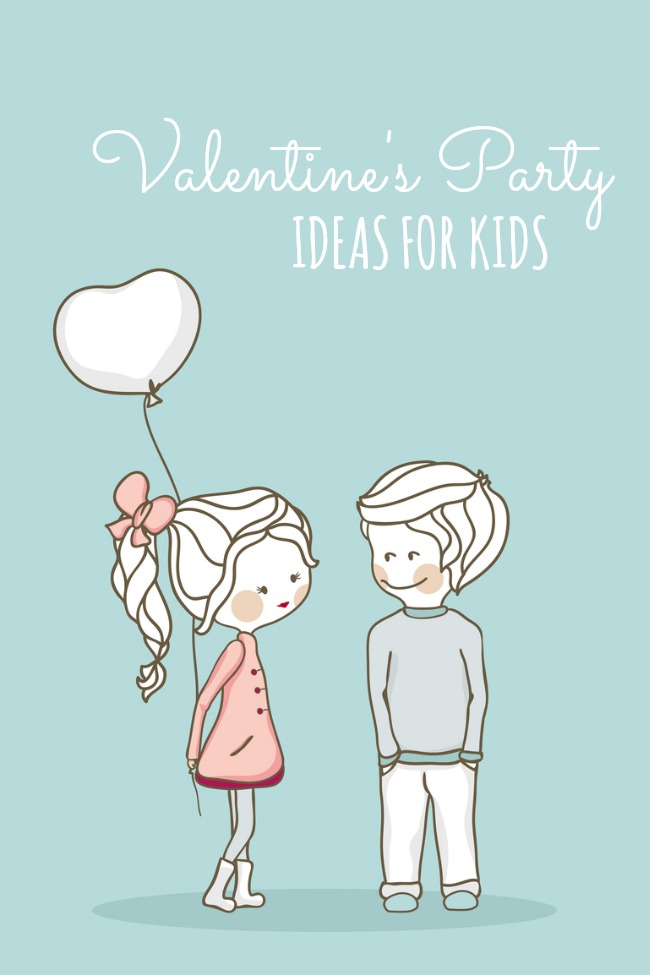 The ability to express (and receive!) love is something we all want our kids to enjoy, so Valentine's Day is a great day to celebrate friendships and family love (although I don't mind if my husband wants to add in some Hallmark moments with flowers or candy, too!). Whether you're looking for Valentine party suggestions or a few ideas to enhance a family day, consider some of these fun, frugal options.
Valentine Party Decoration Ideas
Hearts are easy to make so enlist the kids' help by having them cut and embellish paper hearts. A simple, decorative technique is using a hole punch around the edge of a heart. Use a spool of economical curling ribbon to hang hearts from windows, mantels and the light fixture over the table. Garlands are easy and look especially festive.
A paper heart garland can be made several ways, including: use mini clothespins and the heart family from a deck of cards; cut hearts from folded papers (using the paper doll chain method); make the classic paper chain and suspend hearts from ribbon every foot or so. There are many beautiful papers available at craft stores, but they can become pricey. A roll of the right color of wrapping paper is an economical option. Even the lowly newspaper print looks party worthy when it's coupled with dashes of red or pink.
Pull out Christmas decorations; what do you have in red or white? Even a trio of red/pink balls can be tied together with ribbon or scrap fabric strips. Pile them on a white platter; tuck in a few heart shapes. Strands of white lights add festive sparkle; they're easy to use as window swags.
Valentine Party Food Ideas
Menu choices for the day don't need to be exotic; just include heart shapes! Peel a carrot; cut a v-shaped notch down one side and you'll find heart shapes when you slice it. This same technique can be used on lots of fruits and vegetables or just use a cookie cutter for firm fruits like apples or melon. Alternately, attach paper hearts to toothpicks or straws and decorate your menu that way. Don't forget heart shaped cookies or cake; I love these red velvet cupcakes!
Valentine Party Games & Projects
Heart-themed craft projects and games based on teamwork are great choices for a Valentine party. A paper treasure hunt that leads to a cache of chocolates is a fun activity plus the chocolates can serve as favors. Glow bracelets, mini flashlights, silly straws and pencils are economical favors, too.
Multiples of anything make a decorative "wow" statement; that makes a Valentine's Day party one of the most simple to pull together because of all those hearts full of love!
What would you love to do at your Valentine party?
Stephanie Keeping is mom to a boy named Sam, a blogger, and an Etsy-preneur. She celebrates boyish charm at Spaceships and Laser Beams, where she talks about all things boy and birthday party.
From Melissa and Shelley:
We are in love with this Valentine Hearts Deluxe Kit that serves 8! It includes everything you see below for only $13.99! This is the deluxe kit and they also offer a standard kit for $6.99 too! That is a great deal and one stop shopping! Plus they often offer free shipping codes too! Perfect for a Valentine's Day Party!
Deluxe Kit Includes:
8 Valentine Hearts Cake Plates
8 Valentine Hearts Cups 9oz
16 Valentine Hearts Luncheon Napkins
8 Forks/Spoons/Knives
1 Valentine Hearts Table Cover
2 Streamers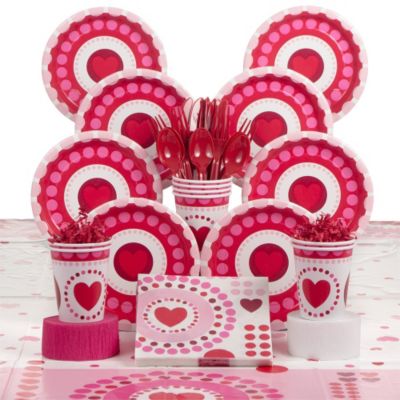 Valentine's Day Posts:
Planning a frugal Valentine's Day
Valentine's Day Treat Box Ideas
Heart Photo Craft Using Cupcake Wrappers
How to make a "candy bar cake"
Stockpiling Moms can be found in all your favorite places. Hop on over to Instagram and follow the fun. We love posting memes, family fun, travel, and whatever we are feeling that day. Pinterest is also an amazing place to visit Stockpiling Moms. This is where you can pin all your favorite articles from our Food, Travel & Lifestyle Blog.
Melissa is a football and soccer mom who has been married to her best friend for 24 years. She loves sharing recipes, travel reviews and tips that focus on helping busy families make memories.