Barbie Birthday Party…..on a Budget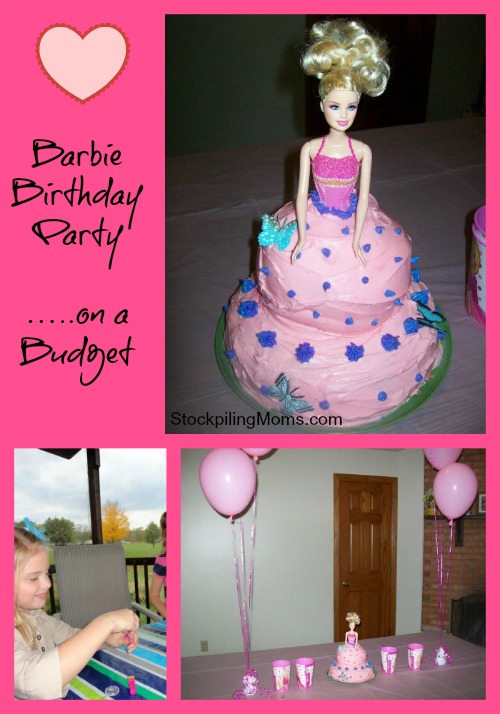 Barbie Birthday Party…..on a Budget. Last year my darling daughter was turning 9 and wanted a Barbie themed party. I was worried because Barbies are expensive but I knew we could make it pink, fabulous and Barbie on a budget. Here's how we did it.
Barbie Birthday Party…..on a Budget:
Instead of buying all Barbie paper products there were really expensive I visited my favorite place, the dollar store, for pretty pink paper products, tablecloths, and plastic ware. Having everything in a matching pink hue made it super cute at a much lower cost. I did add reusable plastic Barbie cups for each guest. I love these because I find them in all sorts of themes, and they can be included as part of the goodie bag for the guests to take home.
The centerpiece of the party decorations was the Barbie Cake. It came out so cute and was really easy to make myself and inexpensive. I used a bunt cake pan as well as a small glass bowl to make the dress of the Barbie. The cooking time varied obviously but the cake tasted great and turned out perfect.
After the cakes were baked I used an apple corer (you could also use a sharp knife) to make a hole in the center. I stacked the cakes, put the Barbie in the middle and decorated the cake to look like the doll's dress. I kept my eye out at my consignment shops for a Swimming Barbie because she already had a top on that was plastic but you could use any doll and make the top out of candy and frosting also.
When it was time to do activities I had several stations for the guests and my children to do. I dug into my birthday box, a tote box where I keep dollar store and clearance finds throughout the year, to find beads, wire and other items to use to make jewelry and key chains. We also had glittery tattoos, and some simple plastic jewelry. I always buy the free nail polish throughout the year with our coupons in fun, crazy colors for my daughter, so we set up a nail salon. I added some nail stickers from the dollar store and even her daddy was a champ and let the girls paint his nails.
Finally we did a great photo shoot of our guests and the birthday girl after they were all "glammed" up. Even my sons enjoyed making the jewelry and key chains and taking pictures with funny sun glasses. These made great additions to our thank you notes also.
At the end of the glam Barbie birthday party, each guest took home a reusable plastic Barbie cup, along with nail polish, pink candy and their jewelry.
The best part was my super girlie girl and her glam friends spent some time after we cut the cake climbing the trees in our backyard with her brothers! I hope these tips can help you take on a Glam Barbie Birthday on a budget.
This post was written by Jayme Richerson. She is a mommy of five beautiful, energetic, hilarious, smart and unique kiddos who keep her running, reading, thinking, praying and smiling.
Party Theme Ideas:
How to plan a Lego Party Part 1
How to plan a Lego Party Part 2
How to plan an owl Pajama Party
Calling All Artists for a Colorful Birthday Party
Melissa is a football and soccer mom who has been married to her best friend for 24 years. She loves sharing recipes, travel reviews and tips that focus on helping busy families make memories.