Birthday Parties on a Budget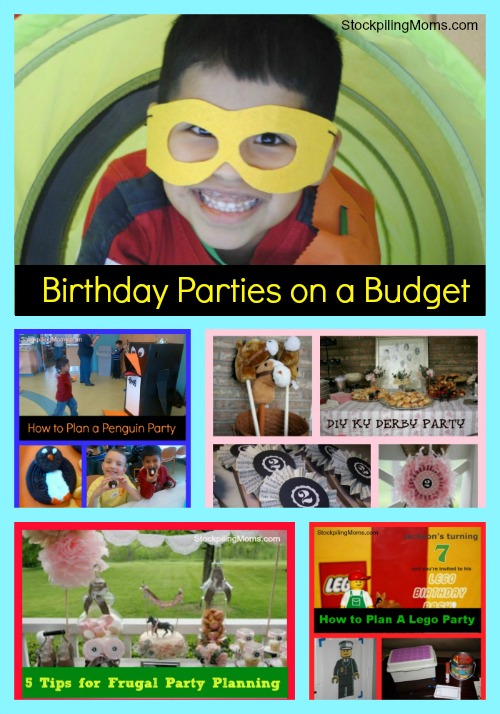 Birthday Parties on a Budget. We are preparing plans for our son's 5th birthday! I thought this would be a great time to talk about Birthday parties on a budget. We decided when he came home that we would spend $200.00 yearly on his birthday party. Though that may seem high to some of you I feel that it is a fair amount. We are big believers in really celebrating the birth of our son and possibly that is because we were not present for his birth…whatever amount fits into your budget is what I suggest you spend.
Birthday Parties on a Budget:
Knowing that we have $200.00 to spend keeps me on track and doesn't allow me to go "crazy" in my planning. We had his 1st and 2nd birthday parties here at our house and I spent $200.00 on both of those parties. I quickly decided after killing myself cleaning, cooking and then cleaning again to look for locations outside of our house for his 3rd birthday party.
He decided he wanted a Chuck E Cheese birthday party so that is what he had! It was very affordable because they have a very small party minimum of only 4 children! You can click here for all the birthday party details. The cost is $10.99 per person for the "Star" party plan and $15.99 per person for the "Super Star" party plan. Also, when you book online you get 20 bonus tokens and right now for a limited time if you book a party for either Friday or Sunday you get another bonus 100 tokens! In addition, they allow you to use coupons when ordering food/drinks/additional tokens! We were able to come in under budget!
I found that CEC was very reasonably priced especially for the younger birthday's as experts advise to invite as many children as the birthday child. For example if you child is turning 3 you invite 3 friends and so forth. This is because it will help you child to not be "so overwhelmed" on their big day. This philosophy is also a great way to help with your budget.
He enjoyed his CEC birthday so much that he wanted it there again when he turned 4. It was easy and he wanted it so we did it. Again we were able to come in right at budget.
Now this year I must say that I encouraged a new location and he decided he wanted his birthday party at Jump Zone, which is a huge inflatable party place. Jump Zone has a variety of party plans available depending on what day of the week you want to have your party. Parties start at $159.00 for 15 kids. They do offer specials of 5-10% off for booking in advance when you are an jzclub member and often have "specials" available on their site. For complete details you can click here. Also, they do offer a special Friday night special that includes a large pizza as well.
There are so many great birthday locations in our area and though a park or outdoors won't work for us with a January birthday. Here are some ideas: Newport Aquarium, Movie Theater, Lazer Kraze, Sunrock Farm, Silverlake. Florence Freedom, Entertrainment Junction.
Tips for Saving Money:
Have birthday parties on week nights or at an off time to save money.
Bake your own cake or cupcakes.
Create inexpensive goody bags to give to party guests.
Hand deliver invitations.
Click here to use Evite to send birthday invitations FREE through email.
Another idea is to send ecards for birthday's instead of via snail mail. Click here to send FREE birthday ecards.
Hope this helps you in party planning!!! Enjoy every minute is my advice because you blink an eye and they are 5!
Party Theme Ideas:
How to plan a Lego Party Part 1
How to plan a Lego Party Part 2
How to plan an owl Pajama Party
Equestrian Ribbon Invitation – Derby Party
Calling All Artists for a Colorful Birthday Party
Melissa is a football and soccer mom who has been married to her best friend for 24 years. She loves sharing recipes, travel reviews and tips that focus on helping busy families make memories.