Ultimate Frugal Back to School Tips List
Back to school season is almost here and I thought it would be good to share with you our Ultimate Frugal Back to School Tips List. Below you'll find tips for all kinds of things associated with the back to school season. Make sure to add your own tips in the comments below!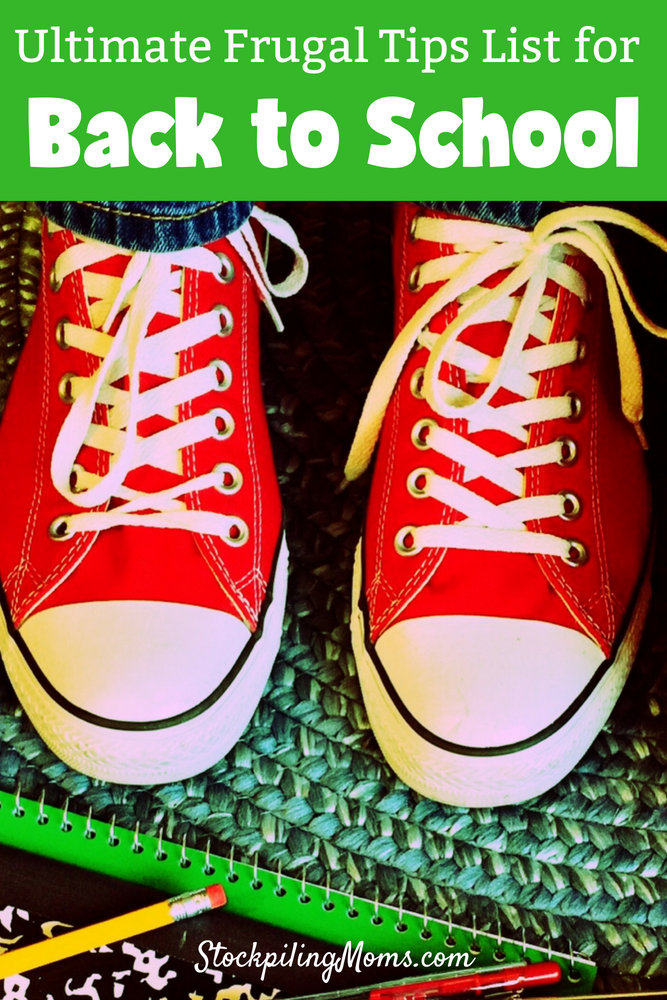 Ultimate Frugal Back to School Tips
Organize your home for easy access to needs
One of the biggest struggles during the back to school season is staying on top of your chores, meal time, and daily tasks. Getting organized ahead of time makes a huge difference. This includes things like doing a deep clean and organizing bedrooms, bathrooms, and your kitchen for your early back to school mornings. We have some great tips for this below that include basic organizing tips, cleaning schedules, and even some printables to help with your routine.
Shop the sales and use coupons
The shopping part of the back to school season is the fun part for most of us. All of the shiny new supplies, and of course, the fun clothes shopping can be great fun. We always recommend watching for good sales and using coupons on top of sales to save money. There are tons of ways to save on supplies by checking out deals online, at your local big box stores, and even office stores. Clothing can be pricier, but if you shop sales and discount stores like Dollar General, Ross, TJ Maxx, and Walmart you can get great fashions for a fraction of the cost. Even uniforms are lower cost at these stores. Below are some tips we've used in the past to save money!
Swap with friends and family
One of our favorite ways to save on things like uniforms and books is to swap with friends and family. Older friends, siblings, and cousins often have gently used items that are great savings on back to school. You can also arrange swaps with other parents at your child's school. A weekend swap or sale can be a great way to cut the costs of supplies in half.
Create a meal plan that works for your family
We are always a fan of prepping ahead for meal time. Below are some of our favorite meals that are easy to make and fit into the back to school routine with ease.
Melissa is a football and soccer mom who has been married to her best friend for 24 years. She loves sharing recipes, travel reviews and tips that focus on helping busy families make memories.