Are you cooking Thanksgiving for the first time and want it to be perfect? Here is a Thanksgiving Turkey Timeline to help you stay organized and focused as the holiday approaches.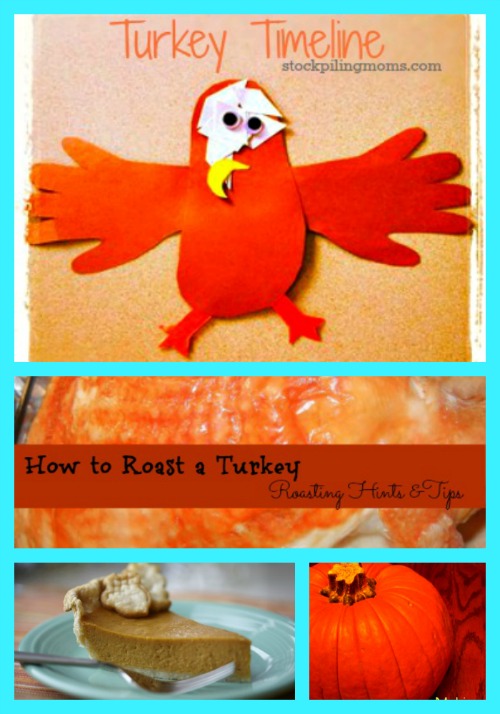 By following these tips you will be sure to avoid some of the anxiety of hosting a big holiday event like Thanksgiving.
Thanksgiving Turkey Timeline:
5 Days Prior: Clean the House. Get rid of the dust bunnies. This could be a group effort, hire some help or do it yourself.
4 Days Prior: Put the turkey on a tray in the fridge to thaw. A 12-14 lb bird takes 3-4 days to thaw. (Plan 1 day of thawing for every 4 pounds of frozen turkey). This is a REALLY important step!
3 Days Prior: Bake pies or tarts. Chop vegetables for stuffing or side dishes. Cover and refrigerate.
2 Days Prior: Wash China and Crystal (if using). If not be sure that you purchase paper goods and plastic wear.
1 Day Prior: Set Table and Arrange Centerpieces. Places plates and glasses upside down to prevent dust from settling.
Thanksgiving Day:
Remove giblets from neck and body cavity of turkey. Prepare turkey according to directions. A 12-14 lb turkey takes at least 3 hours to roast.
Peel and cut potatoes. Place in Dutch Oven and cover with cold water. Set aside until ready to cook. Bake side dishes.
Make salad.
Flip a coin to see who will carve the turkey 🙂
Gather the family. Eat. Smile. Sigh.
Be sure to check out How-To Roast Turkey – Roasting Hints & Tips. I have included some of our favorite Thanksgiving recipes. They are perfect for Thanksgiving and the day after. Hope you can enjoy some of them!
I like to prepare a craft table for the kids in another room to keep them entertained and out of your way as it gets hectic. Here are some crafts they may enjoy:
Thanksgiving Craft – Painted Turkey
Thanksgiving Recipes:
Sweetened Crockpot Macaroni and Cheese
Mashed Sour Cream Red Potatoes
Perfect for Leftovers:
Melissa is a football and soccer mom who has been married to her best friend for 24 years. She loves sharing recipes, travel reviews and tips that focus on helping busy families make memories.