Tips for international flights
Traveling is both a blessing and a curse and international travel is even more so. Thankfully, those international flights don't have to be something for you to dread. Check out our tips for international flights. There are so many things that you can do before and during your flight that will make it much more tolerable.
If you are about to start planning that international flight, check out our post with Best Places to Find Travel Deals Online!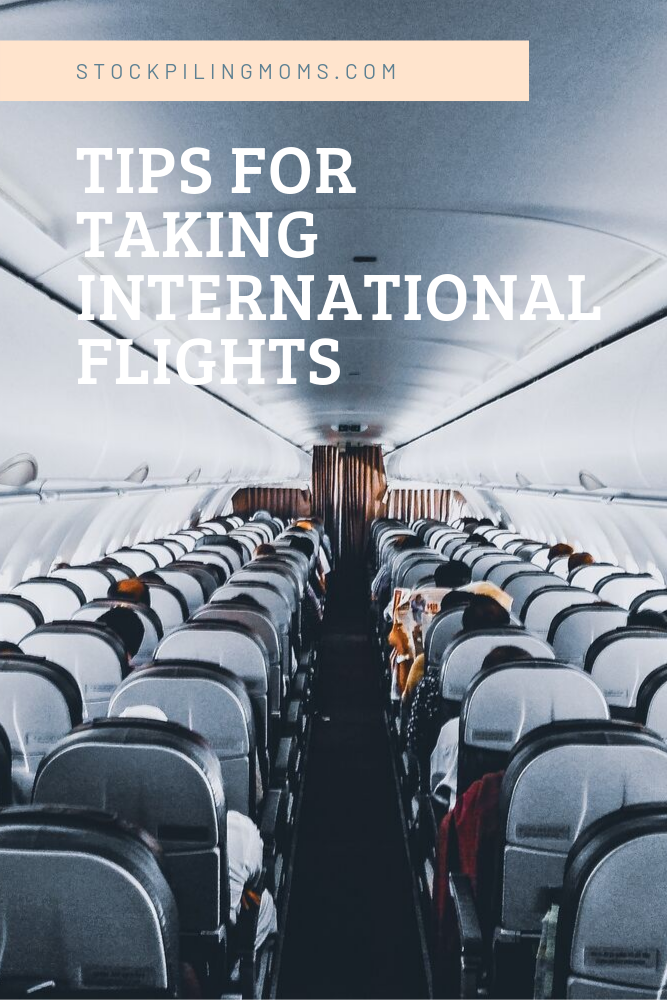 Tips for Taking International Flights
Remember, if you are planning any international travel, even if just from the US to Canada, you will need a passport. Make sure to allow yourself 12 weeks time for applying and receiving your passport. While the government says that it takes 6-8 weeks, I always like to add a buffer for things like gathering paperwork and setting up an appointment for pictures to be taken.
Before you begin, grab our tips for how to use a travel planner along with the free printable planner!
Things to prepare before the international flight
Increase Fiber
Constipation is a serious issue especially while traveling. You can avoid it happening by upping your fiber intake a week or two before your flight.
Clothes
When planning your outfits for your flight and trip, keep any type of restricting clothing in your suitcase. I highly recommend that you look nice while remaining very comfortable.
For men, I suggest a wrinkle-free button-down shirt, dress pants and loafers. For women, I recommend a sweater dress or jersey dress, leggings and slip-on flats.
Hydration
Any time you are flying staying hydrated is important. It is even more important on international flights to be extremely hydrated. Increasing your water intake a few days before your flight will give you a jump start.
What to Put in Your Carry On
I like to pack my 'essentials' in my carry on. If your checked luggage happens to get delayed or lost, you won't be without the necessities when you arrive.
Toothbrush

Toothpaste

Hairbrush or comb

Lotion

Medication (both prescription and common over the counter)

ChapStick (why is the cabin air so dry?!)

Eye Mask

Ear Plugs

Ipad or Tablet (loaded with books, movies, and a white noise app)

Portable Charger and Cables/Cords

A change of clothing (just in case)
Itinerary and all-important paperwork including tickets or emergency contact information
Things you need to remember for during the international flight
Time Change(s)
An international flight is sure to have at least one time change if not several. The best thing you can do is try to get into the mindset of your destinations timezone as soon as you board your flight. You can start by setting your watch to the appropriate time or by opening up your world clock on your phone. Either way, it will give you a good idea of what to expect.
During your flight try to eat and sleep when you would be doing so in your new timezone. While this may be the exact opposite of what the flight crew is doing, do your best to stick to it. It will help you when you land.
Snacks
International flights are long. There is no way around that. The best thing you can do is pack healthy fiber-rich foods to snack on. Fresh fruit, nuts, fresh veggies are usually my go-to options for flights. Not only do these options keep me feeling full but also help my digestive system function better during my travels.
Meals
Most international flights offer at least one meal and it is typically included in your airfare. These meals are normally not great for your digestive system as they are loaded with carbs. Meals loaded with carbs combined with stress means constipation and no one wants that; especially while traveling.
You can avoid this by requesting a special meal. Special meals are those meals that follow certain dietary guidelines or requirements. These special meals will provide more fiber than the traditional meals served on international flights. An added bonus is that you will frequently get served first as well.
If possible, plan to bring foods that will keep you satisfied so you can avoid eating the food provided by the airline.
Hydration
Just like before the flight, it is very important to be properly hydrated. A good rule of thumb during your flight is, if you are awake, you should be drinking water. The most cost-effective way to do this is to bring your own water bottle.
Check with the rules of both your home airport and your destination's airport. Some airports will let you bring the water bottle through the gates and onboard already full and others you will have to bring it empty. If you do need to bring it on empty, ask your flight attendants to fill it for you upon boarding.
Stretching
Much like long car rides it is vital for your body to not remain in the same position for many hours at a time. During your flight, you can stretch your hands, arms, feet, neck, and torso right from your seat. When you get the okay after the seat belt light has been shut off, walk around the cabin of the plane. Taking a walk to use the bathroom with help to stretch your legs and hips.
Alcohol and Caffeine
Taking a pass on the alcohol and caffeine will make your international flight much easier on your body. Both caffeine and alcohol will dehydrate your body completely undoing the 'pregaming' of upping your water intake you did before your flight.
Aside from dehydrating you, drinking either (or both) caffeine and alcohol during your flight won't allow your body to get the restful sleep it needs.
After the Flight
Hydration
During your entire vacation remember to stay hydrated. By staying hydrated while on your trip it will make your return flight a little easier.
Nutrition
First of all, enjoy your trip and all that comes with it. Just remember a few days before your return flight to increase your fiber-rich foods again.
These are just a few basic things that can make your upcoming international flight a little more bearable. After all of that, my most noteworthy piece of advice I can give you is to not stress and enjoy your trip (even if it is for work). Did I miss your favorite tip for flying internationally? Share it below so I can add it to my list as well.
More Travel Tips
Is Frontier Airlines Worth the Ticket Savings?
Top 10 Hotel Chains for Families
Melissa is a football and soccer mom who has been married to her best friend for 24 years. She loves sharing recipes, travel reviews and tips that focus on helping busy families make memories.