Travel Tips for Enjoying SeaWorld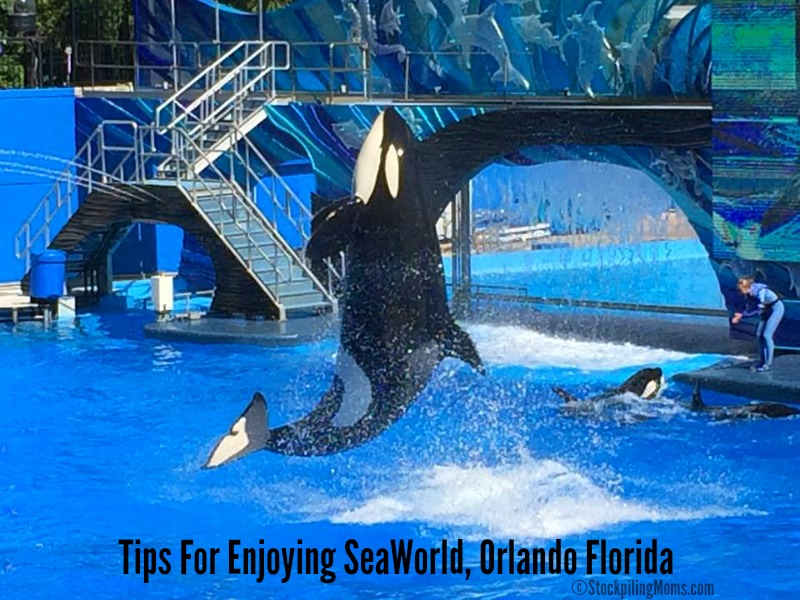 We had the opportunity to travel to Orlando, FL for fall break with the boys and we had the time of our lives! We visited Discovery Cove and included in our admission was unlimited admission to SeaWorld for 14 days. We luckily had time to visit SeaWorld on our trip before our flight home. Shelley and Chase had never been to SeaWorld so I was so excited to share this fun Orlando attraction with them.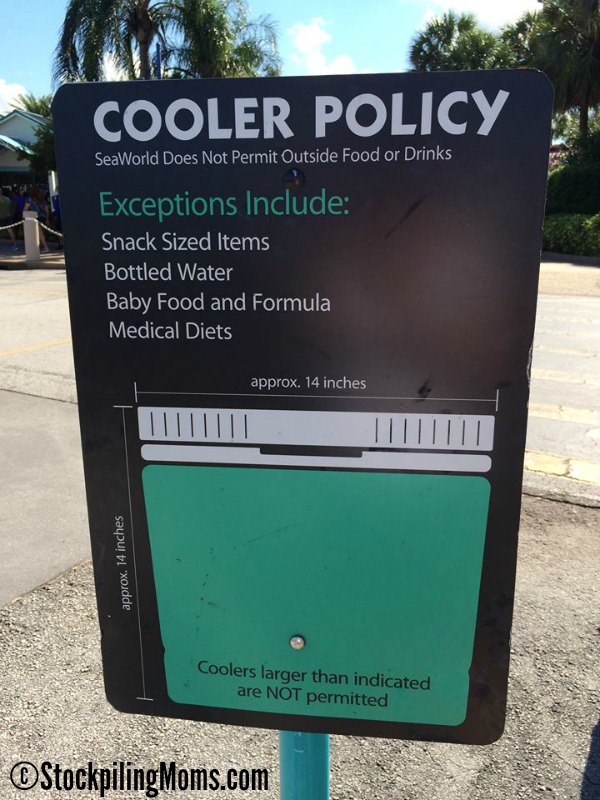 Travel Tips For Enjoying SeaWorld, Orlando Florida:
Planning is the key: I would suggest going to SeaWorld during the week day if at all possible. It is less crowded than on the weekend. Unfortunately we visited on a Sunday which was also during Halloween Spooktactular. We actually didn't participate in that with the boys but the park was crowded.
Purchase tickets in advance: You can purchase tickets online and save money. There were people who didn't have advanced tickets and they paid a lot more than those who ordered online in advance plus you will avoid waiting in lines to purchase them.
Consider a hotel package. If you are not staying in a hotel, then you may want to consider a hotel package. They are available online at Seaworld.com. If you are choosing to do Discovery Cove like we did, then the price of admission will be free as a bonus!
Pack your lunch, snacks and bottled water. You can leave and re-enter the park. By packing a cooler, you can save a TON of money. You can actually bring in with no concern your own snack sized items, bottled water, baby food and formula and medical diets (this would include all allergies). This is a great way for you to save money while at SeaWorld. The SeaWorld Cooler policy image was taken at SeaWorld when we entered the park.
Wear sunscreen, sunglasses and a hat. It is HOT and sunny (even in October when we were there). Be sure you wear sunscreen and reapply throughout the day. A hat and sunglasses also come in handy. Protect yourself against the heat and sun.
Wear comfortable shoes. There is a lot of walking at SeaWorld. Be sure to wear comfortable shoes and clothing. You may even want to pack a change of clothing for after you ride water rides.
Pack Ponchos. Often times in Florida you will experience a pop up shower. I always pack disposable ponchos in my back pack just in case.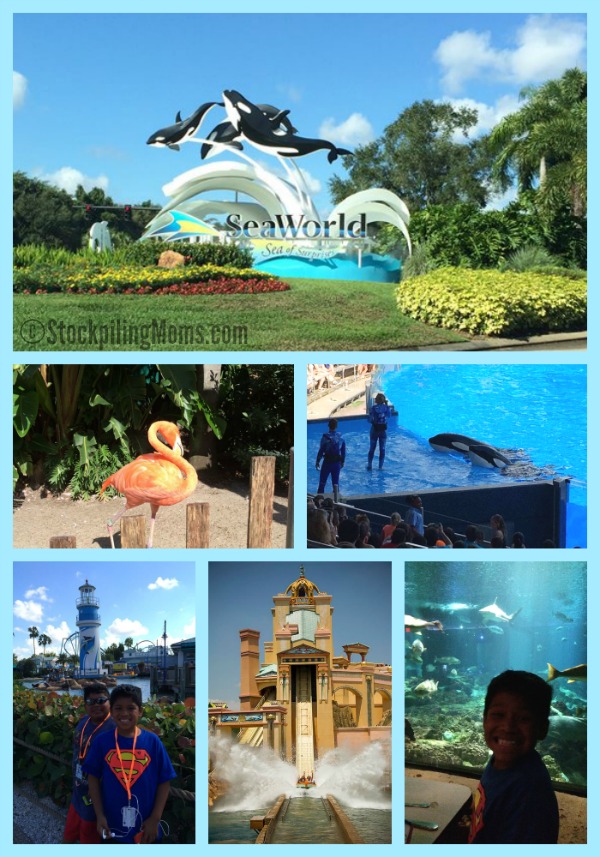 I had NO issue eating gluten free at Sea World. There were choices at many of the locations inside the park including snacks. I did pack my own snacks which saved me a lot of time and money. We ate lunch at Sharks Underwater Grill which was a nice sit down dining choice.
The food was great and it gave us a break from the heat. It was my son's favorite dining choice on our entire trip. It is literally dining inside an aquarium. You have an amazing view at every table. The chef came out and went over the menu choices with me and they were very accommodating however the prices are more like white table cloth dining prices so be prepared if your budget allows.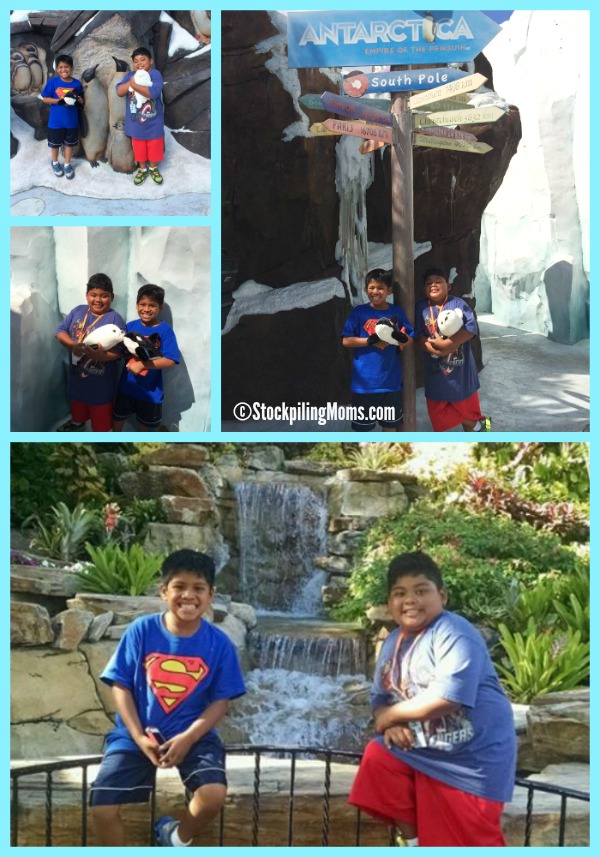 The new attraction is Antarctica – Empire of the Penguin and we LOVED it! The ride was fun and you get your choice of if you want it to be "bumpy" or "not" depending on your level of motion sickness. We chose bumpy and it did not make us sick. When the ride ends you are at the South Pole and can view the live Penguins (it is really cold there) but worth it because there is no glass between you and the penguins and it is a great place to cool off when it is hot and see the penguins close up. The boys loved it.
Of course you can never go wrong by attending the One Ocean Show! It was a highlight of our day! Watch majestic killer whales perform as you get drenched (we had great seats but chose not to sit in the splash zone). They have dancing fountains and it all set to music. It is an educational opportunity that your kids will love.
The boys favorite ride was Journey to Atlantis. Our best advice is to take your time at SeaWorld. Be sure to attend the shows and check out the animal interactions. I would allow for at least two days at SeaWorld to see most everything. You do have to pay for parking separately than your admission. Our boys were not tall enough to ride Manta but that just gives us a reason to go back!
Disclosure: Our admission was included in our Discovery Cove Admission so we did not pay to enter the park. All of our opinions are 100% our own.
Melissa is a football and soccer mom who has been married to her best friend for 24 years. She loves sharing recipes, travel reviews and tips that focus on helping busy families make memories.