Suave Hair Gold at CVS. How do you maintain your hair health in the cold winter months? If you are like me your hair is the first to suffer during the cold temps and wind! We have been experiencing snow, ice and lots of wind here in KY. What better time to create a winter hair care routine!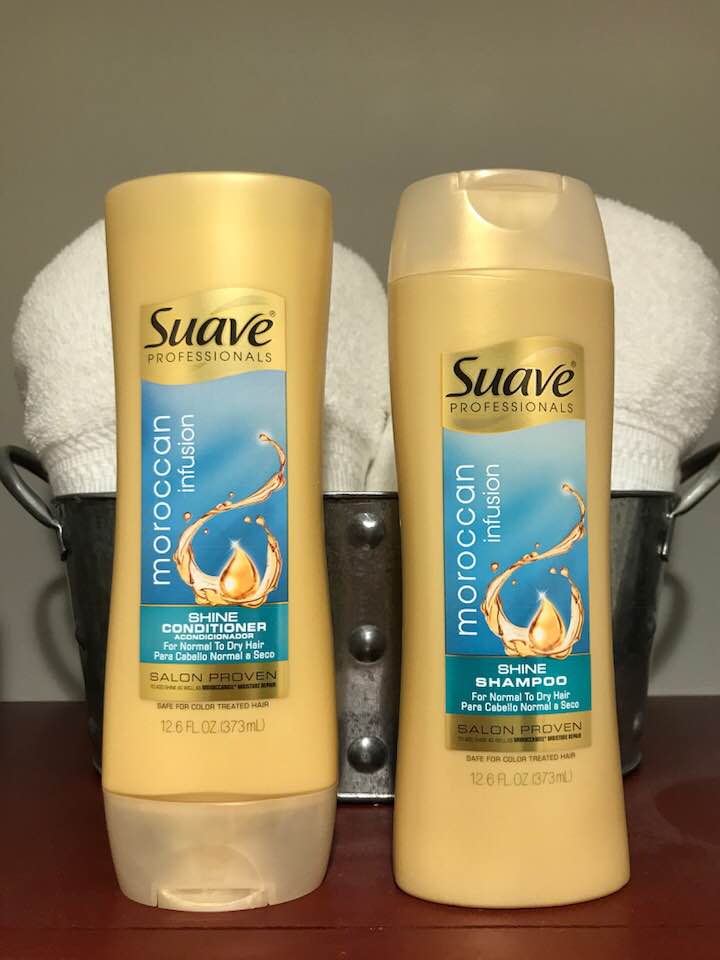 Everyone loves having healthy-looking hair. In fact, I work hard at keeping mine healthy and frizz free. It is so easy for our cold weather to get the best of my hair but with the correct hair care products you can protect your hair from frizz and repair damage. Best of all you don't have to break your budget to do it! Anyone can get long-lasting results at a fraction of the price of salon brands with Suave Gold at CVS. You can get "gold" results that you will love without spending a fortune.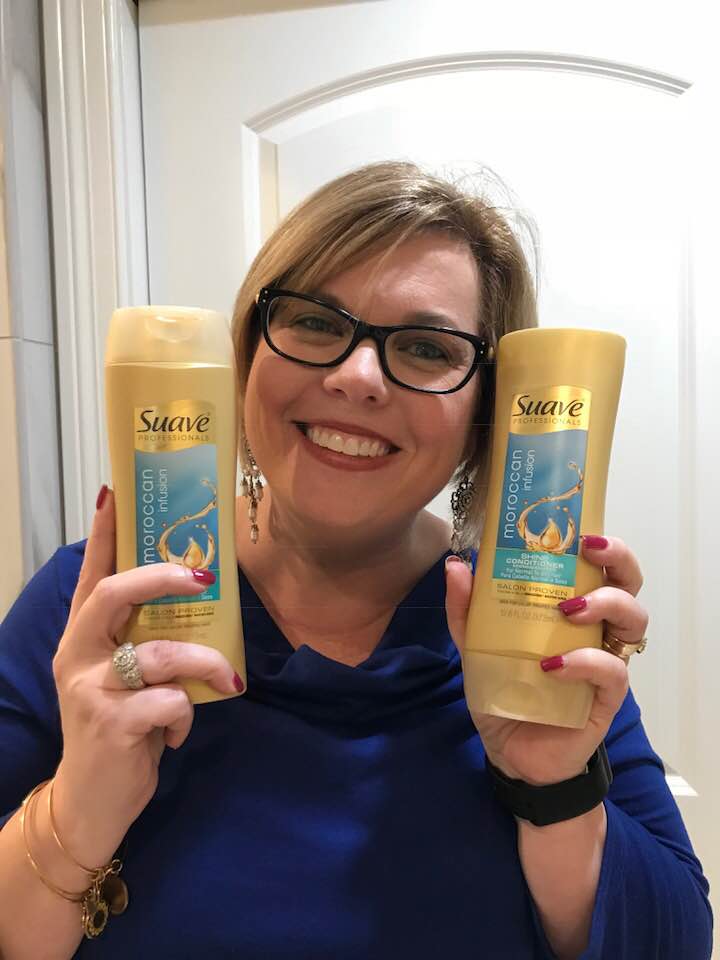 I want to share with you my Winter Hair Tutorial. One tip I can share with you that my hair stylist shared with me is NOT to wash your hair daily. Her suggestion was for me to wash it every three days. You might think that is crazy, but it really works! On the days that I shower and don't wash my hair I use a shower cap to keep my hair from getting wet. On the days I do wash my hair I use Suave Hair Gold products. I often use Suave Professionals Moroccan infusion dry shampoo on the days in between.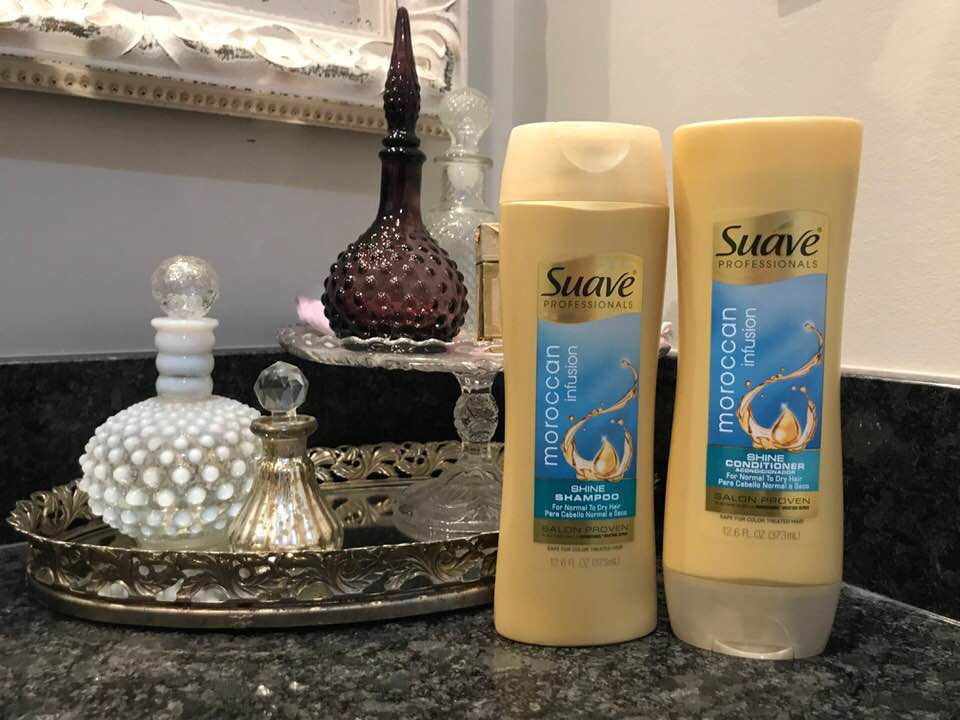 It is important to condition your hair during the winter. I personally like the Suave Professionals® Moroccan Infusion Shine Shampoo & Conditioner. This shine shampoo is infused with authentic Moroccan argan oil and gently cleanses while making hair brilliantly shiny. Once I switched to this brand my hair had a noticeable shine. I get compliments all the time on it!
The shampoo and conditioner provide my hair a long-lasting conditioning feel. My hair no longer feels dry or looks unhealthy. It really nourishes it from root to end. I used to have really bad split ends but another tip from my stylist is to allow your hair to air dry for 20 minutes and then dry it on a low to medium heat (never hot heat). That has really helped my hair too!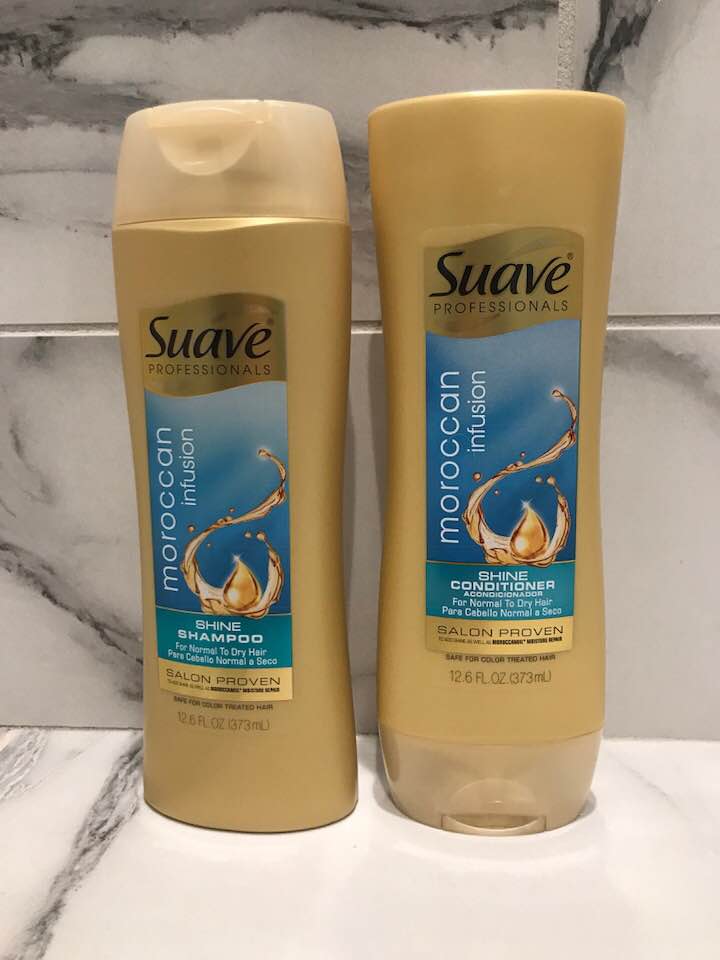 I also enjoy the luxurious fragrance that the Suave Professionals® products have. My husband likes it too! For a long lasting, silky shine I like to use the Moroccan Infusion Moroccan Argan Styling Oil. It gives an additional shine and keeps my hair shiny and frizz free.
Depending on your hair needs you may also enjoy the Suave Professionals® Coconut Oil Infusion Damage Repair Shampoo & Conditioner or the Suave Professionals® Keratin Infusion Smoothing Shampoo & Conditioner. I often times flip between the different varieties.
While shopping at CVS be sure to pick up one of their CVS Reusable Bags. They are extremely durable and great for the environment. They are also collapsible, so they are easy to store in your truck and made of cotton. The CVS Reusable bags are a great way to hold all of your purchases while you are shopping, and transport them home.
Now is great time to stock up on Suave® Hair Care products at CVS.
Between 1/28/18 – 2/3/18
Earn $2 ExtraBucks® Rewards when you buy any TWO (2) Suave® Hair Care products.

Only 2/$6 WITH CARD Select Suave® Hair Care products.
Between 2/11/18 – 2/17/18:
Buy 1, Get 1 50% OFF WITH CARD Select Suave® Hair Care products.

Earn $5 ExtraBucks® Rewards when you spend $15 on participating Suave® Hair Care products.
Between 2/25/18 – 3/3/18:
Earn $5 ExtraBucks® Rewards when you spend $15 on participating Suave® Hair Care products.

Only 2/$6 WITH CARD Select Suave® Hair Care products
Which Suave® Hair Care products will you be adding to your winter hair routine? Be sure to go GOLD this winter!
Disclosure: This is a sponsored post on behalf of Mirum. All opinions are 100% my own.
Melissa is a football and soccer mom who has been married to her best friend for 24 years. She loves sharing recipes, travel reviews and tips that focus on helping busy families make memories.