How long should my kids brush their teeth?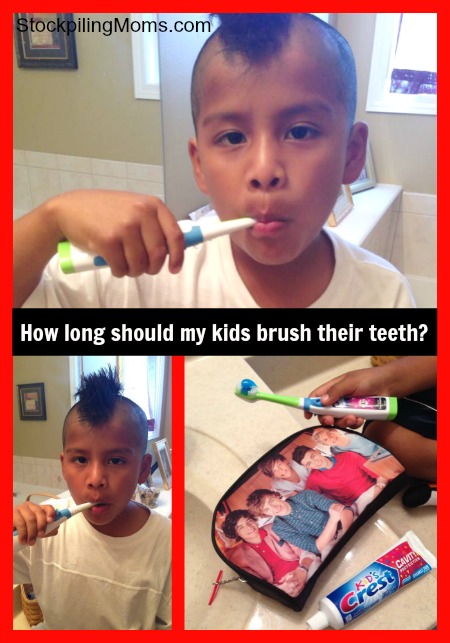 How long should my kids brush their teeth? It is Back-to-School time and for us it means it times for us to get into a school routine. This year we implemented a Morning Routine Chart, and it is working great! Peyton gets out of bed and knows exactly what is expected of him. For us item #2 on our routine chart is brush teeth. Taking care of your teeth at an early age is so important and it is something we are always working on improving. Did you know your kids should brush their teeth for 2 minutes? Our dentist taught us this when Peyton was only 18 months old.
How long should my kids brush their teeth?
I have always used a timer with Peyton so that he knows how long he should brush however he often forgets to flip it over OR he plays with it during brushes and loses track of the time. We were recently asked by Arm & Hammer to review their Tooth Tunes products. This is a sponsored post however all opinions are 100% my own. I was really excited to see how Peyton would like this new method of keeping track of his time brushing. I liked the new toothbrush but would Peyton? I thought he would because he really LOVES music.
He has is iPod with him at all times and is constantly singing and dancing to his tunes. When Peyton came home from school and saw the new toothbrush, he immediately asked me if he could open it. Wow, that is a good sign. Next, he asked if he could go brush his teeth….YES, you are reading that correctly – he ASKED me in the middle of the day if he could go brush his teeth.
He really enjoyed brushing his teeth to the tunes and he actually brushed for the full 2 minutes and then brushed again. YES – AGAIN! He then asked me if he could shoot a video. It is only 30 seconds long but we would love you to watch it 🙂
I love that Peyton was excited about the new Tooth Tunes and I know Dr. Ryder (his dentist will be). At every appointment we always talk about flossing and length of time brushing. I like that he is interested with me insisting and I can't wait to see how using the new Tooth Tunes on a daily basis benefits his teeth. I am sure he will soon have a brighter whiter smile 🙂
The one thing Peyton mentioned after brushing was that he could hear the music in his mouth. So I looked it up and yes indeed the Arm & Hammer Tooth Tunes features a one of a kind Music in your mouth technology. It streams the sound vibrations from the bristles of the toothbrush through the teeth, allowing kids to hear the music while they brush. You can also learn more at the ARM & HAMMER Tooth Tunes Website and the ARM & HAMMER's Facebook Page.
The toothbrushes feature 'hip" groups that your kids love including:
"What Makes You Beautiful" performed by One Direction
"One Thing" performed by One Direction
"All Day" performed by Cody Simpson
"Dynamite" performed by Taio Cruz
"I Gotta Feeling" performed by Black Eyed Peas
"If I Ruled the World" performed by Big Time Rush
"Round & Round" performed by Selena Gomez & The Scene
"Tonight, Tonight" performed by Hot Chelle Rae
"We Will Rock You" performed by Queen
For those of you who have smaller children these toothbrushes are also available in Jr. sizes for kids between the ages of 3-6 too! Tooth Tunes™ Jr. features songs from the popular kids group KIDZ BOP, including:
"We Found Love" performed by the KIDZ BOP Kids
"Party in the USA" performed by the KIDZ BOP Kids
"Good Feeling" performed by the KIDZ BOP Kids
The toothbrushes retail for $9.99 and are available at mass, drug and grocery stores nationwide. If you are like me and concerned about the time your kids brush this may be a great solution for you too!
Disclosure: We are being compensated by ARM & HAMMER for our participation in this campaign. We are members of the Mom It Forward Blogger Network. All opinions are 100% our own.
Melissa is a football and soccer mom who has been married to her best friend for 24 years. She loves sharing recipes, travel reviews and tips that focus on helping busy families make memories.