Spice Drawer Organization Tips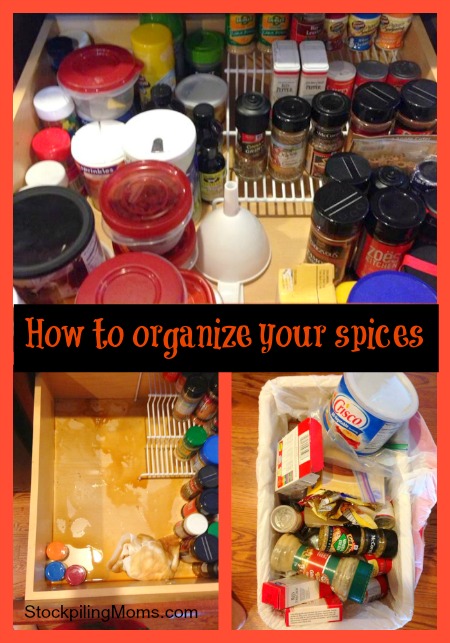 How to organize your spice drawer. I am excited that my spice drawer is now organized. However, when I opened it to find a bottle of vanilla that had spilled all over everything, I decided I would turn this accident into a positive. This is the Best Ways to Save On Spices.
Spice Drawer Organization Tips:
The first thing I did was empty all of the contents of the drawer onto my counter and in my sink. I then used salt and baking soda to absorb the vanilla and wiped up the mess with a paper towel. The baking soda and salt kept the vanilla from running.
After wiping my drawer down, I started wiping off each of the items from my spice drawer. I found TOO many expired items! I started pitching everything that was expired and then reorganizing my drawer by type of product.
I keep my baking items together (sprinkles) and then I organized my spices by size. I finally placed some smaller items like nuts and chocolate chips into small airtight containers. All in all, I am happy with the results of my spice drawer. I used to have a spice rack and when we moved into our house, I decided to turn this deep drawer into a spice drawer. It has always worked really well for me (and best when I screw the vanilla lid on tightly).
When I taught high school Foods classes I always purged my spice cabinet once a year at the end of the school year. I have decided that I am going to start back with that tradition and have circled a date on my calendar for next year to organize and de-clutter my spice drawer on a yearly basis. It is important to store you spices in a cool dark space as it helps keep them fresh. Don't store them out in the open, exposed to air or above the stove.
That spill ended up helping me get organized and now I am ready for fall baking season.
I love making my own DIY Spices. Here are a few recipes that you may enjoy!
How To Make Your Own Taco Seasoning
Melissa is a football and soccer mom who has been married to her best friend for 24 years. She loves sharing recipes, travel reviews and tips that focus on helping busy families make memories.