Cruising Gluten Free on the Royal Caribbean Oasis of the Seas Cruise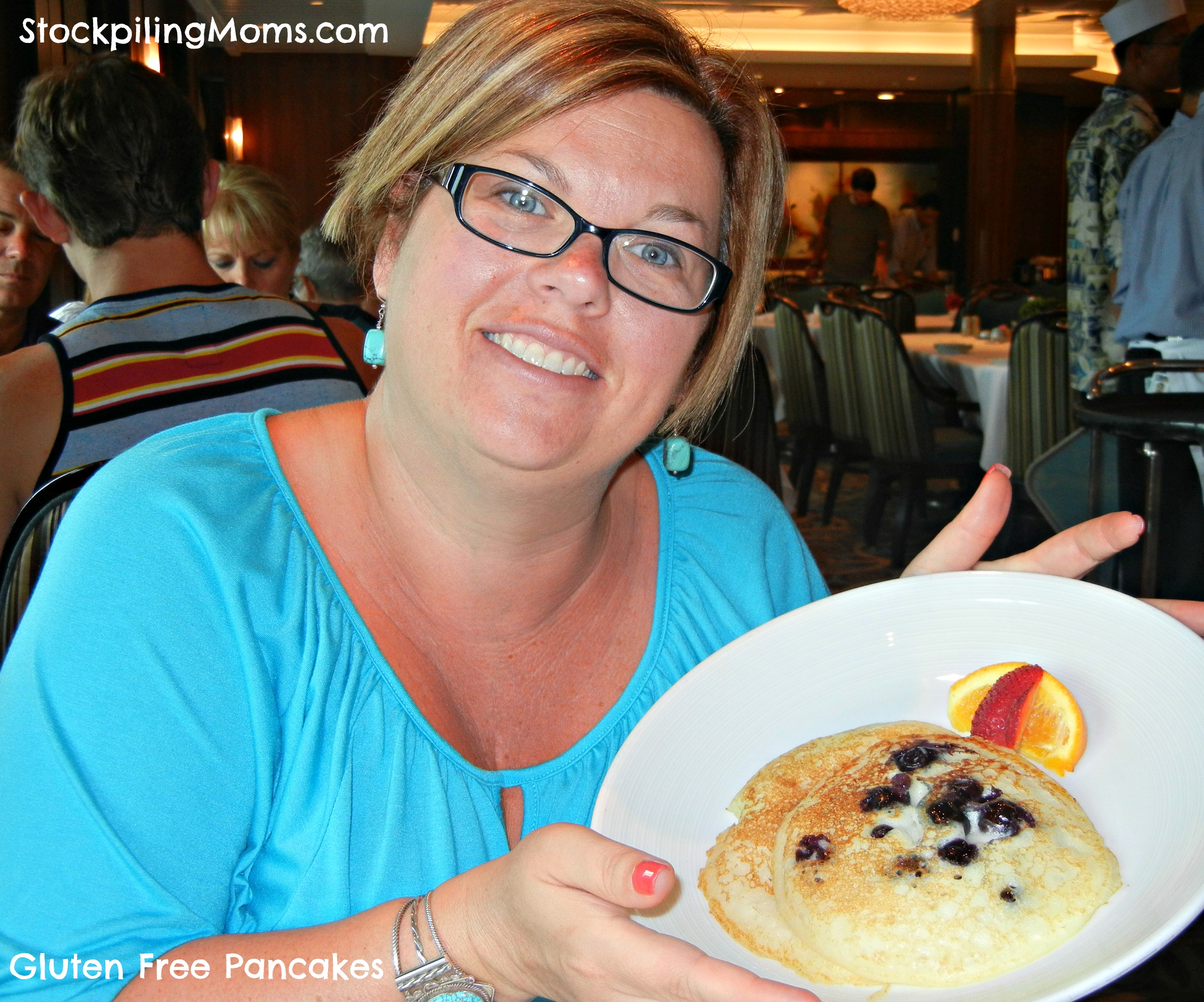 I wanted to share my Cruising Gluten Free on the Royal Caribbean Oasis of the Seas Cruise Review with you. We are home from the most amazing vacation on the Royal Caribbean Oasis of the Seas Cruise. This is my first vacation since I was diagnosed with Celiac Disease. Now that I eat 100% Gluten Free and I honestly was more than a little nervous before we left.
I was told repeatedly by our travel agent and the cruise line that I would have no problem eating gluten free on the cruise but since this was my first vacation gluten free I was still concerned. We decided to book a cruise for two reasons. #1 We have not cruised since our son was born and wanted him to experience cruising and #2 because we thought with my gluten free diet that it may actually be an easier way for us to travel. In the end it was!
Cruising Gluten Free on the Royal Caribbean Oasis of the Seas Cruise:
At dinner the first night we had an issue with our seating in the dining room however after a delay and wait in the lobby we were seated. Unfortunately, it was not with what would become our assigned waiter and head waiter. When I told the temporary head waiter I was gluten free they were able to bring me gluten free bread and made modifications for my first dinner. It was not ideal but it worked and for that I was thankful. They didn't explain the process to me on how to order my gluten free meals but I wish they had.
The next night we were seated in our "regular" table with our assigned waiter and head waiter. The process became much smoother as a result of now being with our assigned waiter/head waiter. The process was explained to me by the head waiter to order breakfast and dinner the night before for the next day. So, I was day 3 into the cruise before it got "easy" for me because of the rough start with our seating and getting the ordering process underway.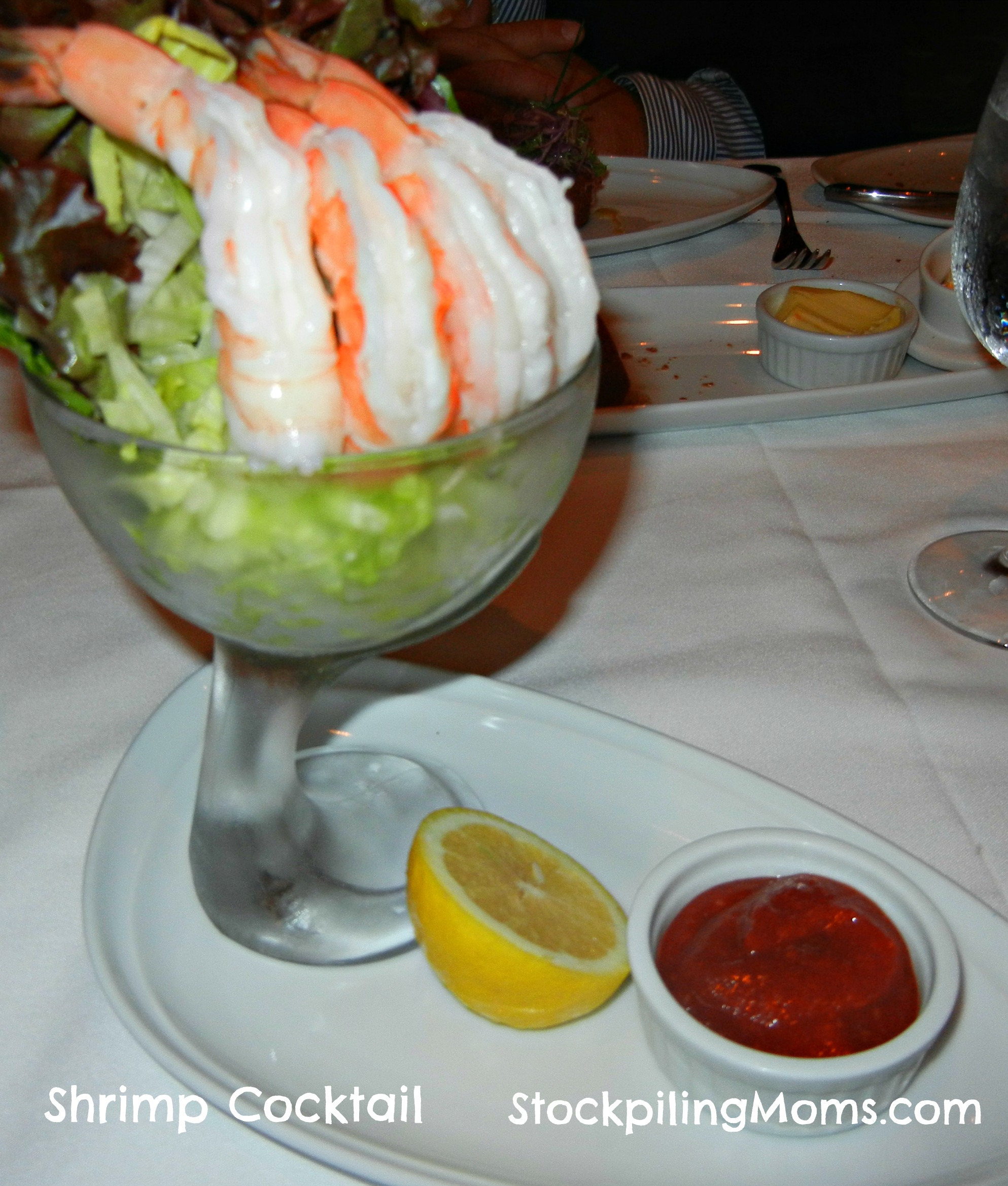 In the end I was perfectly happy with this process. Though I would have liked to be provided a gluten free menu to select from I was ok with this process instead. I do think in the future according to my head waiter that they plan to have more variety and possibly printed menus in the future. I was more limited in what I could order in comparison to my husband and son however that is somewhat "normal" for me eating gluten free. I was THRILLED with the assortment of gluten free foods though (including breads and desserts) that I was provided.
Each morning for breakfast I had the choice of gluten free pancakes, French toast or bread and muffins (in addition to eggs, omelets and bacon). Of course there was also fresh fruit and other options. I was THRILLED with my gluten free choices and they also made me gluten free blueberry pancakes too (which I loved).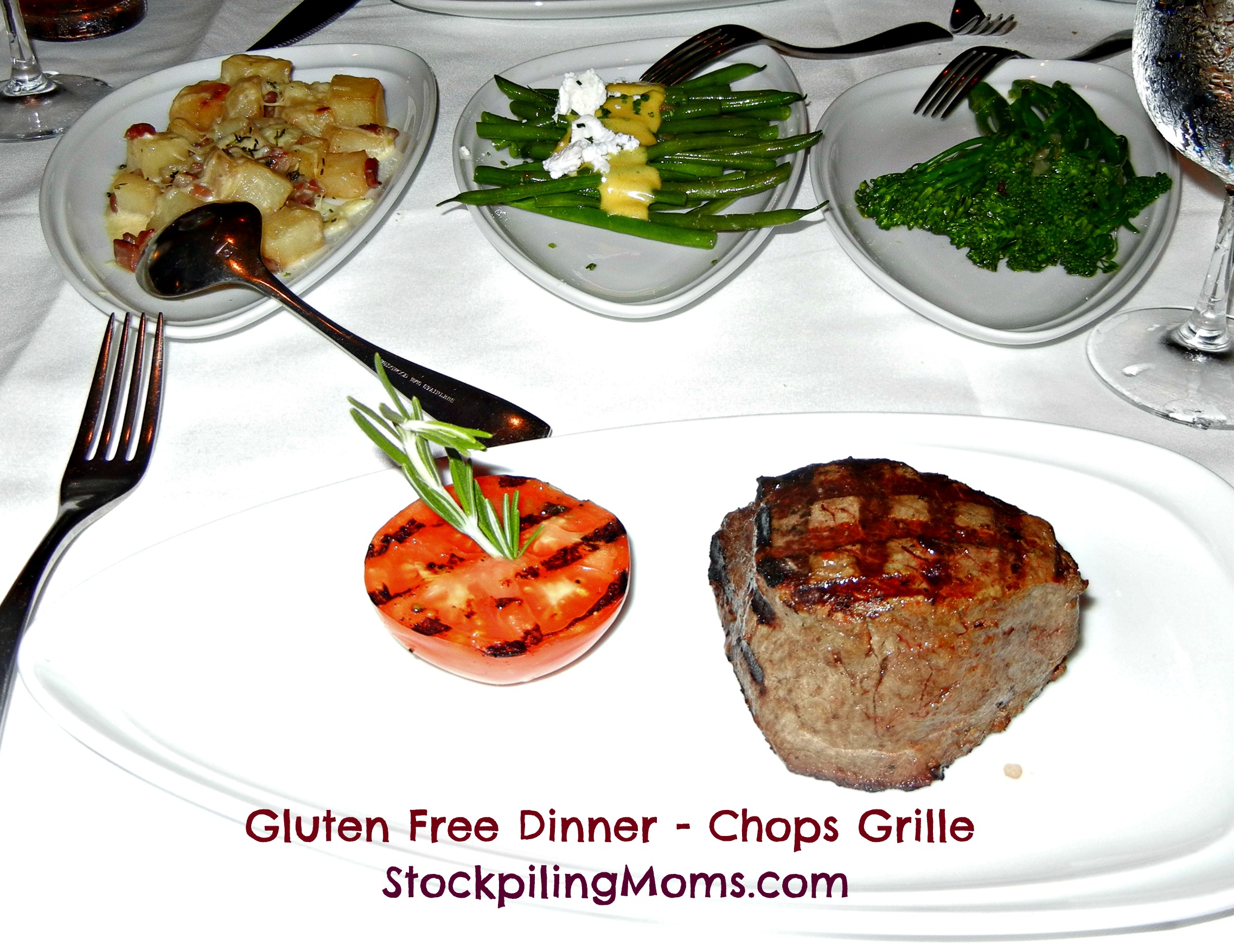 For lunch it was best to eat in the dining room to be sure there was no cross contamination. They had an excellent salad bar and buffet plus you could order from the menu. There was also a Windjammer Café that you could eat at however there was more concern with cross contamination and labeling (not knowing if was gluten free or not). However I did eat a salad and carved meats with no concern. I did specifically ask about the mashed potatoes in the dining room and café and they contain FLOUR so be sure not to eat them (or ask).
For dinner again there was no concern. All of my meals were gluten free and I was given a variety of choices each night to chose from. I had a variety of gluten free appetizers, entrees and desserts! My most favorite part of each evening was the gluten free dessert because this was a nice treat for me.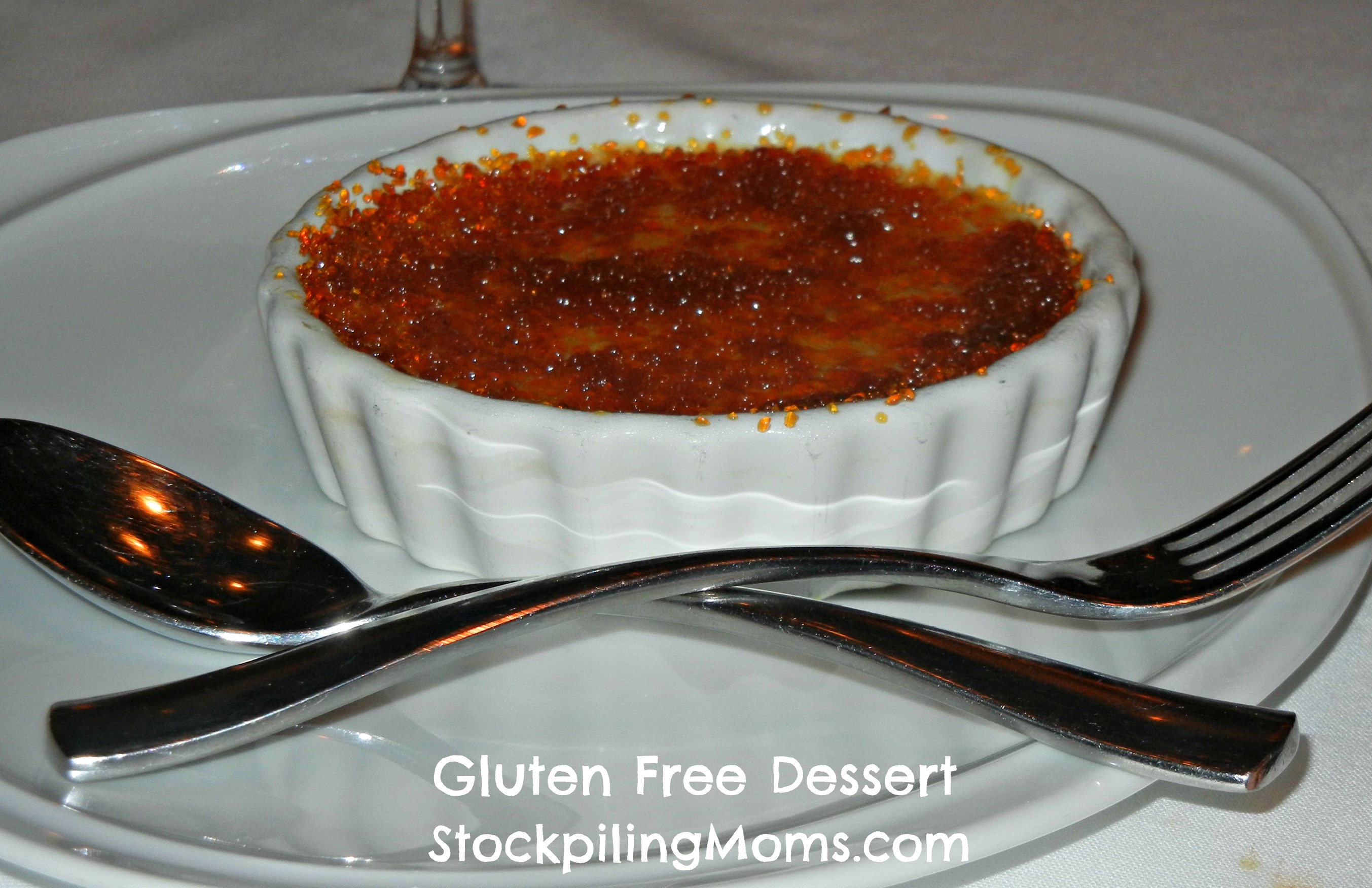 We did eat at Chops Grille one night for dinner and it was AMAZING! It is an up charge to dine there however it was included in our cruise because we booked a AAA special sail date. It was hands down our favorite meal and service the entire cruise. Our head waiter called and spoke to the head maitre'd and he asked me to stop in the night before our reservation so that I could select my meal. The process was easy again to select and I was thrilled with the quality of foods that I was served in Chops Grill.
I also ordered a gluten free cupcake from the Cupcake Cupboard. It was around $2.75 and I have to say it was really good! With all of the desserts on the ship I didn't need it but it was hard to pass up the opportunity. I do wish that Boardwalk Donuts would have offered a gluten free variety.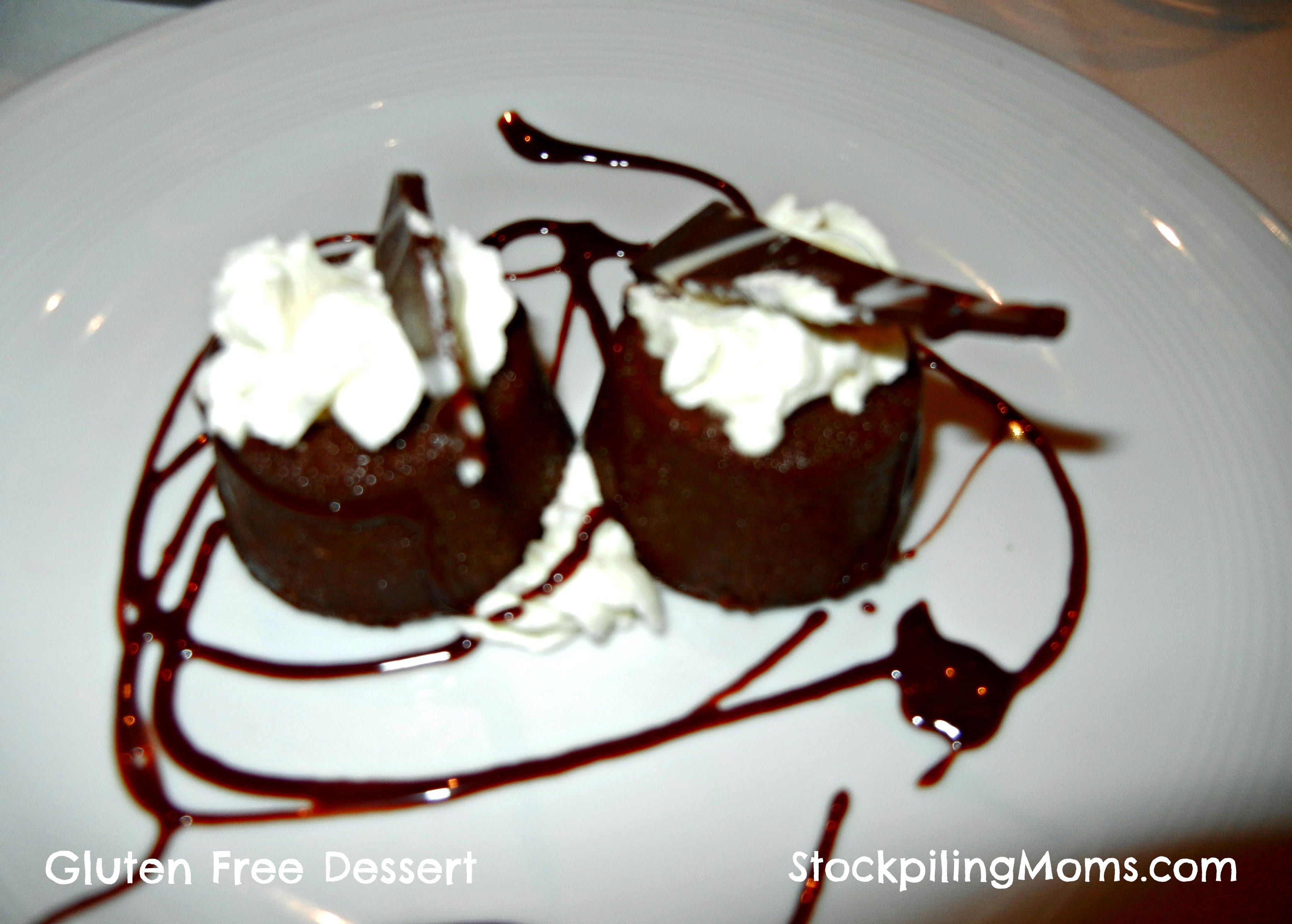 My only complaint would be that there were NO gluten free options for room service 🙁 I did call and ask however they told me no that there were no choices. My son however did order room service on a daily basis and he LOVED it! I did find out on the last night that Sorrento's pizza did offer a gluten free pizza! Next time I will be sure to enjoy that.
I do wish that Royal Caribbean would put together a quick one page handout that they could provide to gluten free passengers on the ordering process because I really think that would make the experience much more enjoyable. I also wish that they would consider a gluten free option for room service. It would have been really nice to know that Sorrento's offered gluten free pizza for example.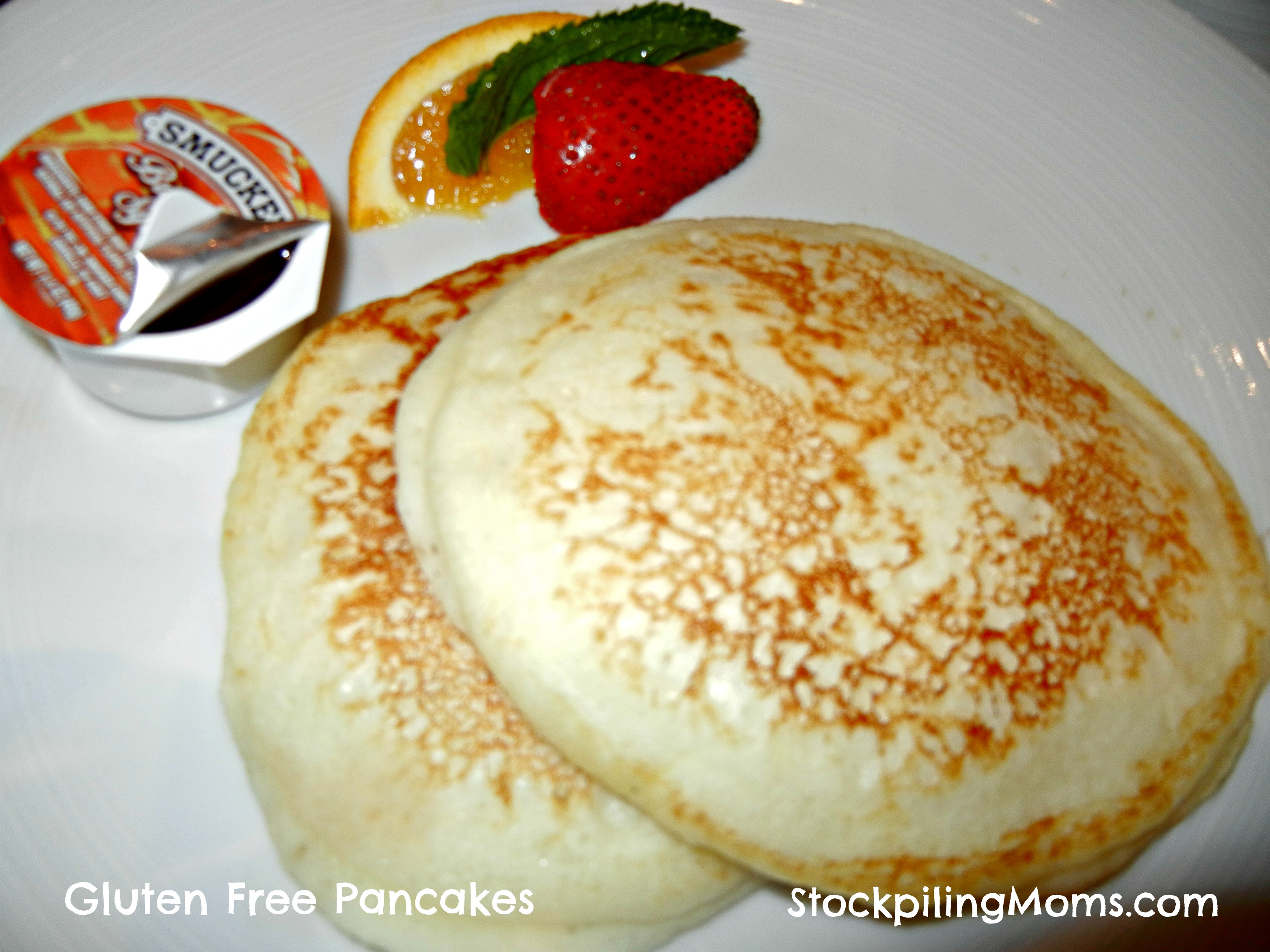 The Oasis of the Seas offers the Madagascar experience and it was amazing! We enjoyed photo opportunities with the characters, ate at the Character Dining Breakfast and also got to see Madagascar 3 in 3D on board. It was all inclusive of our cruise price. Peyton really enjoyed all of these opportunities (and so did we). Our room was nice. There was wear and tear on the sofa but otherwise the room was clean and in good condition. Our room steward did an excellent job and really treated us well. Of course our cabin was not spacious but you don't spend much time in your cabin and it worked well for us.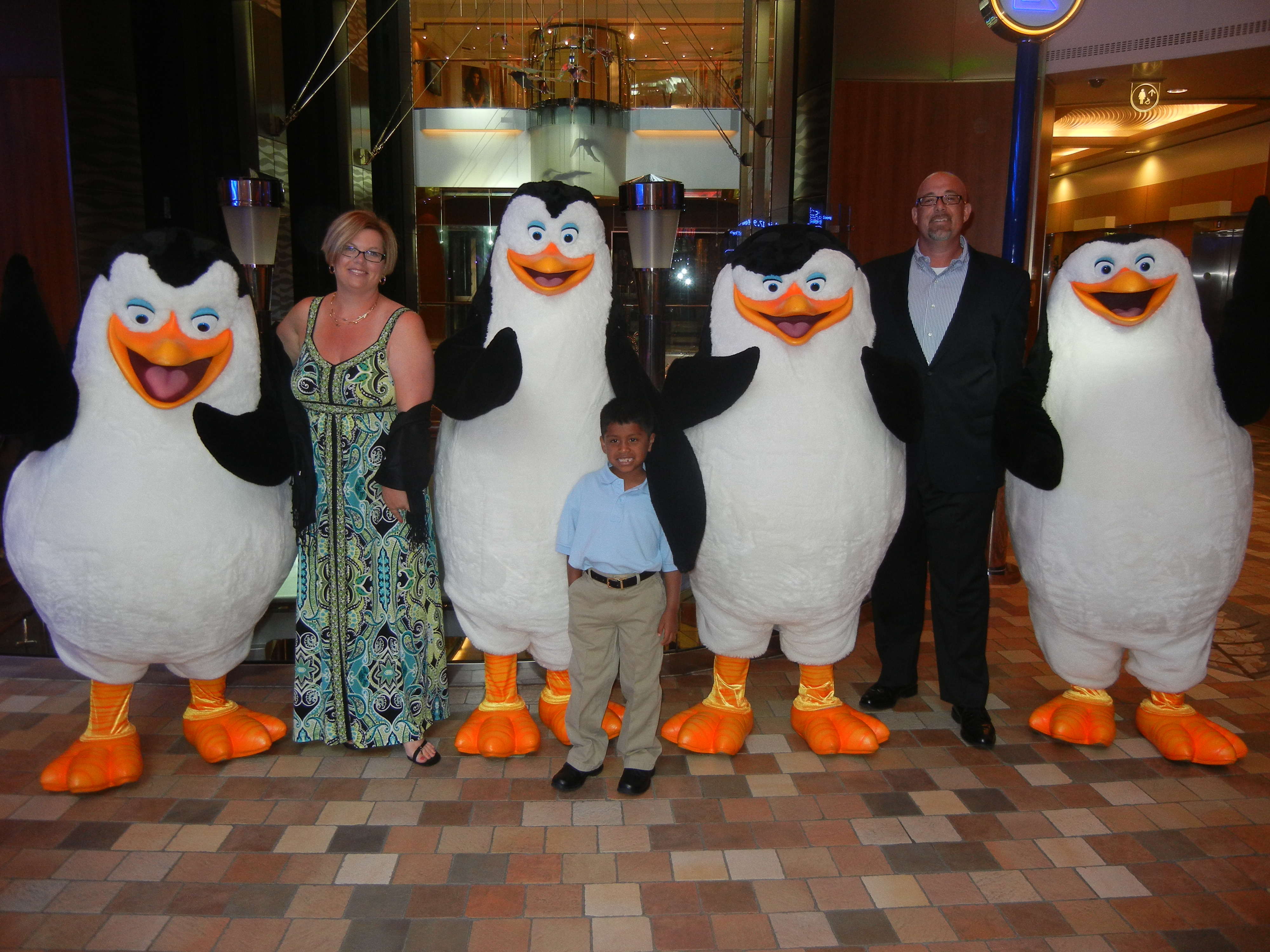 In the end I would highly recommend a Royal Caribbean Cruise and we loved the Oasis of the Seas. If you are gluten free you will have no concern with traveling on the ship.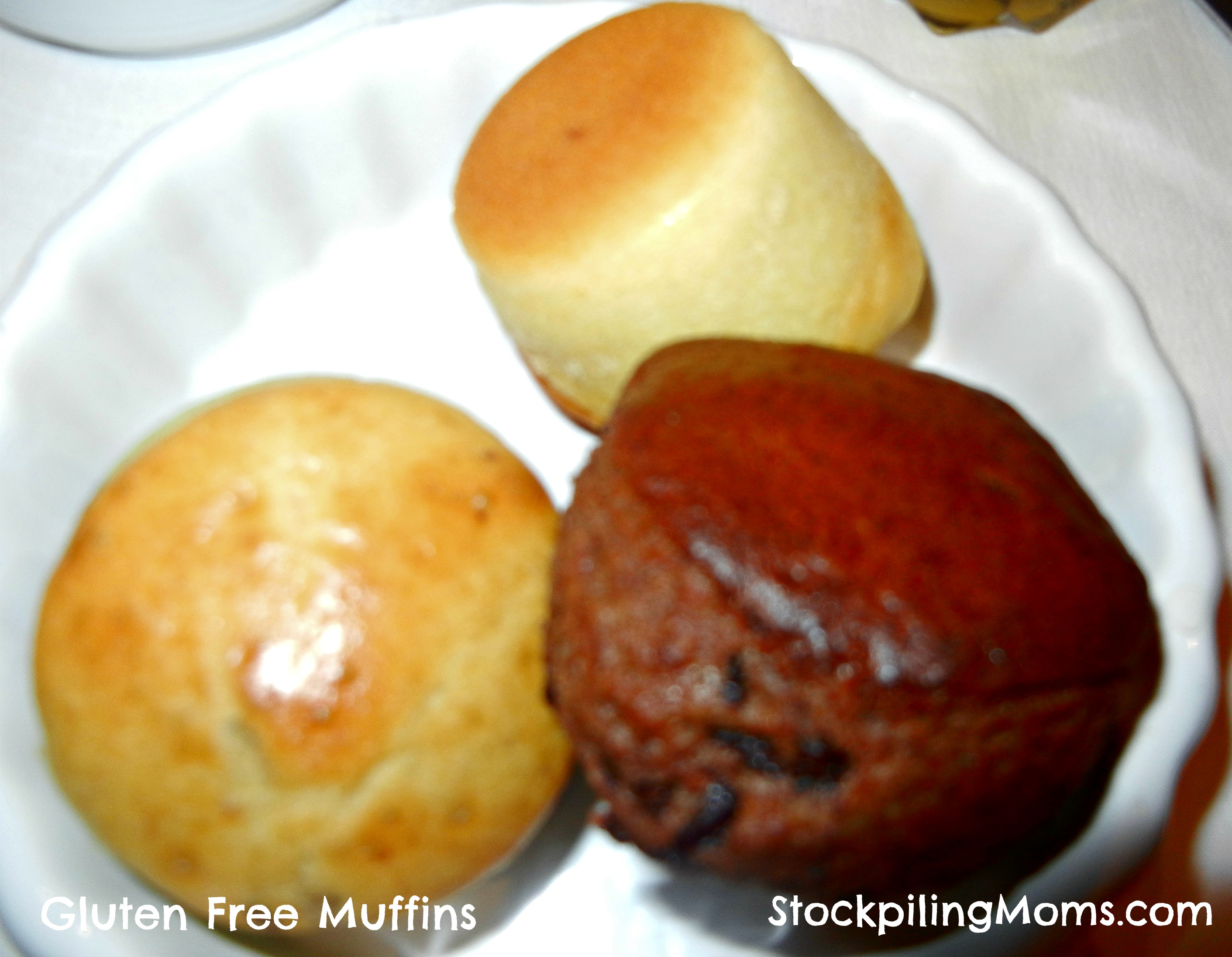 A few tips to remember:
Be sure to mark on your reservation that you are gluten free and email the ship prior to your arrival.
Contact your head waiter as soon as you board the ship and make sure that he knows that you need gluten free meals. This would help in the first night if you could locate him.
Place orders each night for breakfast and the following dinner.
You can pick up fresh fruit cups in the Park Café to take on excursions with you.
You can pick up fresh fruit in the Dining Room to take on excursions with you.
Take a few gluten free snacks with you for snacking in your room and excursions. My top picks are larabars because they travel well.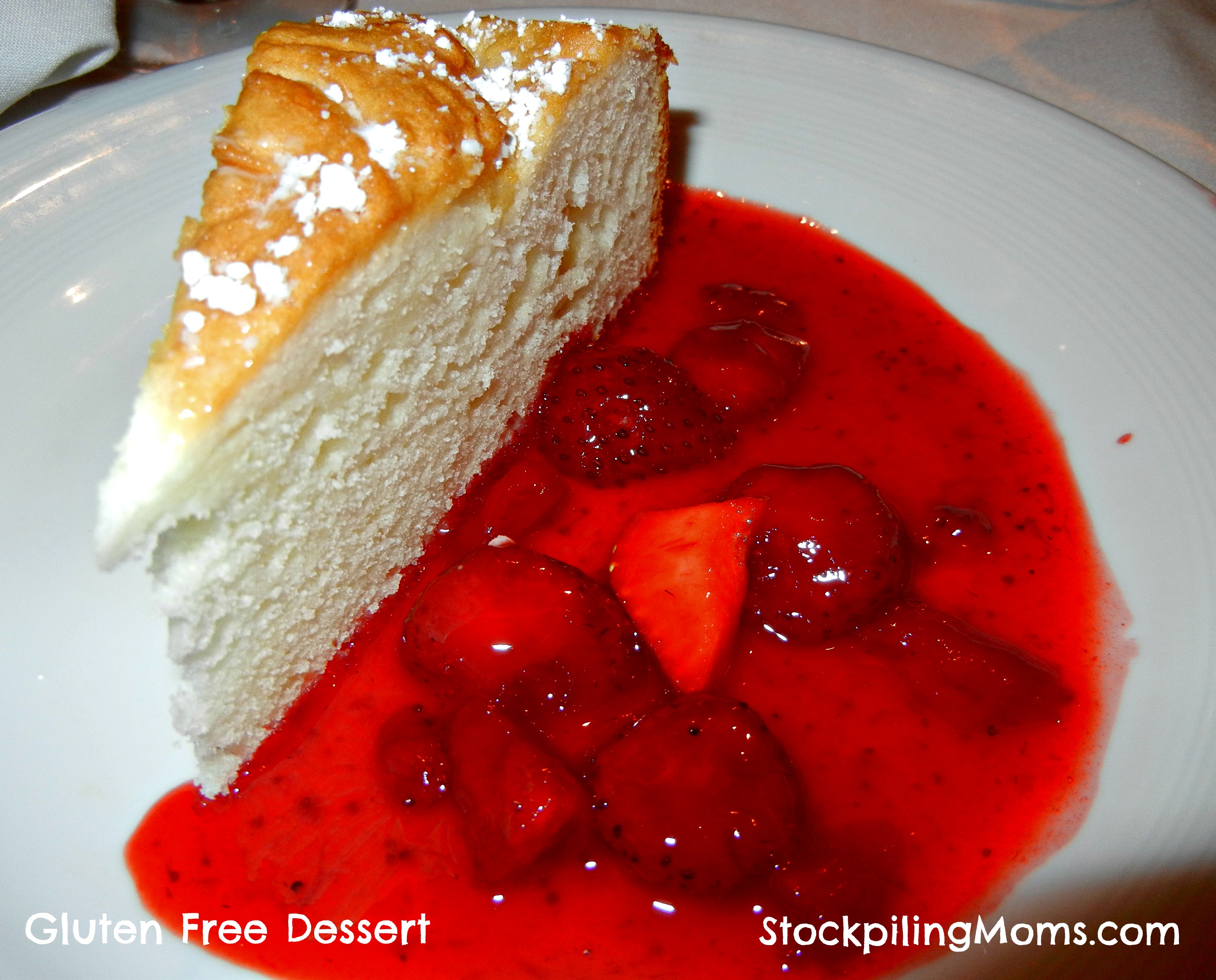 I would personally like to thank our head waiter, Rushuan. Without his time and dedication I know that my experience would have been as easy for me as first time gluten free cruiser!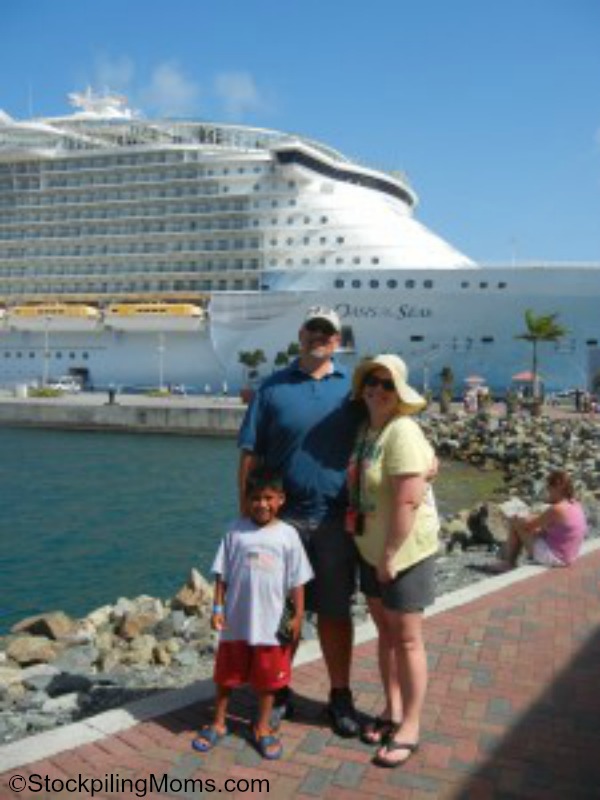 Disclosure: This is not a sponsored post – Stockpiling Moms did not pay for this vacation. My family paid for our cruise. All opinions are 100% my own. However, I would welcome the opportunity to work with Royal Caribbean on their gluten free menus and dining experience and to do a future review of one of their ships.
Do you have any experience cruising gluten free? I would love to hear about it!
Travel Articles:
How to save money at Kings Island
How to Save Money at Disney & Tips for Planning
Tips for Saving Money on Air Travel
Stockpiling Moms can be found in all your favorite places. Hop on over to Instagram and follow the fun. We love posting memes, family fun, travel, and whatever we are feeling that day. Pinterest is also an amazing place to visit Stockpiling Moms. This is where you can pin all your favorite articles from our Food, Travel & Lifestyle Blog.
Melissa is a football and soccer mom who has been married to her best friend for 24 years. She loves sharing recipes, travel reviews and tips that focus on helping busy families make memories.