Quick and Easy Pasta Salad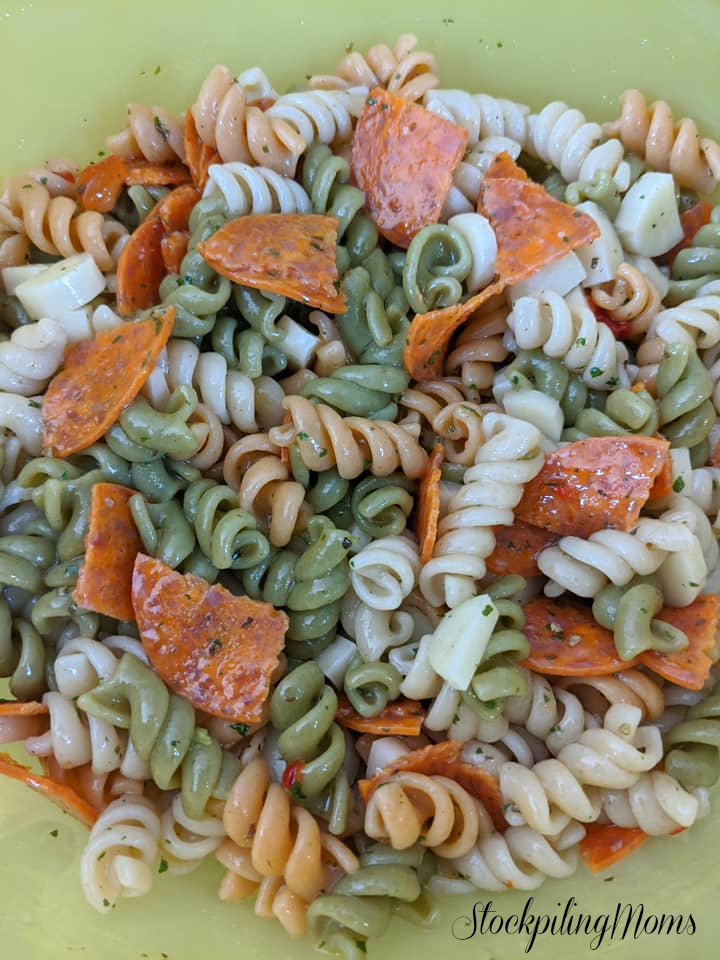 Have you ever wanted to make an extra side for dinner or asked last minute to bring something to a cookout? I have been in both scenarios many times. Pasta salad is one of those side dishes you can add almost anything to. That is exactly how I make this Quick and Easy Pasta Salad.
There are many times I just look to the pantry or garden to throw in extra ingredients. This particular time the kids were interested in trying but they do not like many vegetables. I love vegetables and when I make it for just my husband and I, I throw in anything from zucchini, broccoli, asparagus, or cucumbers. When you are making pasta salad if it sounds good throw it in. I have changed around many recipes in my life by doing this. Some of these recipes turned out to be our favorites!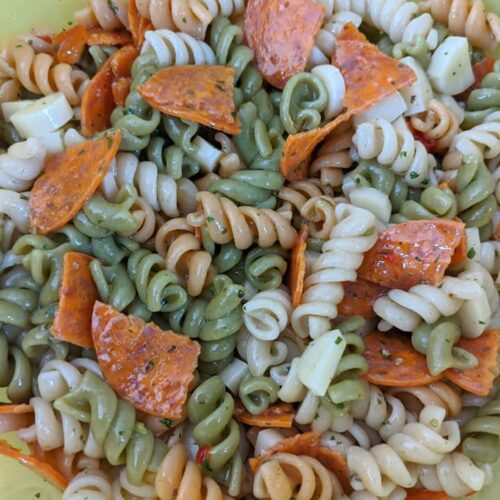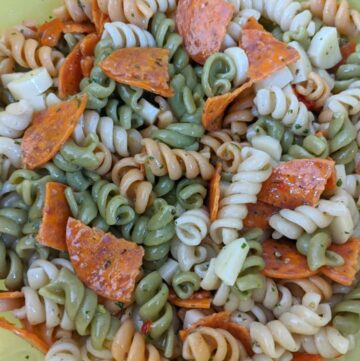 Ingredients
1

Box

Suddenly Salad, Classic

2

Mozzarella Cheese Sticks

1

Bag

Pepperoni

olives

(Optional)

2

cups

cherry tomatoes, halved

(Optional)
Instructions
Make Pasta according to the box.

I sliced my cheese sticks and then cut each slice into half moons.

Add as much pepperoni as you would like. I used scissors to cut each slice in fours.

Optional: Add olives to taste

Optional: Add halved cherry tomatoes to taste

Mix together and refrigerate at least one hour.
StockpilingMoms has so many different recipes for summer! We have the greatest sides, desserts, main courses, and lots of amazing grilling recipes. Check out some of my favorites! Quick and Easy Pasta Salad is now on the list!
Shelley@StockpilingMoms Favorite Summer Recipes
Favorite Side Dishes
Loaded Smashed Red Skin Potatoes I love these so much and so do my guests! I have a friend that requests them every time she comes!
Roasted Balsamic Brussels Sprouts You can not go wrong with Bacon and Balsamic Vinaigrette!
Grilled Zucchini and Squash This is a perfect side dish for any cookout!
Summer Desserts
Hot Fudge Ice Cream Delight This is and will be our forever favorite!
Strawberry Pretzel Icebox Pie This is the perfect summer dessert!
Perfect Camping Treats These are easy and perfect for children of all ages!
Grilling Recipes
Maui Burger – Luau Food We love to have Luaus! It is so much fun to relive my Hawaii moments!
Mustard & Bourbon Glazed Pork Chops This is a great grilling recipe when you are looking for something different!
Grilled Bruschetta Chicken Perfect if you are looking to use those fresh tomatoes and basil! I love Basil!
Check out our Amazon picks for making cooking easier! (affiliate links below!)
MyLifeUNIT Microwave Potato Bag, Baked Potato Microwave Baking Bag – This bag is a game changer! I cook potatoes so quick and easy!
Prep Solutions by Progressive Microwavable bacon grill – This is also a favorite! Cooking bacon made easy and the clean up is too!
Shelley is a boy mom, marine wife, and is blessed with an amazing family. She loves sharing recipes, travel reviews and tips that focus on helping busy families make memories.