Patriotic Mason Jar Candle Holder
I love burning candles throughout the home on a regular basis. Whether they are for a soft glow in the evening, or to scent the room for an uplifting aroma, candles are a must. This Patriotic Mason Jar Candle Holder is an adorable addition to my home decor. This is great year-round, is simple and inexpensive to make, and a great reminder to be thankful for the sacrifices made by others who protect our country.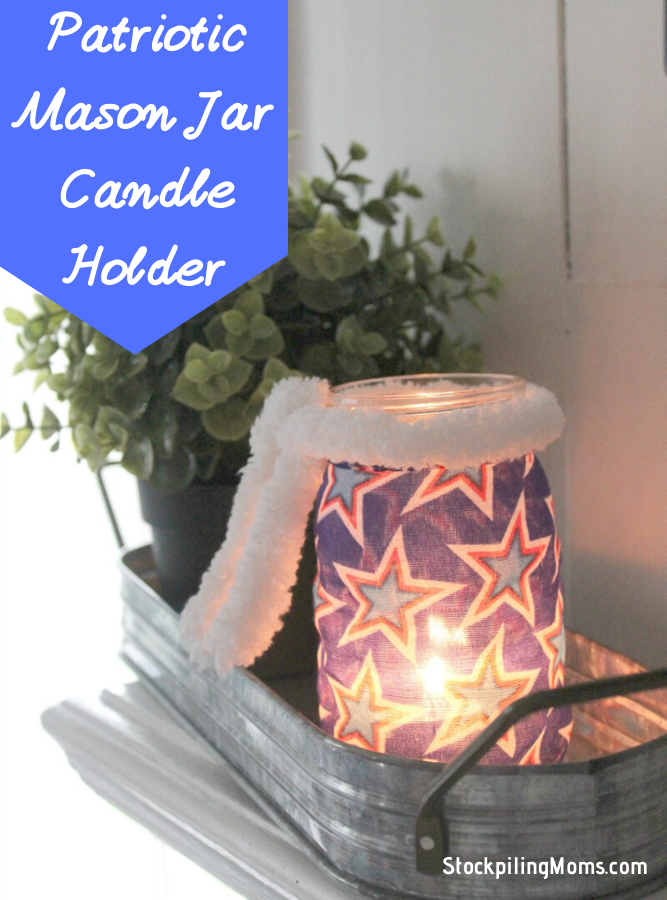 Patriotic Mason Jar Candle Holder
There is never a lack of mason jars in our house. Always handy, these are used for drinking, canning foods, storing things like pens and pencils, and fun crafts. Whether you go out and buy a new mason jar or grab one from your pantry, this is a great inexpensive craft to create. I designed this for a votive candle, but you may be able to safely fit other sizes into your jar. It really depends upon the mason jar size and size of the individual candle.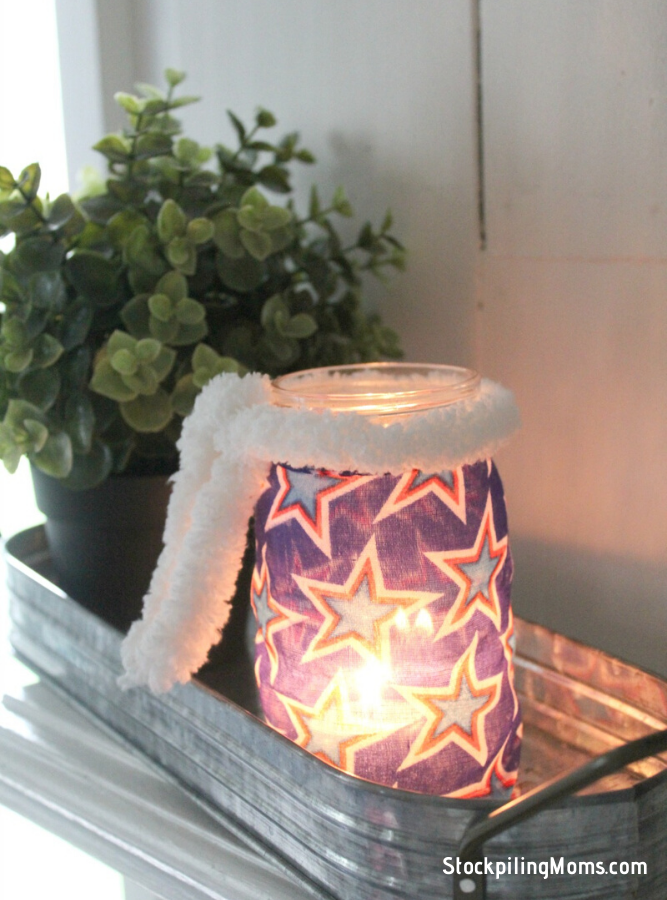 Can I Mod Podge The Fabric Cover?
Yes! If you want a bit shinier look to this candle holder, you can definitely add a layer of mod podge or sealant. After the fabric has been glued to the jar, you can brush a thin layer of mod podge over all surfaces and allow it to dry. This will protect the fabric, and make it a bit more upscale. It's totally not necessary, but it does look nice for a different appearance when displayed.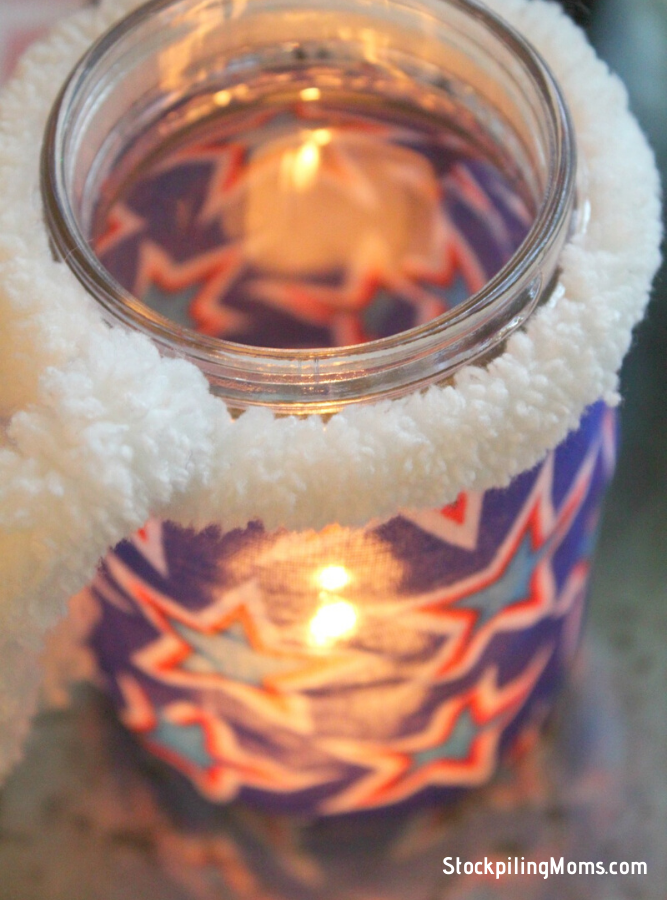 Is This Safe to Burn a Real Candle In?
While typically you want to avoid burning a candle near paper or fabric, in this case, the jar protects the fabric from the flame. It is not designed to burn a candle that would be over the edge of the jar mouth. So, as long as your candle is shorter and the flame is contained by the jar, you have nothing to worry about.
Note: Always burn candles in safe ways. Never leave a candle unattended, near children, or in areas near highly flammable items. You can always use an electric candle inside the Patriotic Mason Jar Candle Holder too!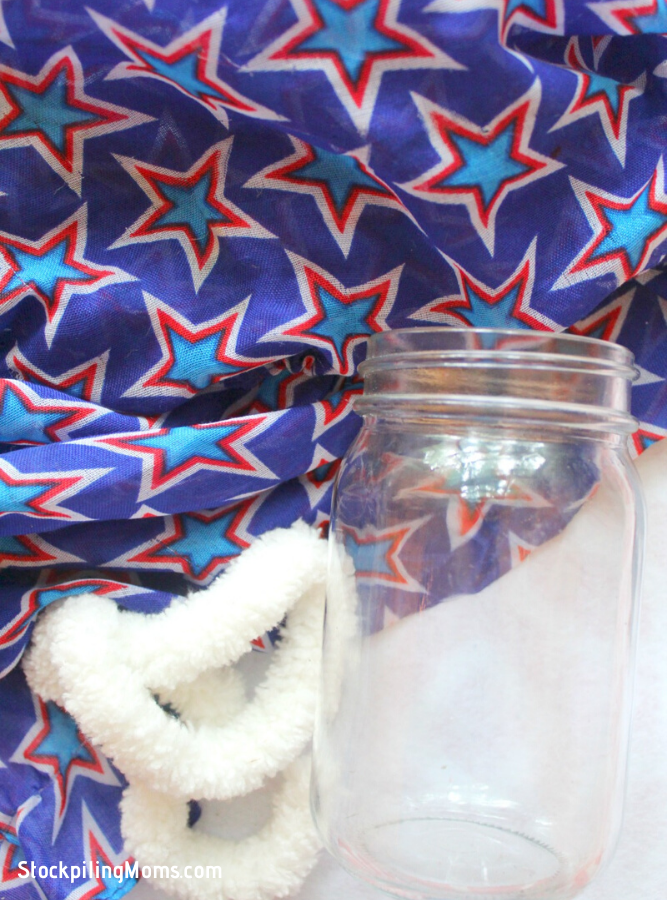 Supplies Needed
Mason jar
Patriotic scarf (found at Dollar Tree)
White ribbon or yarn
Votive candle
Hot glue gun and hot glue
Scissors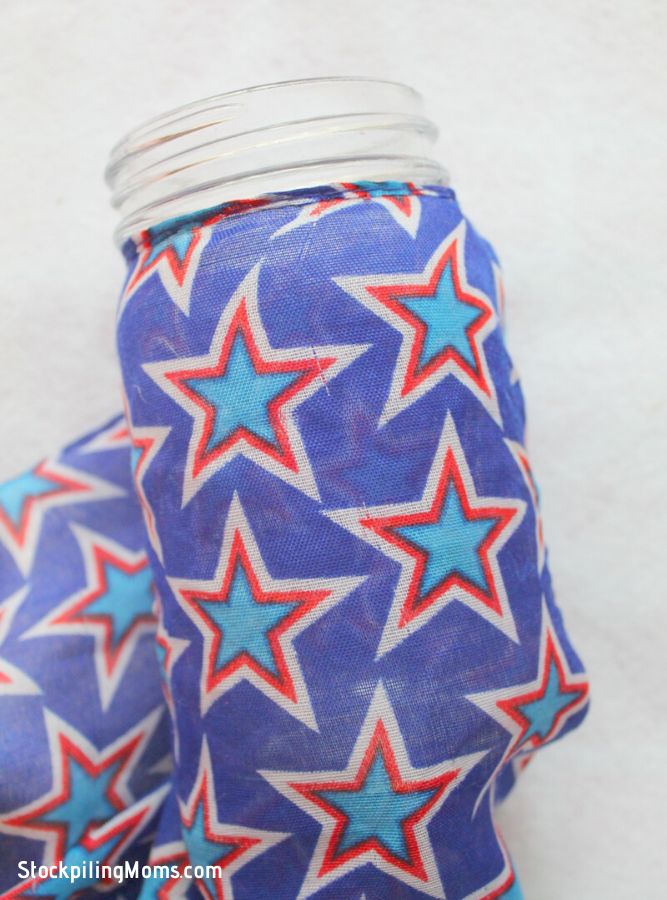 How to Make a Patriotic Candle Holder
Begin by placing a line of hot glue around the neck of the mason jar.
While the glue is still hot, wrap the patriotic scarf around the jar. Gently press it to the glue until secure.
Once the scarf is wrapped around the jar, cut away the extra fabric at the bottom.
Twist any remaining fabric and glue it to the bottom of the jar, using a very generous amount of hot glue. Allow drying.
Take some white ribbon or yarn and wrap it around the mouth of the jar for embellishment.
Add your votive candle, light, and enjoy!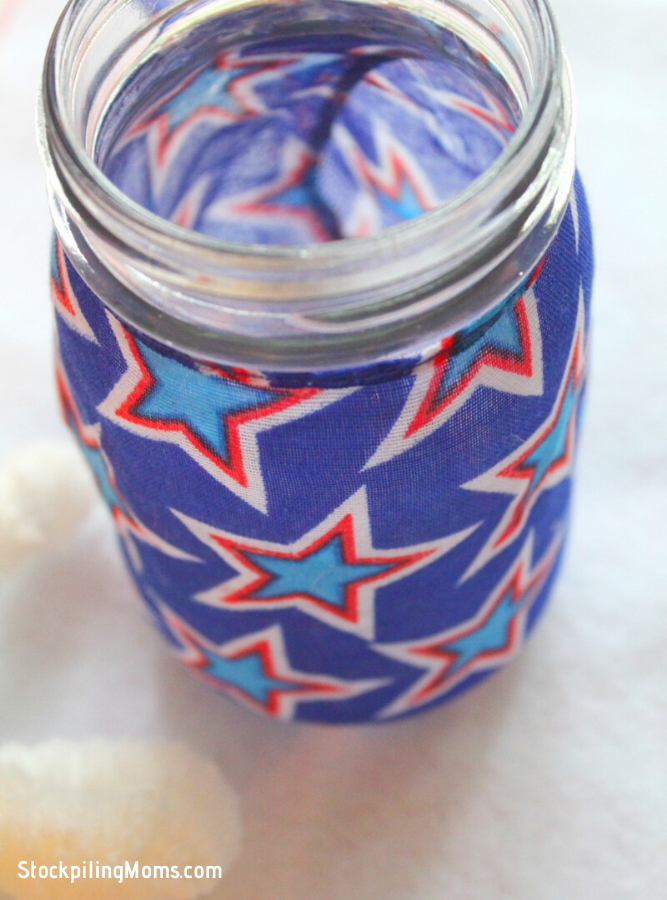 More All American Craft Ideas
Melissa is a football and soccer mom who has been married to her best friend for 24 years. She loves sharing recipes, travel reviews and tips that focus on helping busy families make memories.