NCAA Final Four Sweepstakes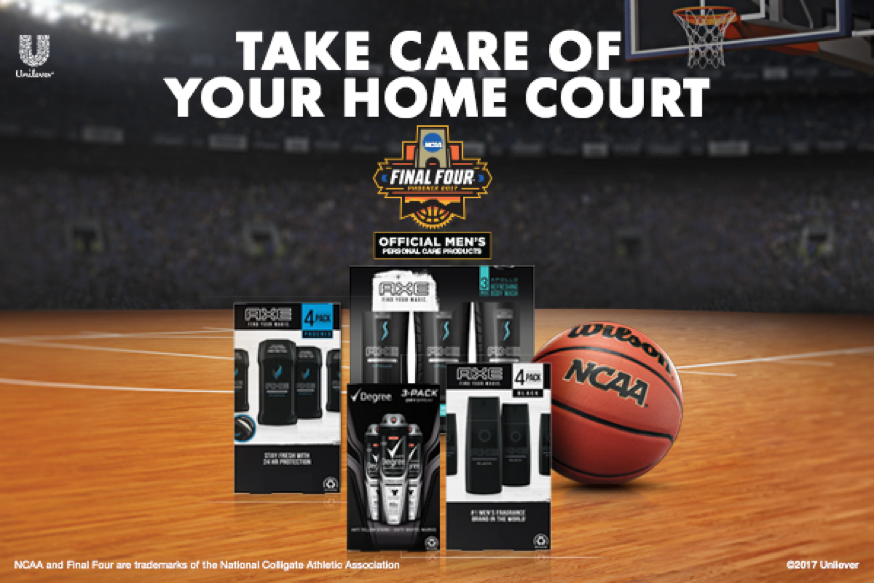 Check out this NCAA Final Four Sweepstakes. It is basketball season! If you are like me that might not mean much to you. If you are like my husband and son, it means more. They LOVE sports. Really, any form of competition. My son loves to watch tournaments in particular, so the NCAA tournament is no exception. As you know, my men love and use AXE personal care products. As we call them "man soap".
NCAA Final Four Sweepstakes:
Many men want personal care products that will help them stand out from the crowd, smelling fresh and fragrant. Mine are no exception. Unfortunately, not all products are up to the challenge, especially when they're "feeling the heat" from the final four madness.
Luckily AXE and Degree personal care products from Sam's Club are brands that are up for the challenge! They will leave the men in your life with the confidence that they can feel secure knowing they are going to be smelling fresh even during stressful situations. And since these products come in club-sized packs, at Sam's Club that confidence is sure to last through all they take on. They are a great value.
Plus, when you purchase any of these brands at Sam's Club, they have a chance to win a final four experience, so they can truly be the all-stars who take care of their home court. That would be a dream come true for Peyton.
Right now is a great time to stop in at your local Sam's Club to try these Unilever Men's Personal Care Products. Not only will these products deliver better fragrances and fight against odor. You will love the way your man smells. I love driving my van after my hubby has driven it because I can smell his scent on my seat-belt. It is a win/win for me. They smell great and they love these products.
Head into your local Sam's Club to check these out:
Degree Dry Spray – Ultraclear Black & White: Best protection ever against white marks on black clothes and yellow stains on white clothes (major laundry win for me). Features Degree MOTIONSENSE technology that keeps you fresher with every move. All-day fresh and airy fragrance with a clean feel protection against sweat and body odor. This product is also alcohol free.
AXE BLACK Daily Fragrance: Twist top open to reveal nozzle. Hold the can six inches from your body and press the nozzle to spray. A quick spray across your chest does the trick. This is Peyton's favorite! This refined and subtle fragrance combines notes of bergamot, rosemary and cedarwood allowing you to make an impression without going over the top. Shake, twist and spray across your chest. Looking for Axe body spray? Axe daily fragrances were previously named body sprays and are still the same scents you know and love, but now with a fresh design to the packaging.
Axe Deodorant Sticks (2.7 oz., 4 pk.) – You can't go wrong with this classic! All the odor fighting protection that your man needs.
Axe Revitalizing Shower Gel (16 oz., 3 pk.) – Hands down my boys favorite product. They love AXE shower gel and won't use another brand.
With these four products the men in your life are going to be set to watch all of the upcoming NCAA final four games!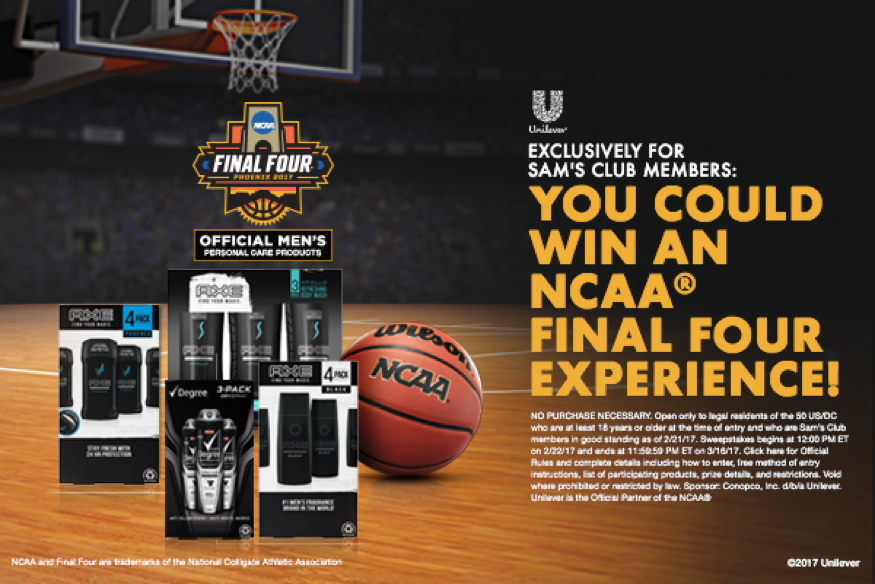 After shopping at Sam's Club it is so easy to enter the NCAA® Final Four® Sweepstakes. Simply purchase any of the featured products and sharing an image of their receipt online. Check it out!
How To Enter the NCAA® Final Four® Sweepstakes:
1. Buy ANY Men's grooming item from Sam's Club (listed below)
Degree Men Dry Spray (3.8 oz., 3 pk.)
Axe Deodorant Sticks (2.7 oz., 4 pk.)
Axe Daily Fragrance Body Spray (4 oz., 4pk.)
Axe Revitalizing Shower Gel (16 oz., 3 pk.)
2.Snap an image of your receipt and upload here: http://www.takecareofyourhomecourt.com/samsclub
3. Enter a chance to with a NCAA Final Four Experience
Grand Prize
Tickets for 4 to the Final Four
Hotel accommodations 2 nights 3 days
Airfare
Transportation
Spending money (cost of taxes)
Happy Shopping and Good Luck! I hope one of you are the lucky winners of the NCAA® Final Four® Sweepstakes!
Disclosure: Post sponsored by Mirum Shopper but all opinions are 100% my own.
Melissa is a football and soccer mom who has been married to her best friend for 24 years. She loves sharing recipes, travel reviews and tips that focus on helping busy families make memories.