Is your family suffering from burger boredom?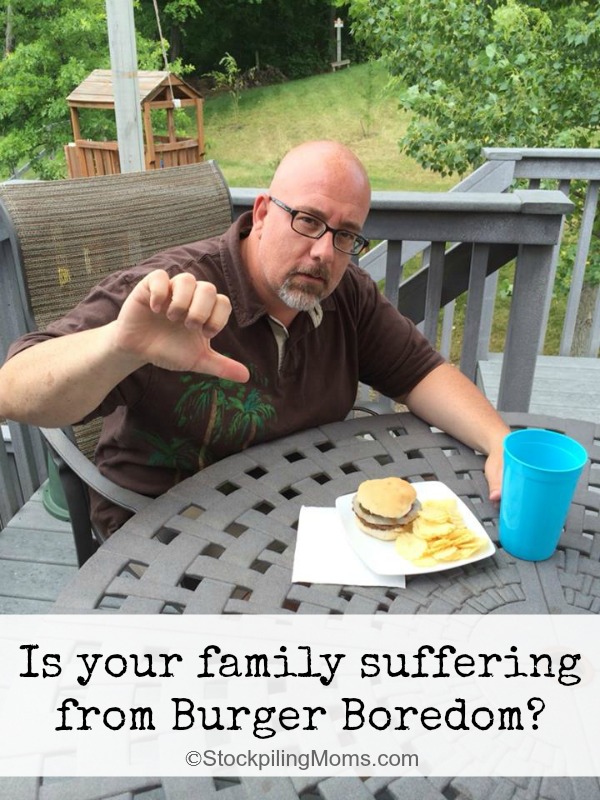 Is your family suffering from burger boredom? It is hard to believe that we have less than 30 days to the beginning of the school year! Where has the summer gone? One thing is for sure – we have a bad case of the burger blues here at our house. Burgers have been one of our "go to" meals in the summer. They are so easy to make, but they get boring that is for sure. In fact, as you can see, my husband is OVER burgers! He recently gave me a big thumbs down when I served them for lunch.
Is your family suffering from burger boredom?
A new study from KRC Research and JACK's Pizza revealed that Burger Boredom and Frankfurter Fatigue are sweeping the nation. Symptoms of this serious condition include listless grilling, half-hearted chewing and adamant refusals of a second helping. With more than 200 million Americans grilling each year, Burger Boredom and Frankfurter Fatigue could spread like wildfire!
If you are like my family and recently diagnosed with a BAD CASE of the burger blues or the Frankfurter Fatigue, we have a cure for you! It is easy! Simply wash your hands, put down the ketchup and try JACK's frozen pizza instead. You don't have to give up your grill. You can grill your frozen pizza in minutes if you want!
Fun Facts from the Survey:
Nearly 8 in 10 Americans want more choices when it comes to grilled food.
Nearly 40% of Americans are bored with standard grilling options like hot dogs and hamburgers
50% of them grill hamburgers all or most of the time.
More than 4 in 10 Americans would be open to grilling frozen pizza, with more than a third saying they would like to give it a try.
Last summer, JACK'S sold enough pizza that if laid side by side they would stretch from Anchorage, Alaska to Miami, Florida. Now that is a LOT of pizza!
I hope that if you or one of your loved ones is suffering from Burger Boredom that you will take our advice and get some relief soon 🙂
JACK'S Pizza is an affordable and great-tasting summer mealtime solution. It is available nationwide at your local grocery, drug and convenience stores. Visit nestleusa.com to find a store with your favorite JACK'S™ Pizza. We are huge fans of the cheese, pepperoni, deluxe and meat!
Have you tried grilling a frozen pizza before?
JACK'S Pizza Ultimate Grill Takeover Sweepstakes:
JACK'S Pizza is offering Facebook fans the chance to win a free gas grill each week to enjoy delicious pizza cooked outside this summer in the JACK'S Pizza Ultimate Grill Takeover sweepstakes. From May 19 – August 9, fans are invited to visit JacksGrilling.com to enter for a chance to win in the weekly gas grill giveaway. There is no purchase necessary to enter!
Disclosure: I was compensated by JACK'S Pizza for this post. All opinions expressed within are my own.
Melissa is a football and soccer mom who has been married to her best friend for 24 years. She loves sharing recipes, travel reviews and tips that focus on helping busy families make memories.