Essential Oil Blend Used for Focus and Attention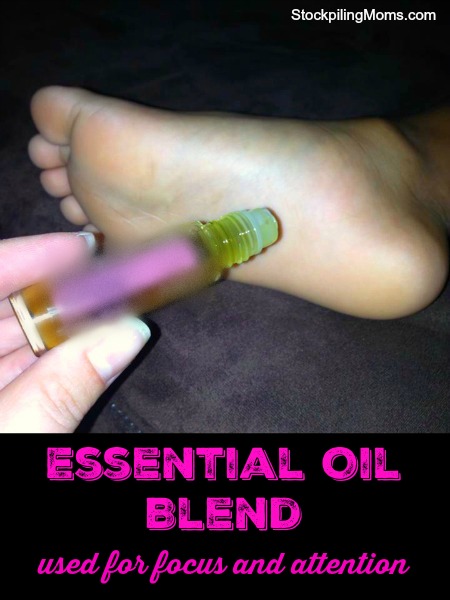 We love this Essential Oil Blend that can be used for focus and attention. This essential oil blend was created for those who want to use an alternative to prescription medication or find that prescription medication doesn't to relieve all attention deficit symptoms and need additional support. It is also safe to use on children. I attended a fabulous training with a Dr. who shared this information with us during the class. You can use topically on children under the age of 6 but with all oils it is best to use in moderation. A little goes a long way.
This essential oil blend supports efforts of those who have difficulty paying attention and staying on task. It is the best study-time blend. We use it for homework time at our house. I also like to use it when I have a busy day or need to multi-task.
Essential Oil Blend used for focus:
Inattention

Hyperactivity

Impulsivity

Mood Swings

Hard to Please

Poor Concentration

Unfinished Work

Clarity of Thought

Increase Alertness

Increase Focus

Calming and Soothing
This essential oil is a blend of amyris, patchouli, frankincense, lime, ylang ylang, sandalwood, Roman chamomile essential oils, carefully selected for their ability to enhance focus and support healthy thought processes. This blend helps those who have difficulty paying attention to stay on task and sustain focus. Use at work or school to stay on task or when feeling tired mid-afternoon. It is a great oil to use for mental clarity.
My personal experience with this essential oil blend – I use when I feel "scattered" or overwhelmed with a long "to do" list I use it and after I apply it within 10 minutes I am able to easily focus on my to-do list an accomplish it without feeling overwhelmed. I definitely feel calm and and am able to accomplish the tasks in much less time than normal.

I also use it daily on my son before school. I apply on dab to the sole of his foot and place socks over. On the rare days we forget I can tell a difference with the quality of his work and ability to focus.
The Best Way To Apply:
On the Inferior Carotid Artery (neck)
Spine
Base of the Skull (and 2 inches to right)
Sole of Foot
Wrist
Aromatically
You May Enjoy:
Change Your Diet Change Your Child Series – Autism Spectrum Disorder
Change Your Diet Change Your Child Series – Autism Spectrum Disorder – Part 2
Change Your Diet Change Your Child Series – Autism Spectrum Disorder – Part 3
Change Your Diet Change Your Child Series – Autism Spectrum Disorder – Part 4
Autism Awareness – The Story of Maximus
Disclosure: We are NOT providing medical advice. Always consult your physician for medical treatment. The advice shared in this page has not been approved by the FDA. The products and methods recommended are not intended to diagnose, treat, cure or prevent any illness or disease, nor is it intended to replace proper medical help. Pregnant or lactating women and persons with known medical conditions should consult a physician prior to the use of essential oils.

Melissa is a football and soccer mom who has been married to her best friend for 24 years. She loves sharing recipes, travel reviews and tips that focus on helping busy families make memories.