Frugal Weight Loss – Renew for YOU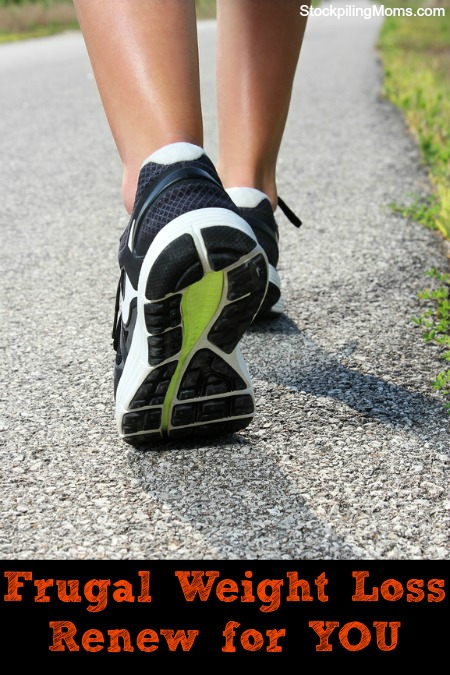 Frugal Weight Loss – Renew for YOU. This is going to be a four-part series called "Renew for YOU". As you know Shelley and I lost a total of 65 pounds in 2010.
My personal goal for 2011 is to lose another 20! I am going to share with you my journey and if you are interested in joining and supporting me, I would love it! My New Year's Resolution is to exercise at least 3 times a week however I would love to exercise at least 5 days a week.
If you exercise 30 minutes each day (or a minimum of 120 minutes a week) you will really see weight loss and a healthier YOU. This does not have to be at one time. You can work out 3 times over the course of the day. Just pick 10-minute increments of time and work out when it fits into your busy day.
It is important to do aerobic, weight bearing, strength balance and flexibility training. Something else that I just learned is that if you don't have time for a full workout to do a 2 minute "sprint". By doing so your body will go into fat burning mode because you were still able to get your heart rate up. I am really thinking of incorporating this on my days "off" from a full workout.
If you reach a point in your weight loss journey when you are not losing it may be time to shake up your workout. I personally use Leslie Sansone's walking videos and own 8 of her DVD's. One of my personal favorites is Leslie Sansone: Walk at Home – 5 Mile Fat Burning Walk. If you choose to use DVD's it is important for YOU to use a variety of DVD's so that your body doesn't get bored.
When I find that I am at a standstill with my weight loss then I move to a new DVD. In 2011 I am excited to add two new DVDs to my collection. A great idea is to swap with friends or check out DVDs for FREE from the library.
If you are looking for a frugal exercise routine, you should check into joining your local YMCA. When I was looking for a gym/pool for our family I looked into joining and it was very reasonable. They were actually waiving the registration fee, so it is worth checking into. They also have military discounts and often times you can join as a family for less than what you would pay for a single membership at a gym. What I liked is that they have childcare so that I could work out during the day.
Another idea is to look at your employer gyms or discounts if applicable. My husband can join his work gym for around $200 a year and also gets the benefit of writing off gym expenses! These are definitely something you should look into.
Next week we will be continuing the series Renew for YOU. I am going to be posting about Nutrition and Healthy Weight Loss.
Disclaimer: I am not a health care professional, and I am not providing medical advice. Always consult with a medical professional before you change your diet or implement a weight loss strategy.
Other Posts You May Enjoy:
Melissa is a football and soccer mom who has been married to her best friend for 24 years. She loves sharing recipes, travel reviews and tips that focus on helping busy families make memories.