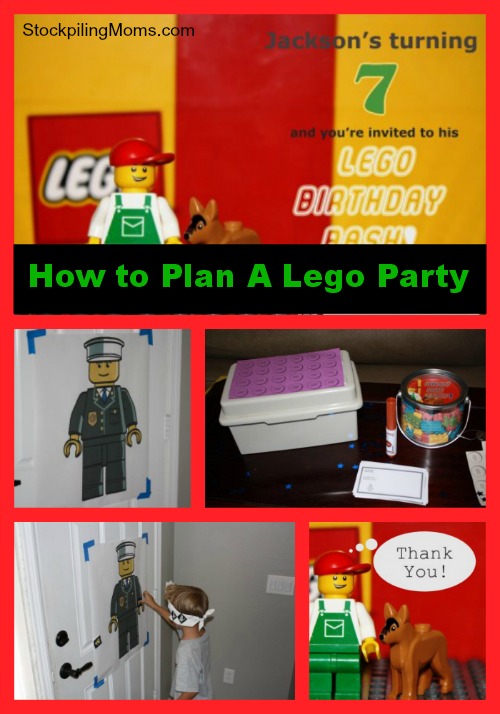 How To Plan a LEGO Party. My son loves LEGO and I wanted to give him the best LEGO party ever but without paying the price of the biggest LEGO party ever! I started researching online how to do a LEGO party at home and found some great blogs, (see below) I took some of the ideas I found and added my own touches.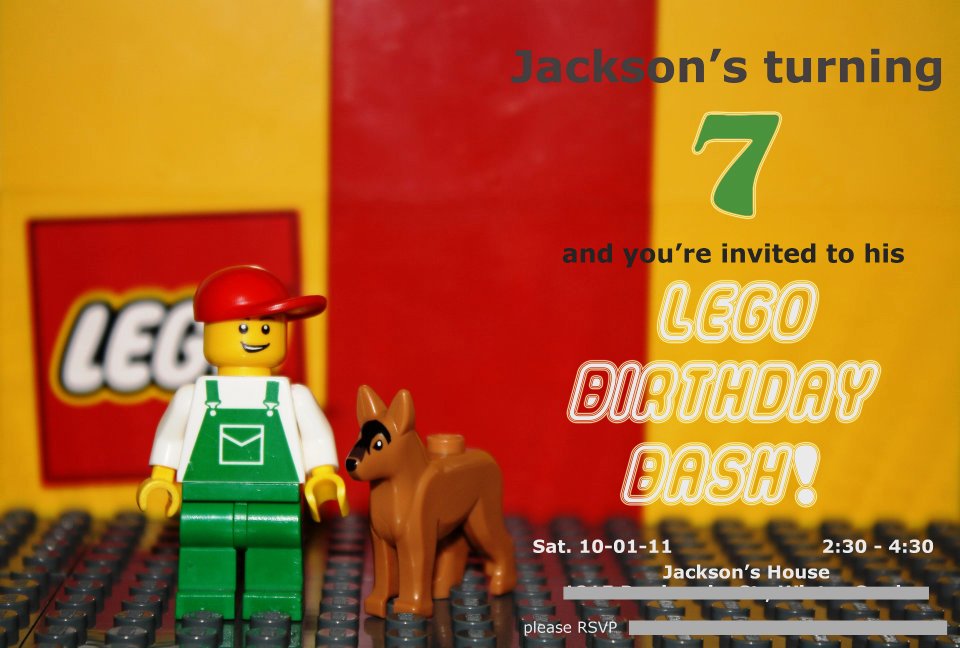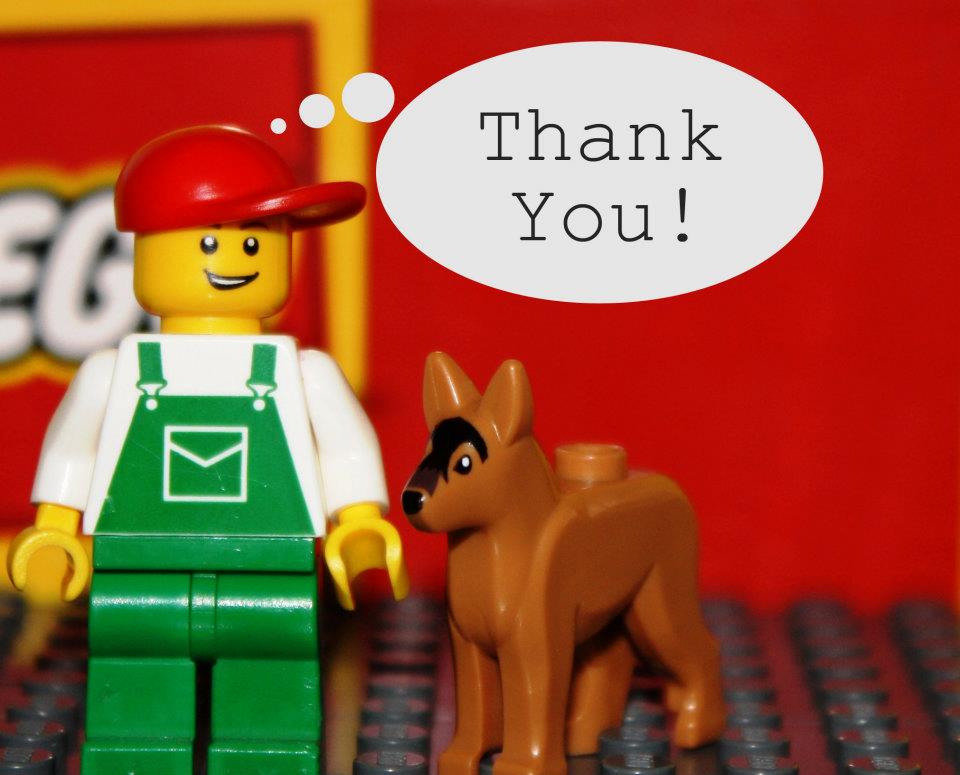 How To Plan A LEGO Party
DIY LEGO Invitations: (less than $5)
I made a scene with some of Jackson's LEGO and took a bunch of pictures. I picked the best, uploaded it into a trial version of Photoshop (free), added some text and then I uploaded the jpeg to Walmart.com 1-hr photo. I then used the same image from the invitation and made little thank you cards to include in the treat boxes. I uploaded to Walmart.com again and had them mailed to my house and they were less than $2.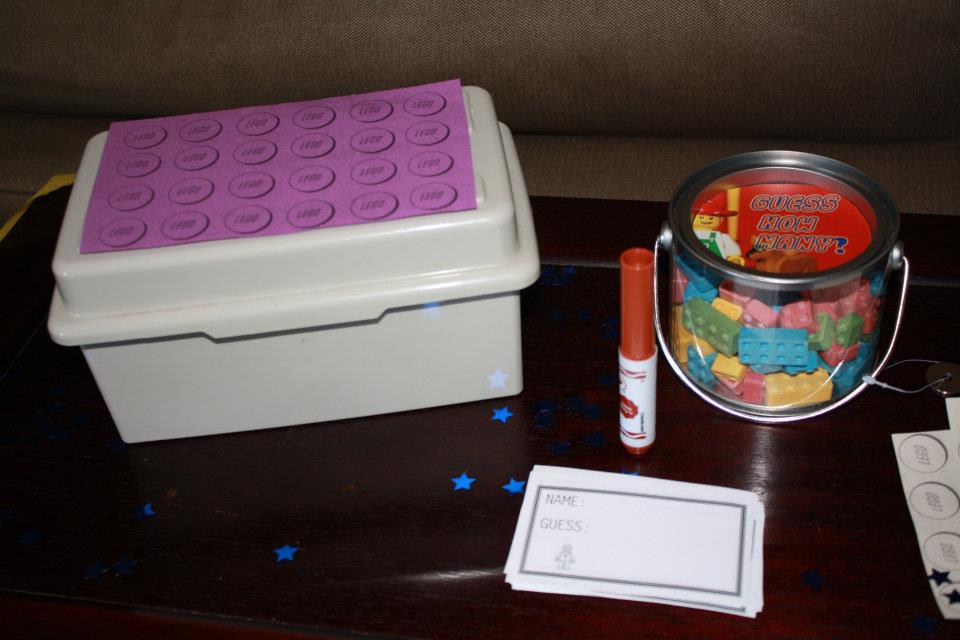 I was able to use the same image again for the top of my 'guess how many' LEGO Candy container (see below) and printed it off from my color printer (free).
DIY LEGO Games: ($33)
Guess how many candies LEGO in the container ($10)
I found LEGO candy by the pound at amazon.com, I bought 2 pounds ($8 and signed up for the 30-day free trial of Amazon prime for free shipping – don't forget to cancel before the 30 days is up!). I found a clear container at the local craft store ($2 after 40% off coupon). I put 107 pieces inside (100 + 7 for Jack's age) and whoever was closest to the amount got to take the candy home!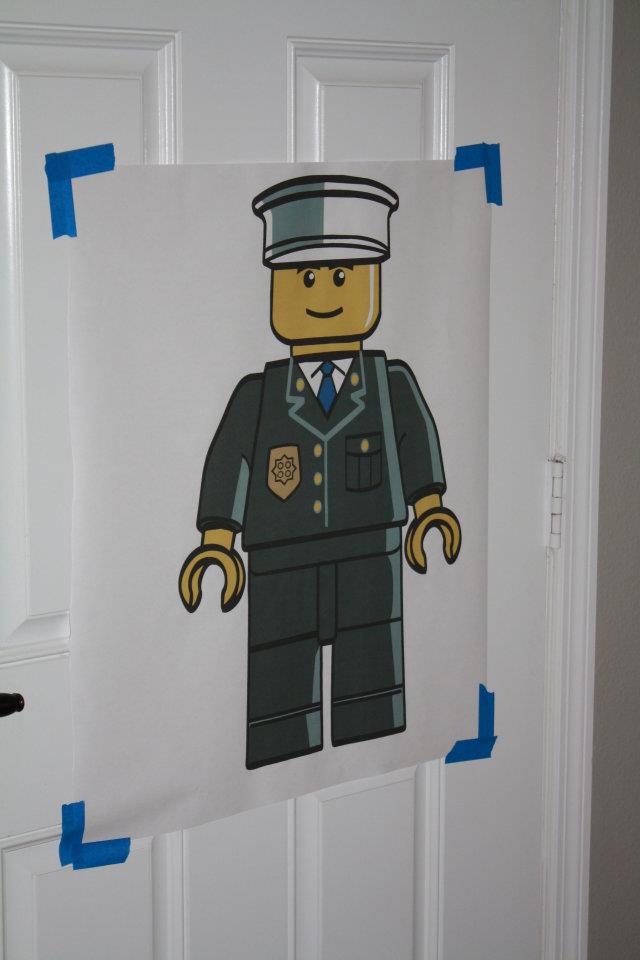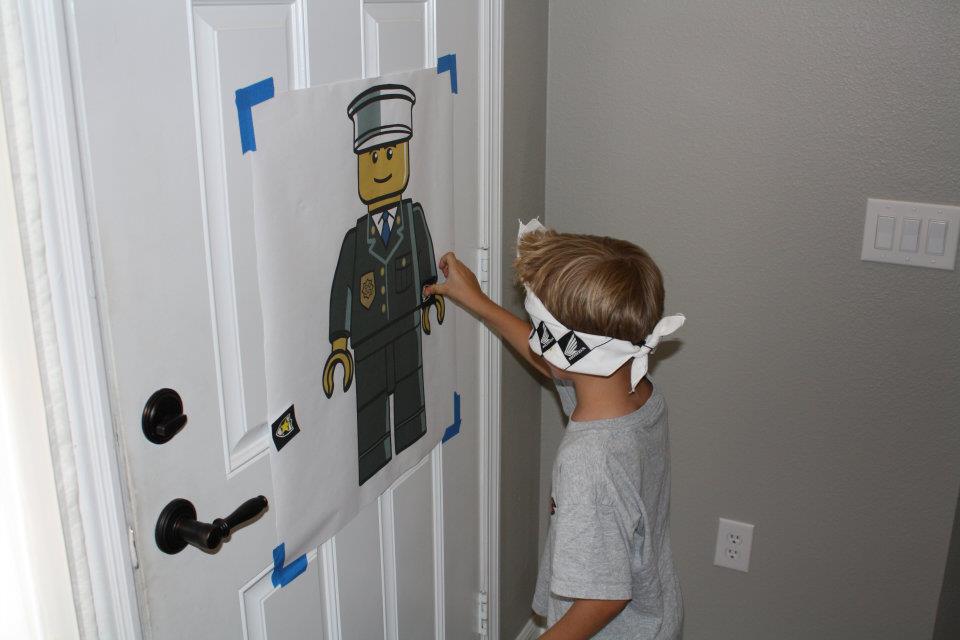 Pin the Lego badge on the LEGO police officer (free)
I printed off a Lego police officer image that I found on lego.com using my plotter at work then I found images of a Lego badge and printed multiples of those off with my color printer. I put double stick tape on the back of each badge then the kids were blind folded and played the game just like 'pin the tail on the donkey'. Whoever got the badge closest to the badge already printed on the police officer got a mini-LEGO creation.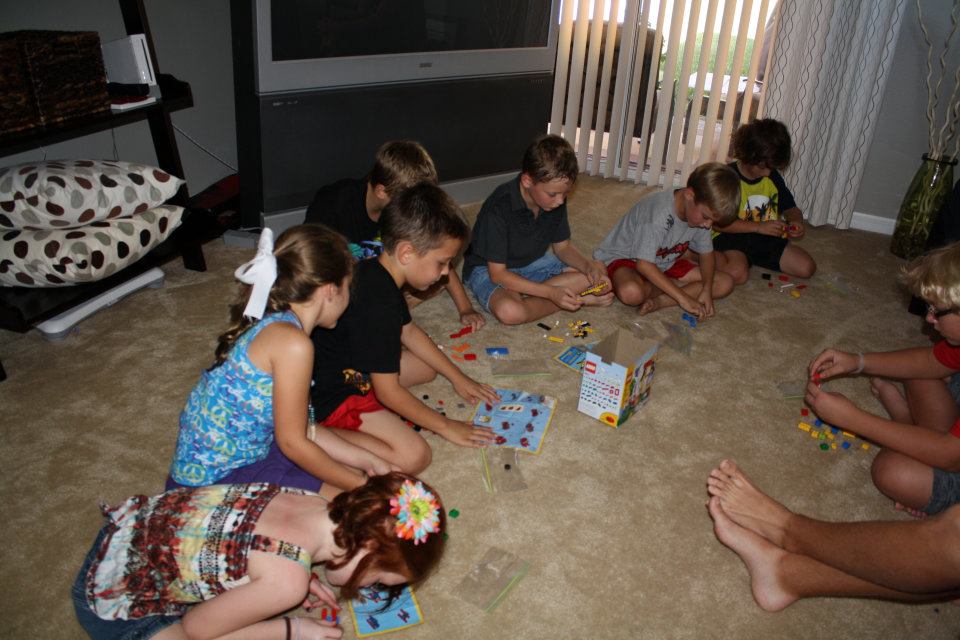 Build the LEGO creation the fastest ($15)
I found a generic set of LEGOS on clearance at Walmart for $15. I separated the LEGO into about a dozen different creations that Jack and I made up together. We put our creation pieces in little snack baggies along with pictures (from the idea book inside the box). I put the baggies in a bowl and let each child chose their baggie. The idea was to give a prize to the child that made their creation the fastest. But some children were struggling so they had some help and won, so I let all of them keep their creations.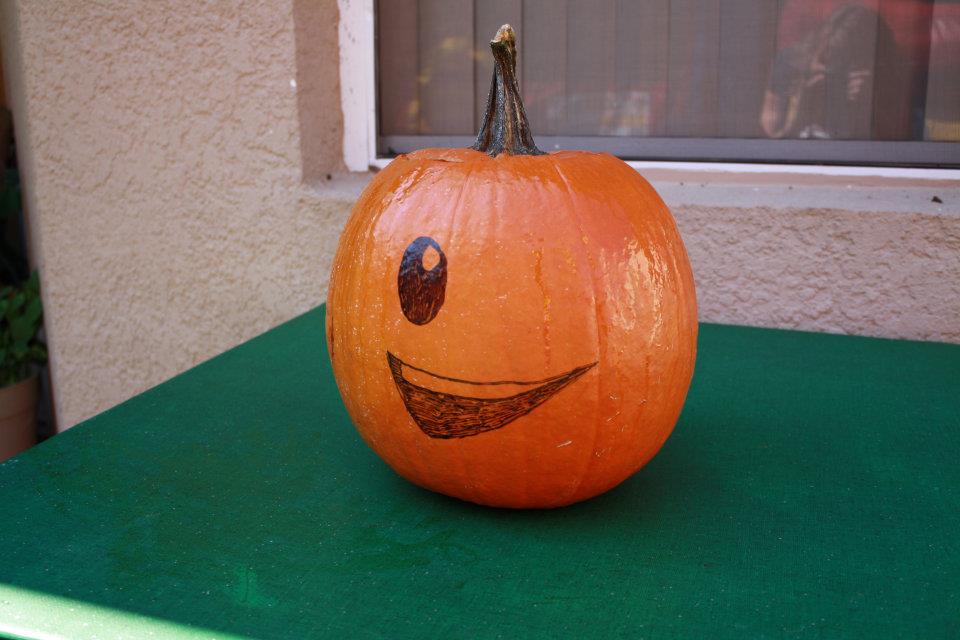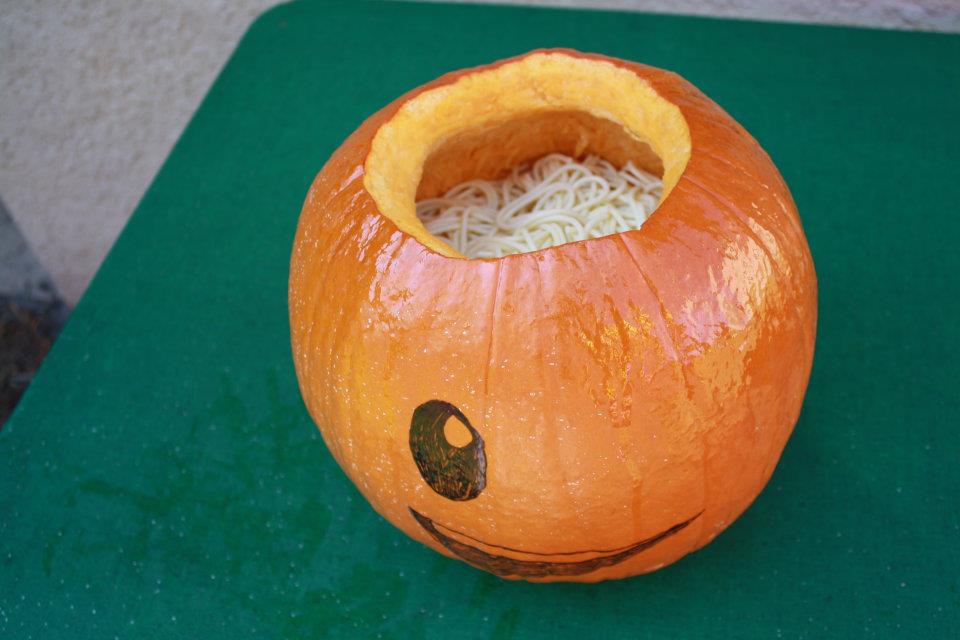 Find the LEGO guys' eyeball ($8)
The last game that we played was a favorite of my oldest son when he turned 7. This is also an outside game because it can get a little messy. Because Jack's birthday is so close to Halloween it was easy to find the parts to make up this game. Get a pumpkin ($4) and clean it out like you want to carve it. Then draw a LEGO man's face on it with a sharpie but missing one eye. Cook 2 boxes of spaghetti ($2, BOGO at Publix) and put that inside the pumpkin which acts as the brains. Keep a little bit of water in there along with a little bit of oil to keep the spaghetti from getting sticky.
For the eyeballs I bought a package of bouncy balls which were Halloween party favors ($2). You can usually find black balls, but this year I chose clear bouncy balls that had a black, plastic spider inside that looked like pupils. Hide the balls inside with the spaghetti and then each child takes turns searching for the missing eyeball. Be sure to put the LEGO man pumpkin head on a table outside with a bucket of soapy water nearby so the kids could rinse off their eyeballs and their hands. The kids LOVED this game, even the girls!
Read Part 2 for more great ideas and tips including the creative menu and party favors.
Here are some additional party theme ideas:
How to plan a Lego Party Part 2
DIY Equestrian Ribbon Invitation – Derby Party
How to plan a birthday party on a budget
How to plan an owl Pajama Party
How to plan the perfect sleepover
House Party – Host a free party for your friends
Summer party planning ideas for kids
Mardi Gras Party Planning Ideas
Visit our Party Planning and DIY Ideas Pinterest Board for more ideas.
Melissa is a football and soccer mom who has been married to her best friend for 24 years. She loves sharing recipes, travel reviews and tips that focus on helping busy families make memories.