How To Make Halloween Props You Already Own
It's almost time to begin planning a Halloween party, and that means it is time to start considering the supplies you need. We are sharing How To Make Halloween Props You Already Own. Creating a unique and fun party that has all of the spooky things you love while staying in budget is tons of fun! I have some great ideas to help you create a fun party using Halloween props you already have around your home.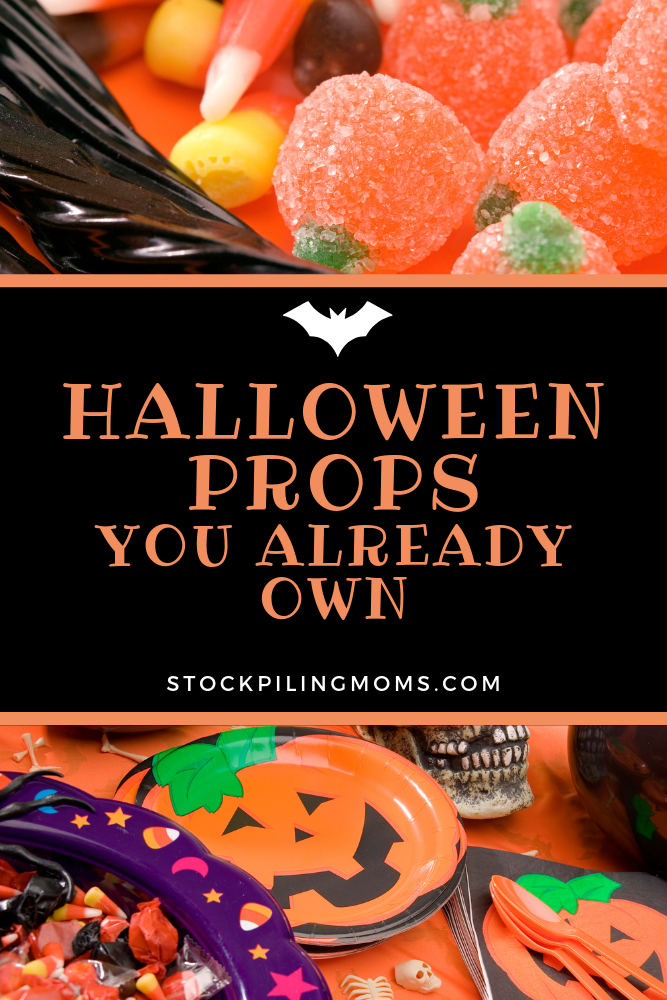 How To Make Halloween Props You Already Own:
A proper haunted house party requires all the best decorations. You can turn your whole house into a Halloween themed masterpiece, or simply one room and the entryway. Use your imagination to build a perfect party using the Halloween props you already have on hand!
Use Large black trash bags as Halloween Props
Every household has a box of those large black trash bags. Typically these are heavy duty and thicker as they are most commonly used outside for picking up things like leaves and brush. These are ideal for so many things at your Halloween party! If you don't have them on hand, you can pick up a small box inexpensively at any grocery store or hardware store.
Ideas for using trash bags:
Cut apart and use to cover windows to create a blackout effect.
Stuff with leaves and add large eyes and legs to look like a spider in your front yard
Wrap around a large kettle to create a fake cauldron
Stuff with other trash bags or leaves shaped like a body to look like a dead man being hidden
Tear apart stuffing from inside old pillows you don't use
Everyone has old pillows that just never get thrown away. Open those up and pull out all of the stuffing. You can pull it apart and add in various corners of the room to look like cobwebs. These are also excellent for stuffing into bags to look like dead bodies, or to stuff inside clothes to make a fake zombie.
Stuffing from old pillows, or batting from the craft department is one of the most versatile items you can use for decorating at Halloween. Use your imagination to spread it around a room, on tables, or from rafters.
Make up several batches of red gelatin
There is nothing like using red Jello as a part of your haunted Halloween party. It is one of the all-time best Halloween props that are inexpensive and so easy! You can make it super thin and pour onto plates or platters to look like blood splatter, or make it in a large punch bowl and place a clean plastic hand sticking out of the top for a gag. The best part is after they see the decoration, they will be able to have a yummy snack!
Spray paint cardboard box pieces to look like gravestones
Since the first time I saw this idea online, I loved it and knew it had to be at a party in the future. Cut cardboard boxes into various sizes that are shaped like a tombstone. You can then spray paint them gray and white and write names and dates of death using a Sharpie. This is a fun project to get kids involved with as they can make up unique names and have fun spraying or painting the tombstones.
More Halloween Ideas
How to Make a Teenage Mutant Ninja Turtle Women's Costume
20 Halloween Recipes and Craft Ideas
Melissa is a football and soccer mom who has been married to her best friend for 24 years. She loves sharing recipes, travel reviews and tips that focus on helping busy families make memories.