These fun and yummy Ghost Poop Treat Bags are a super cute treat idea for all the little monsters and goblins you may see this Halloween. It is perfect to hand out on Halloween as a treat before heading out to go trick or treating around the neighborhood.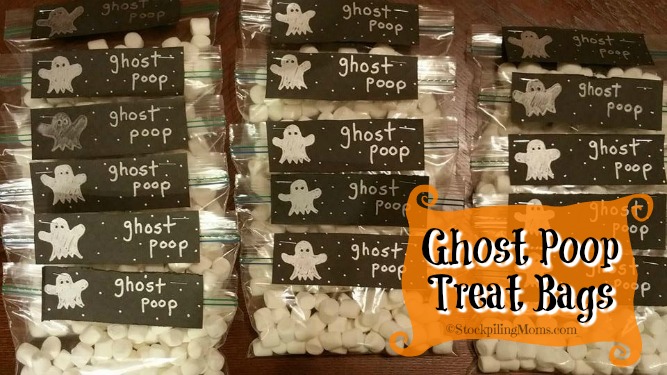 My little monsters love this snack treat and I like to give them some on the night before Halloween after our family dinner as a treat. I like this cute dessert as an alternative to candy. It is still festive and delicious. Kids will be getting lots of sweet treats trick-or-treating so I like this alternative for them. My boys and I like to make these for the kids in their classroom at school.
We take the bags into school for the Halloween party. The teachers always get a kick of them. The kids in the classroom think it is funny and enjoy eating the marshmallows. All you need to make these cute DIY treat bags is a bag of mini marshmallows, small sandwich bags (I usually get the snack size), black constriction paper and a white crayon or paint marker.
Start by filling the bags with the marshmallows, use as much or as little as you want. Next cut the construction paper to fit the top of the bags. The using the crayon or marker write Ghost Poop and draw a ghost. I used a stapler to attach the paper to the top of the bags. Now they are ready to be given out. You can even make these to give out instead of candy to your trick or treaters this year.
This is an easy craft that can be made in advance and kids love to help make them. We hope you will give this easy Halloween treat idea a try, especially with your children. It is fun to make and give out and the kids will love it! Give these fun Ghost Poop treat bags a try this Halloween! You will be glad you did.
Here are 15 HALLOWEEN RECIPES You May Enjoy:
Ghosts in the Graveyard Boo Cups
Ghosts in the Graveyard Boo Cups
Shelley is a boy mom, marine wife, and is blessed with an amazing family. She loves sharing recipes, travel reviews and tips that focus on helping busy families make memories.