How to get recruited for college sports
Do you want to know how to get recruited for college sports? I think every parent wants to help their children play sports in college if that is their desire. When my son told me that he was interested in kicking in college I had absolutely no idea where to start.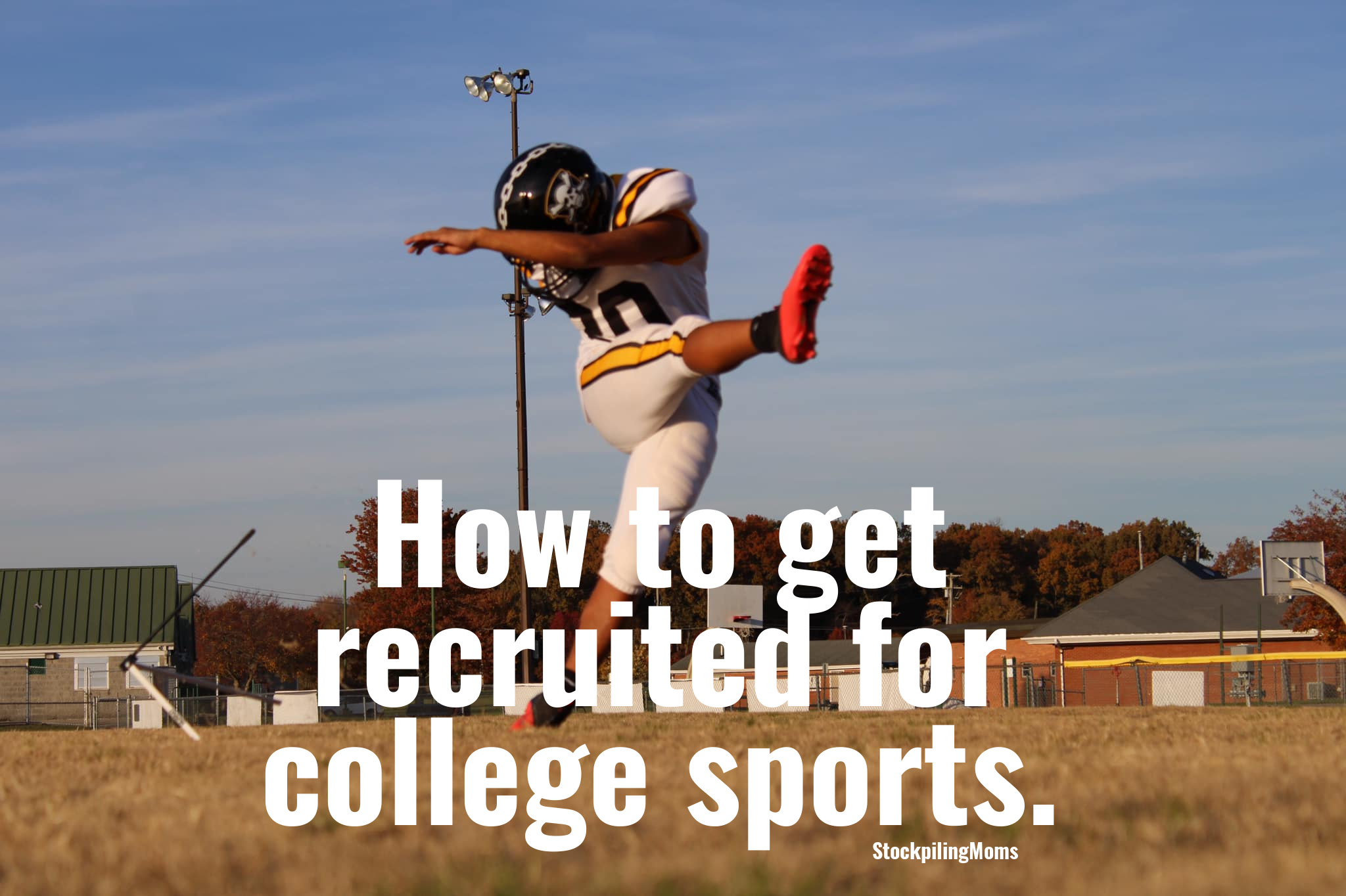 How to get recruited for college sports:
My son is a 2023 Kicker who decided to pursue kicking in college in 2022 which means we are behind! Big time! Is this even going to be possible? I reached out to my friend Jen, and she suggested that I purchase the book Looking for a FULL RIDE? by Renee Lopez.
The college athletic recruiting process IS extremely overwhelming for high school students and parents. I ordered the book and then read it cover to cover in 48 hours. Then I went back through it and highlighted information. This book is a game changer. Repeat after me. Buy the book. Read the book. Do exactly what the book says. Seriously.
There are so many rules when dealing with the NCAA, NAIA, NCCAA, and NJCAA. Plus figuring out how to contact coaches and obtain an athletic scholarship can leave you feeling hopeless, especially if you are late to the party like we are.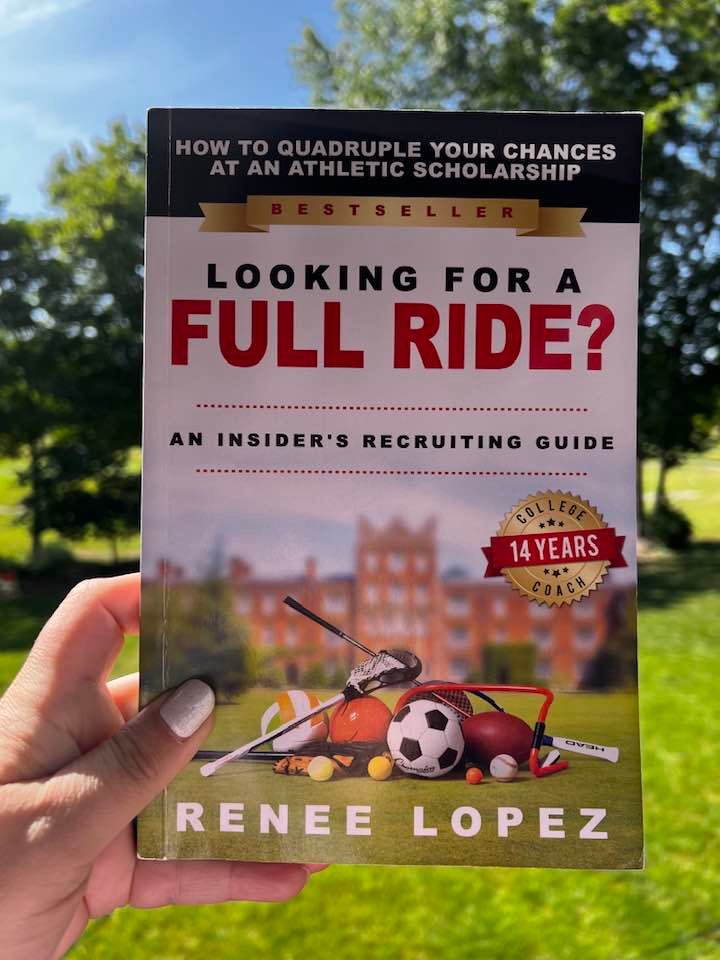 Looking for a FULL RIDE? takes the guesswork out of what steps you need to be following as it walks you through the process of how to become a college student-athlete. Written by Coach Renee Lopez she draws upon her 14 years of college coaching experience and with the insight of 65 college coaches and athletic directors from NCAA Division I to Junior College in 19 different sports across the United States. She also interviewed another 25 college admissions personnel, compliance staff, and executive directors to help educate families. To say the least she knows her stuff!
After ordering her book I would suggest joining her free Facebook group. It is resource that is a great addition to the book. Once you read the book the FB group helps you as you are implementing what you read and is a great place to ask questions.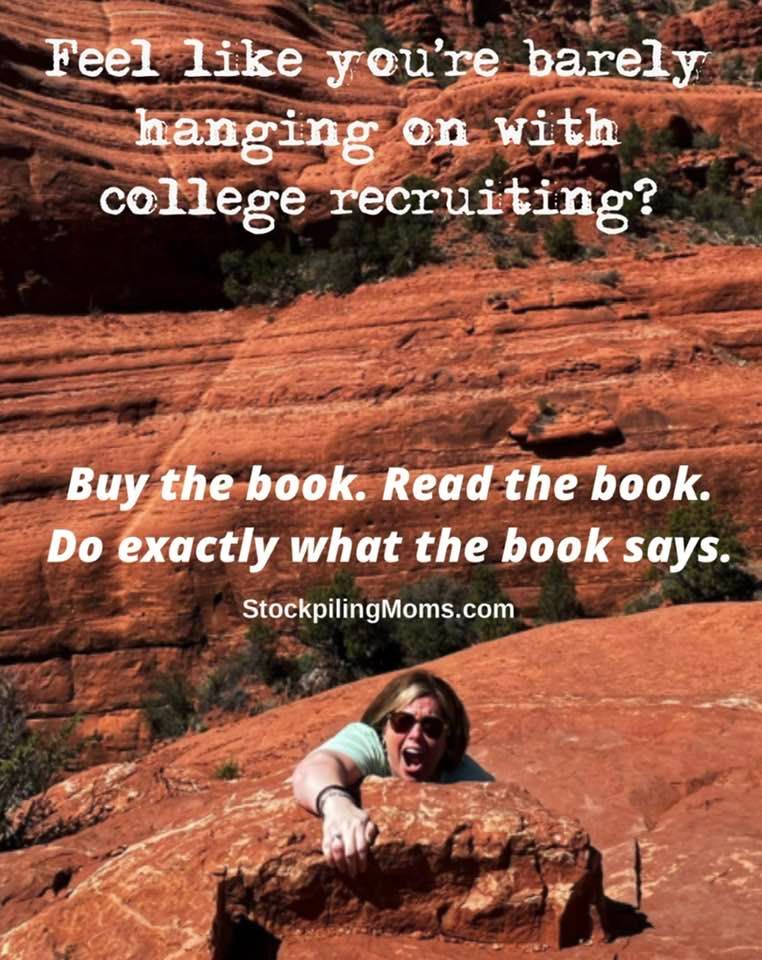 Depending on which sport your child is interested in pursuing she provides suggestions for how to make contact to that coach. She does NOT recommend paying for a recruiting service. With the knowledge she provides you will have the basic roadmap to navigating this journey. You don't have to spend BIG bucks to play college sports when you follow her guidance.
After you buy the book start out by creating basic social media channels. My son is a kicker so you can see what we created.
Twitter – Peyton Jones
Instagram – Peyton Jones
We also created a website for him Peyton Brant Jones. This is not necessary, but I highly encourage you to purchase your child's URL even if you don't do anything with it yet. I paid a very reasonable fee to have this athletic site designed. If you want info message me.
Be sure to use your athlete's full name for each social media account. This is for branding purposes. You want to be sure that your athlete uses these channels appropriately too. Coaches don't want to see inappropriate activity.
Keep the bio concise with the following information: Position, Graduation Year, GPA, Any awards or special recognition, ACT score and a link to video clips (either hudl or YouTube). You want to be sure that your athlete is tweeting often. They can promote practice, games, videos, camps, college visits etc. but also sprinkle in some of what they like to do in their free time too.
On social media they need to follow coaches that they are interested in playing for as well as their high school coach. Interact (like/RT) from those accounts in hopes to get the college coach's attention.
Create a free email account (Gmail is great) and again use his/her name. Do not use any inappropriate sayings or numbers in the email address. This will be used for contacting coaches.
Finally, work on keeping your GPA up and ACT or SAT scores high. Check this article on How to Prep for Your ACT Test. My friend Jen Henson is an amazing resource if you need an ACT Prep tutor. She works with students all over the country and her success stories are amazing!
It is overwhelming especially when your 2023 Kicker tells you I want to try to play college football, but it isn't hopeless when you have the resources to help you figure out the process. My advice is if you have an athlete buy the book AND the earlier the better.
TIPS FOR PREPARING YOUR CHILD FOR COLLEGE:
Books Every Teen Should Read Before College
Safety Tips for New College Students
How to Help Your Child Transition from High School to College
Care Package Ideas for College Students
Tips for Taking College Tours with Your Teen
Melissa is a football and soccer mom who has been married to her best friend for 24 years. She loves sharing recipes, travel reviews and tips that focus on helping busy families make memories.