Ways to Encourage Children in Their Faith
Here are some Ways to Encourage Children in Their Faith. The numbers are startling and trending in the wrong direction. More and more we're seeing that kids that have grown up in the Church are walking away from the faith once they've grown older.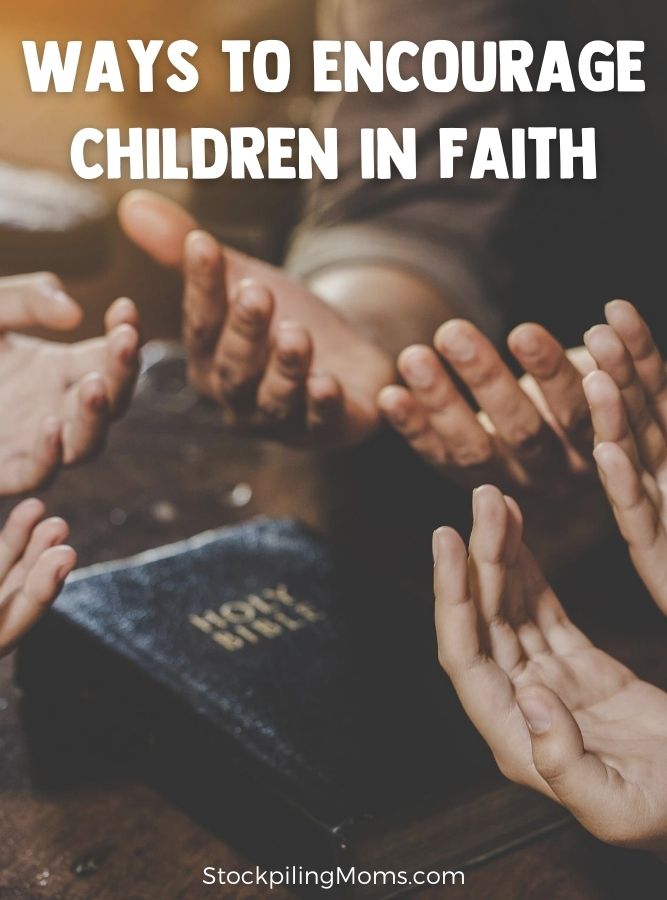 As a parent this may be a concern that has crossed your mind at some point, leaving you wondering if you're doing everything right with your children in helping them develop in their faith. Here are practical ways to encourage your children in their pursuit of Christ.
Ways to Encourage Children in Their Faith
No matter what denomination or faith you practice, these tips work well for any family. It may be a bit odd at first, but this is part of parenting that we shouldn't neglect!
Family Devotions
Maybe you've never done family devotions as a family, or when you have, it's felt awkward, and your kids seem to struggle to pay attention. You're not alone! When you continue to do family devotions as a family, it will get easier over time, and your kids will see how important their walk with God really is when you make it a habit to spend time in his word. Spend time memorizing scripture, reading passages, or even reading Christian literature that's aimed towards younger people.
Pray Together as a Family
Prayer is the most powerful weapon that the believer has and practicing that often with your children is extremely important. Not only should we pray with our children before meals and before our kid's heads hit the pillow, but during other circumstances throughout the day. (1 Thes. 5:16-18)
Worship as a Family
Worshipping as a family is another great way to encourage your children in their faith because it gives your children the opportunity to see mom and dad praising God. The perfect opportunity to do this is by attending church together as a family and sitting in the same service together.
Serve Alongside Them
Simply being present was not the original purpose of the Church. Service and loving on others were. Just because your children are younger doesn't mean that they can't serve in some way in the church. Whether it's picking up trash following a Church service or standing with their dad and greeting those that enter. When your children are able to watch their parents serve, it gives them the motivation to serve alongside you.
Listen to Christian Music
What kind of message are you passing along to your children by the type of music that you're listening to on your travels? Instead of allowing our culture to influence our children with what they are hearing, make the decision to listen to music that's focused on Jesus, and offer encouragement while strengthening our faith.
Aim for Modeling and Consistency, Not Programs
For many years now Christian parents have made the easy mistake of getting their kids in every Church program that presented itself, whether it was VBS, Sunday School, and youth group events. These are certainly wonderful tools that build your child's faith and understanding, along with them having fun in the process.
But it's not programs that will keep them in Church once they've grown up. Research has shown that when a child witnesses their parents modeling the Christian walk with consistency and seeing their parents repent when they've sinned, the greater the chance that children will remain in the faith once they've grown older.
With the Christian counterculture that's parading itself on our screens and in plain sight these days, it's becoming increasingly difficult to train up a child in the way he should go. Hopefully, you found a number of these tips helpful in encouraging your children in their walk with Christ. What are some other ways that you've found to be helpful in pointing your kids to their Saviour?
More Parenting Tips
Melissa is a football and soccer mom who has been married to her best friend for 24 years. She loves sharing recipes, travel reviews and tips that focus on helping busy families make memories.